Croatian church leader Mladen Jovanovic dies at 68
'Probably the best-known preacher in this part of the world.'
---
Mladen Jovanovic (PHOTO PROVIDED)
Mladen Jovanovic, longtime church leader in the Central European nation of Croatia, died unexpectedly Sept. 6 after an apparent heart attack.
He was 68.
Jovanovic had just returned to his home in Zagreb, Croatia, after performing a wedding at a Church of Christ in Albania, said Drasko Djenovic, a Church of Christ member in Belgrade, Serbia. 
A memorial service is scheduled for 10:50 a.m. Wednesday, Sept. 11, in Zagreb at Mirogoj Cemetery. A funeral follows at 4 p.m. at Donji Zagon near the town of Novi Vinodolski in Dalmatia, on Croatia's Adriatic coast.
"Mladen Jovanovic was probably the best-known preacher in this part of the world," Djenovic told The Christian Chronicle.
Jovanovic was the first Church of Christ minister in communist Yugoslavia. He helped establish congregations in Zagreb and Belgrade before the Iron Curtain collapsed, Djenovic said. Jovanovic later became the president of the Council of Churches in Croatia.
"Mladen has been one of the strongest Christian examples and most
influential leaders in Europe and Eastern Europe for more than 40
years," said Lynn McMillon, CEO, president and editor of the Chronicle. "His personal grace and deep commitment to everything that Jesus
taught and stood for have helped guide churches in numerous countries. He
was a dear personal friend and great Christian man. Our hearts are
with Dragica, the family and all of the churches that feel his loss."
Jovanovic's family released the following statement:
The Mladen Jovanovic family with broken hearts must inform you that Mladen, our dear husband, father, and grandfather passed away last night, Sept. 6, 2013. It appears that he suffered a massive heart attack and died instantly. All of us are in shock! By all appearances, Mladen was in good health and has been as active as ever in service of Christ and His church.

His sudden death has left all of us stunned and brokenhearted. But we are proud of the life that he lived! His love for Jesus Christ and His Kingdom has served as an example for all. Each of us are blessed by his love of God and the way that he loved our family. His passionate concern for the Church produced a life of faithful service not only in Croatia but throughout Central and Eastern Europe.

The family asks that no flowers be sent. Instead, contributions can be sent to the memorial fund that is being established to honor his life and legacy. Mladen had one dream left unfinished. He wanted to complete plans for a much needed expansion of the church. It is our desire to see this dream fulfilled. The Bammel Church of Christ in Houston has agreed to receive these funds and establish the Mladen Jovanovic Memorial Fund to help make Mladen's dream come true. The addition to the building will be named the "Mladen Jovanović Memorial Fellowship Center and Library."

We ask that you remember us in your prayers as we grieve. But also join us in prayers of thanksgiving for the grace and peace that God through His Spirit is providing for us. Also join us in thanking God for the life of our Godly husband, father and grandfather.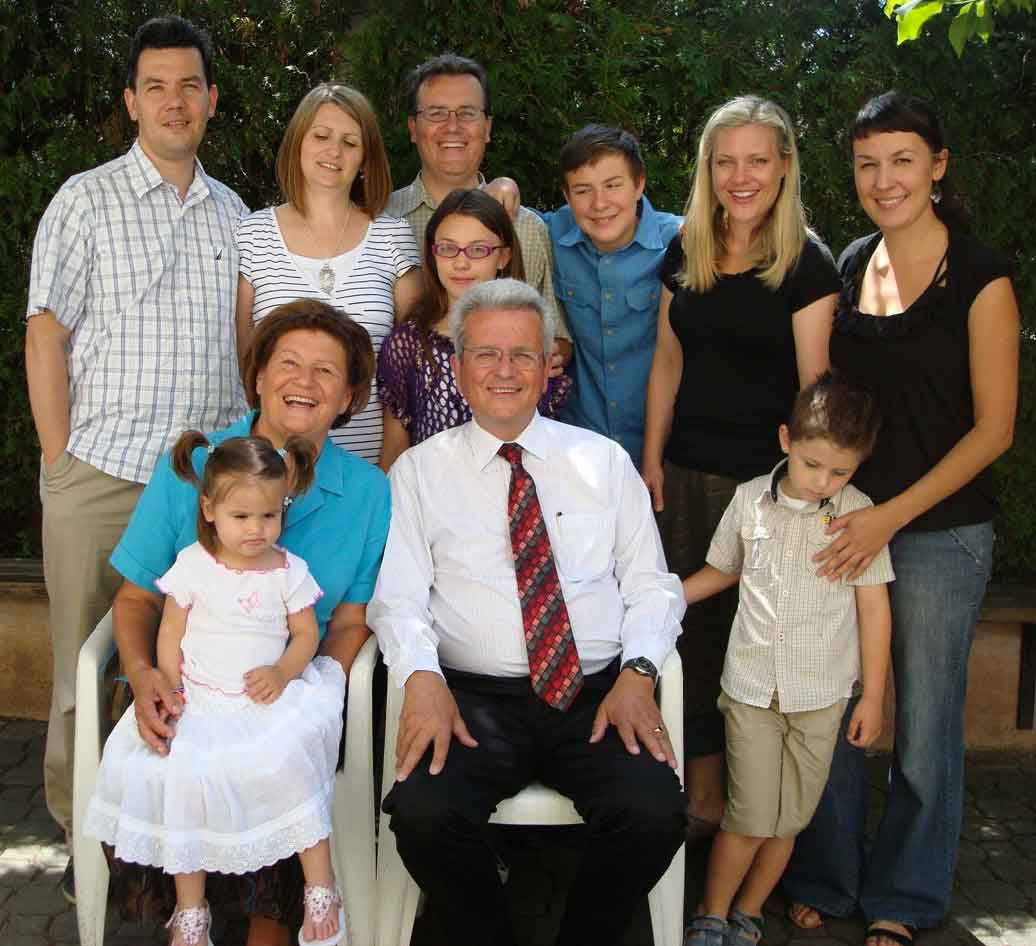 The Jovanovic family (PHOTO PROVIDED)
In a 2003 interview with the Chronicle, Jovanovic discussed the roles of Churches of Christ in post-Soviet Europe:
How have the Zagreb church's efforts as a relief center in the 1990s influenced the development of the church?




Mladen Jovanovic, early in his ministry. (PHOTO PROVIDED)

After
the fall of the wall, social tectonic changes shook all
Communist-dominated countries. Yugoslavia went through the most painful
process of disintegration. The big civil war erupted in 1991. Four years
of war resulted in 210,000 lost lives.

Churches of Christ, two at the beginning of the war, decided to put the light of the Lord on the top of the hill.

Two
humanitarian organizations were formed. The decision was made that all
workers, foreign or national, would stay in the country at all cost. The
Peace on Earth Church of Christ humanitarian organization became a
recognized and well-esteemed relief group.

Croatian
Christians ministered to more than 3,000 refugee families. With the
assistance of American church of Christ humanitarian organizations and
churches from many countries of Europe, more than $3.5 million worth of
food, clothing, sanitary and medical supplies were distributed to those
in need.

Christians in Croatia became known as the people of the Book and of action.

Related Story: Jovanovic was a man of wisdom, faith