REVIEW: Race and Churches of Christ: New book dispels myths
---
Race matters. That mantra appears throughout Wes Crawford's important book
"Shattering the Illusion: How African American Churches of Christ Moved from Segregation to Independence."
Crawford is preaching minister for the
Glenwood Church of Christ
in Tyler, Texas, and this book is a product of his dissertation at Vanderbilt University in Nashville, Tenn., where he earned a doctorate in church history.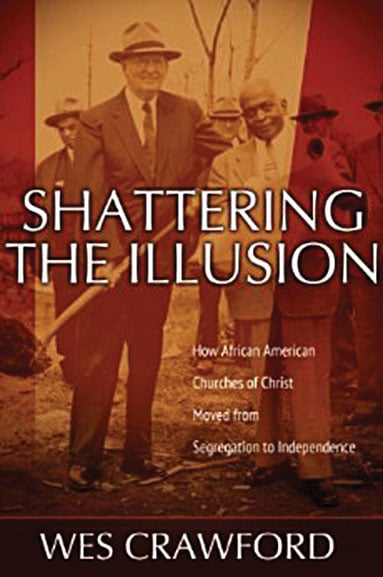 Wes Crawford. Shattering the Illusion: How African American Churches of Christ Moved from Segregation to Independence.
Abilene, Texas: Leafwood Publishers, 2013. 240 pages. $22.99. Crawford uses the phrase "Shattering the Illusion" repeatedly as he recounts the history of Churches of Christ, with particular emphasis on our fellowship's roots in the American South.
He demonstrates, through the skillful use of primary documents, how Churches of Christ are influenced heavily by the social mores of the South.
Crawford reminds us that slavery was not viewed as immoral among the founders of the 19th century Restoration Movement, also known as the Stone-Campbell Movement, the religious awakening that birthed Churches of Christ. He shares the following comment written by Alexander Campbell in 1845:
"There is not one verse in the Bible inhibiting it, but many regulating it. It is not, then, we conclude, immoral."
Crawford goes on to reveal how Southern slaveholders were encouraged to evangelize the enslaved as a means for creating a more compliant slave.
He argues that this sentiment transcends the institution of slavery and is alive throughout the history of Churches of Christ, even now. He references the 1999 apology by Royce Money, former president of Abilene Christian University in Texas, for the university's past discriminatory policies. Money issued the apology on the campus of Southwestern Christian College, a historically black college in Terrell, Texas. Both ACU and Southwestern are associated with Churches of Christ.
Crawford uncovers truths about the roles that whites and African-Americans played in the maintenance of poor race relations in Churches of Christ.
David Lipscomb, a pioneering Stone-Campbell preacher and namesake of Lipscomb University in Nashville, often is mythologized as a supporter of racial equality among brethren in this fellowship.
However, Lipscomb was a proponent of the so-called "curse of Ham" — a myth perpetuated by slave owners that suggests that slavery was a curse from God on the entire race of African-Americans as a result of Ham seeing his father, Noah, naked. Crawford quotes Lipscomb in an 1868 Gospel Advocate article:
There is but one way to deliver our fellowmen from the curse of God — deliver them from the sin that calls down the curse, and then God will see that the curse is removed … What a crown of joy at the last day to have been God's instrument in delivering a race from a curse, hanging over them since the days of Noah.
"Lipscomb never pushed for African-American civil rights," Crawford writes. "He was content, instead, to work for African-American uplift within his denomination. With these efforts, Lipscomb became the individual most closely resembling a racial liberal in Churches of Christ."
Crawford also examines the role that Marshall Keeble played in race relations, arguing that the renowned African-American minister performed an accommodating dance with white church leaders.  
Though he baptized thousands, Keeble never publicly challenged the social norms of the South by encouraging African-Americans to strive for better jobs, more prestigious titles or advanced degrees, Crawford writes. Having never gone beyond the seventh grade himself, and having worked as a coal and vegetable huckster in central Nashville for many years, he modeled the lifestyle he encouraged.
Keeble encouraged whites to focus on "domestic missions" among African-Americans, Crawford writes, quoting Keeble from a 1921 Gospel Advocate: "… if we can get the Gospel to those who serve your homes and care for your little ones, you can put more trust in them and save them from ignorance of the blessed Gospel of Jesus Christ."
Crawford explains that Keeble played this role with his own agenda, gaining resources to support Christian education among African-Americans.
In contrast, Crawford dichotomizes Keeble's stance with that of the founder of Southwestern Christian College, George P. Bowser. Though both men had similar goals, Crawford compares the approaches used by Keeble and Bowser to those of black activists Booker T. Washington and William E. B. DuBois, respectively.

Churches of Christ have, for the most part, maintained a racially
divided structure. This is why Crawford has to remind his reader that
race matters. Crawford provides a thorough overview of how early race relations in Churches of Christ influence the contemporary state of our fellowship.
Fifty years after Martin Luther King Jr.'s "I Have a Dream" speech, there remain two parallel Churches of Christ — one predominantly white and one predominantly black. Each has its own schools, journals and lectureships. Because of this reality, Churches of Christ have, for the most part, maintained a racially divided structure. This is why Crawford has to remind his reader that race matters.
This book provides valuable perspective to the history of Churches of Christ. Prior to this work, scholars had to locate primary texts in journals and transcripts — much of which has not been digitized, in various archives and basements across the country. Crawford's work provides a scholarly start to the process of examining this important history.
Most importantly, he leaves room for his reader to develop more initiatives toward uniting our fellowship.
TANYA SMITH BRICE is dean of the School of Education at Benedict College in Columbia, S.C. Her research focuses on the influence of race on Churches of Christ. She worships with a Church of Christ in Columbia.