Memories lost — but love and faith remain
A favorite aunt has lived a full life. Now she battles Alzheimer's.
---
ALLEN, Texas — Aunt Melba has no idea who Harold Tidwell is, but he loves her.
He loves her from deep in his soul. He cherishes her as if she were his own mother — a role she fulfilled for him and Gail Tidwell, his wife of nearly 50 years, after their parents died.
Harold Tidwell, 78, is an elder of the Greenville Oaks Church of Christ in this fast-growing suburb north of Dallas.
Never has he known life without Aunt Melba.

At age 97, Melba Warrach is frail and suffers from an advanced form of Alzheimer's disease.
She resides in the Bluebonnet Memory Care unit at Christian Care Centers' newest senior living community, which opened last year.
The Greenville Oaks church donated five acres for the Allen facility. It's the faith-based nonprofit's third location in the Dallas-Fort Worth area. The others are in Mesquite, east of Dallas, and Fort Worth.
"Do you know who I am?" Harold Tidwell asks after hugging Aunt Melba on a recent afternoon.
"Art?" she replies.
The late Art Haddox directed the Herald of Truth television ministry in Abilene, Texas. He was one of Aunt Melba's four brothers — all of whom served in World War II.
Aunt Melba also had two sisters, including Harold Tidwell's mother, Jettye Tidwell.
The seven children of John and Evna Haddox — all deceased except for Aunt Melba — were raised on a West Texas cotton farm. They survived on home-grown sorghum molasses and biscuits.
When Harold Tidwell entered the world in 1938, three years before the Japanese bombed Pearl Harbor, Aunt Melba was a recent high school graduate. She had no husband. She had no job.
"Go to Dallas, and be with your sister while she has that baby," Aunt Melba's mother told her blue-eyed, blond-haired daughter.
A second mother
Later, Aunt Melba married twice — and was widowed twice. She never gave birth to a child. But she treated Harold Tidwell and his younger brother, Johnny, as her own.
For 32 years, Aunt Melba worked as a traveling auditor for Walgreens — a fact noted by a certificate on a board outside her assisted-living room.
From the road, she always sent Harold Tidwell a birthday card with a dollar bill inside. That was a lot of money at a time when an ice-cold bottle of Coca-Cola cost a nickel.
Years later, after she retired and moved into Christian Care's independent-living cottages in Mesquite, Aunt Melba relished making weekly dinners for the Tidwells.
Harold Tidwell shows Aunt Melba pictures in a family photo album. (PHOTO BY BOBBY ROSS JR.)"She cooked fried chicken, mashed potatoes, gravy, homemade biscuits … and she got real joy out of it," Harold Tidwell said. "And we had a joy of being there with her and having a real, home-cooked meal that our mothers used to do."
Harold Tidwell's first exposure to Christian Care Centers came as a boy.
He played with other boys as Christian men, including his late father, Fred Tidwell, turned the old Gunter Bible College into the "Home for the Aged." The facility south of Sherman, Texas, later became known as Hilltop Haven. It opened in 1947. Medicaid cuts were blamed for its closing in 2013.
In the 1960s, Harold Tidwell's grandmother Jeanette "Nettie" Tidwell became the first of a dozen of Harold and Gail Tidwell's relatives — including their parents — to reside at Christian Care Centers.
"I noticed how dedicated my parents were to just going and visiting my grandmother," said Harold Tidwell, who had served in the Marine Corps and moved back home while contemplating his future. "Somehow, that just really stuck in my mind."
Another experience that deeply touched Harold Tidwell: the reaction of his aunt Helen Haddox, who had dementia, to her husband Art's death.
"One morning real early, he was passing away, and they called the family," said Harold Tidwell, a retired international executive for Dallas-based 7-Eleven. "The nurse said, 'He's gone,' and one of my cousins looked over at Helen, and there's a big tear running down her cheek."
What made that remarkable: She had not communicated in years.
Her response taught Harold Tidwell an important lesson: "When speaking to someone who has Alzheimer's or dementia, always tell them that you love them. Don't say something that you think they aren't aware of. They are hearing it."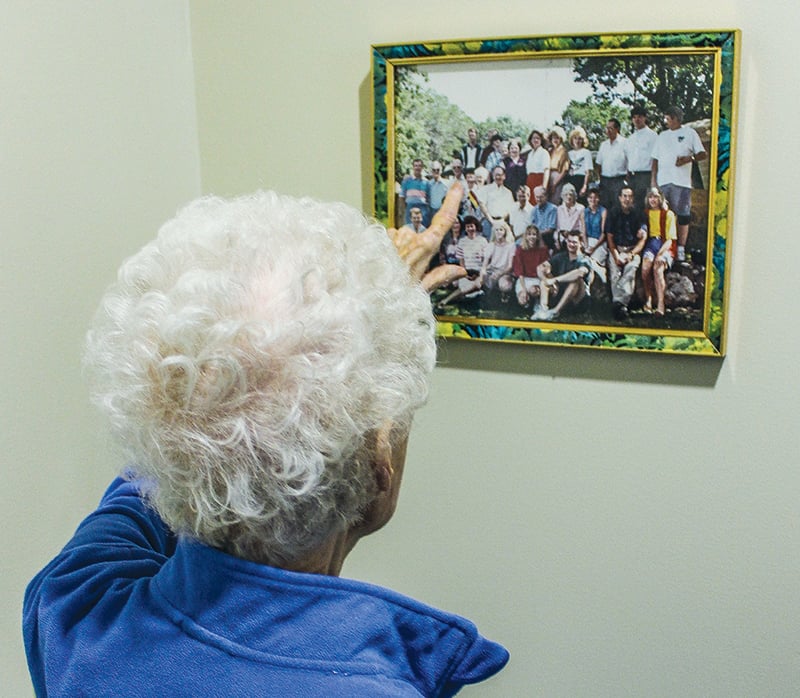 Aunt Melba points at the face of a brother she recognizes in a 1993 picture of an extended family vacation trip to Lake Whitney, 30 miles northwest of Waco, Texas. (PHOTO BY BOBBY ROSS JR.)
Pure religion

While visiting relatives, Harold Tidwell became a fixture at Christian Care Centers — so much so that he was asked to serve on the nonprofit's board in 1996.
For the last 10 years, he has devoted countless hours as Christian Care's board chairman.

James 1:27 says, "Religion that God our Father accepts as pure and faultless is this: to look after orphans and widows in their distress and to keep oneself from being polluted by the world."
A sign at Christian Care's Mesquite, Texas, location touts this motto: "CARING is our calling!" (PHOTO BY BOBBY ROSS JR.)Those words compel the Tidwells.
For the couple, life revolves around the Greenville Oaks church, their three children and two grandchildren — and yes, their love and support of Aunt Melba.
Christian Care Centers tout this motto: "CARING is our calling!" Harold and Gail Tidwell say they see that attitude exemplified daily by Aunt Melba's caregivers.
Pictures on Aunt Melba's walls and mementos on the shelf above her TV — including bobbleheads of her favorite Texas Rangers baseball players — offer glimpses of the life she can't recall.
At a young age, she was nicknamed "Miss Priss" because of her attention to detail. Her blouse, for example, had to be ironed just right. On this afternoon, a light blue blanket and decorative pillows are placed perfectly on her bed.
She doesn't recognize her nephew but can identify the faces of her siblings at all ages. She can piece together jigsaw puzzles. She can read the names of Bible books.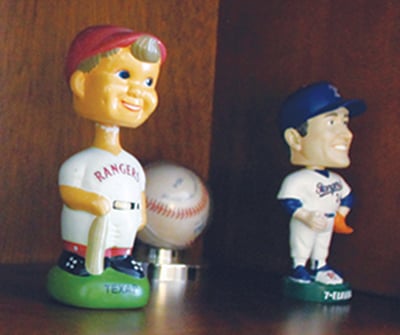 Texas Rangers baseball player bobbleheads are seen on a shelf in Aunt Melba's room. (PHOTO BY BOBBY ROSS JR.)

Harold Tidwell shows her a portrait of her extended family, and she smiles.
"I hadn't seen that," she says of the photo, which hangs by her door.
The Tidwells don't try to convince her otherwise. They welcome the opportunity to spend as many moments as she has left in her world.
Gail Tidwell, 72, takes Aunt Melba to the doctor and buys her clothes. The fact that Aunt Melba doesn't recognize her could become frustrating — if she let it.
"If you stay in her world, it's a whole lot better for her and for us," Gail Tidwell said. "You enjoy her the way she is."
Harold Tidwell echoes that outlook, as Aunt Melba rests her head tenderly on his shoulder.
Aunt Melba has no idea who he is, but she knows that he loves her.
Aunt Melba poses for a photo with her nephew, Harold Tidwell, and his wife, Gail. (PHOTO BY BOBBY ROSS JR.)