To restore Liberia
Fourteen years of war have not stopped church growth in this small West African nation. As democratic elections bring the prospect of stability, church leaders request prayers, Bibles and study materials. Their goal: Teach the next generation to take up the cross — not guns.
---
MONROVIA, Liberia — Martin, age 11, has known little but war since his birth.
Wearing a faded T-shirt with a picture of Jesus, he plays with his friends outside the V.P.Road Church of Christ on a Saturday afternoon. 
Sheepishly, he approaches a group of visitors from the United States.
"Do you go to church here?" one asks.
He nods.
Skeptical, the visitor asks, "What did you learn in Bible class last Sunday?"
"Memory verse," he says quietly.
"Do you still remember it?"
Martin pauses and looks down. Then he says, "John 14:6. Jesus said to him, 'I am the way, the truth and the life. No one comes to the father but through me.'"
Evidence of 14 years of violence is easy to see in Monrovia. Power lines dangle uselessly from poles riddled with bullet holes. Barbed wire and blue-helmeted U.N. troops are everywhere.
"Everybody is tired of war," said Alfred Beyan, minister for the 80-member G.S.A. Road Church of Christ in Monrovia. The bloody conflict claimed more than 200,000 lives, and thousands more fled to refugee camps in neighboring countries.
But it didn't stop the church.
Members of the Smythe Road Church of Christ worship on a Sunday morning. The church includes sign language translation for the hearing impaired. (PHOTO BY ERIK TRYGGESTAD) 
In 2003, as rebel forces tried to seize the capital and force then-president Charles Taylor from office, members of the Smythe Road Church of Christ continued to build an auditorium to accommodate their growing congregation.
"Missiles were flying over us," said Alassis Goldore, one of Smythe Road's four elders.
More than 500 people sought refuge in the church's facility. The elders stayed with the church because "we could not leave the sheep," Goldore said. "We could afford to get out, but what about them?"
The building was undamaged by the fighting, but across town the West Point Church of Christ, also serving as a shelter, was hit by a bomb on Jan. 21, 2003, said youth minister Washington Yan-whea Jr. Three people died in the blast, and many more were injured, including one member who still has shrapnel in his face.
But the West Point church survived the conflict that claimed the lives of many ministers and scattered congregations.
"Many people returned to find no church at all," Yan-whea said. Instead, they have found widespread poverty and an unemployment rate in excess of 85 percent.
Some Liberians farm or peddle whatever they can find along the streets — boxes of cell phone accessories or disposable razors.
"A lot of people are not working at all," Beyan said. "We need empowerment."
Church member Samuel G. Getergelleh attends the University of Liberia, where nearly one-third of the students have not returned since the fighting ended in late 2003.
Though the U.N.troops have kept the peace, "the only difference is that there is no shooting," Getergelleh said. "Things are difficult here."
ELECTION BRINGS HOPE — AND CONFUSION
The United Nations Mission in Liberia kept close watch over Liberia's Oct. 11 elections. Alan Doss, head of the mission, told reporters that the people had "voted for peace." Liberians hoped the elections would mark a turning point in their country's brutal history.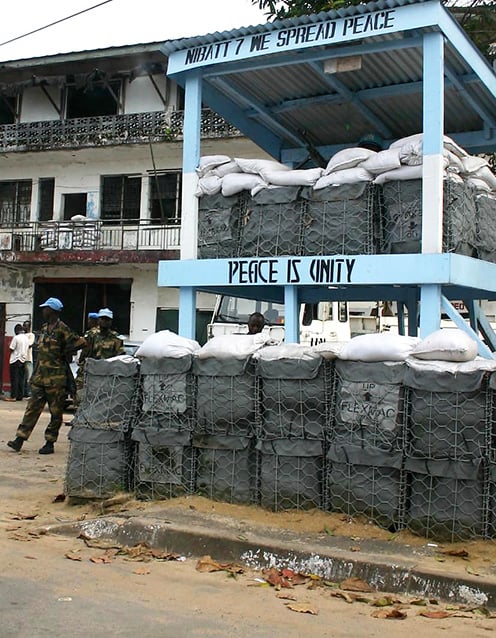 A battalion of United Nations troops watches over a street in Monrovia, Liberia. The U.N. posted nearly 15,000 troops in the West African nation in the days in the days following its bloody civil war. (PHOTO BY ERIK TRYGGESTAD)
None of the Liberian church members interviewed by The Christian Chronicle said they objected to the U.N.'s show of force. Their presence "explains to me that this election will be fair," said George Tengbeh II, minister for the Weala Church of Christ, sitting outside the University of Liberia as U.N. helicopters buzzed overhead.
Two weeks before the election, signs of poverty were side-by-side with signs of hope in Monrovia. Campaign posters plastered most of the buildings, sometimes covering bullet holes. The faces of the frontrunners — Ellen Johnson-Sirleaf and George Weah — seemed omnipresent.
No fewer than 22 candidates sought the presidency in the U.N.-supervised elections. Many more were vying for seats in the legislature. Results of the elections were unavailable at press time.
"Liberians have never seen 22 candidates, and every one of them is saying 'I am God-sent,'" said Maxwell Whea, pulpit minister for the Smythe Road church. "It is my prayer that God will take control."
FACING THE FUTURE
As they pray for "people who will lead us and not rule us," in Goldore's words, Liberian church leaders plot a course for future church growth. They plan to reactivate churches destroyed during the war and establish new congregations in each of the country's 15 counties.
Church members from neighboring countries, including Ghana and Gambia, are joining in campaigns and recruiting Liberians to enroll in World Bible School (WBS) correspondence courses. Texas-based WBS has an office in Monrovia. Liberian church member Paul Gueh coordinates the work.
Workers with World Radio Gospel Broadcasts also use the office. Director Ken Bolden said that the Louisiana-based ministry has broadcasted religious programming in Liberia consistently since 1975.
"Even with war going on, the government radio station was broadcasting," Bolden said. "Our programs,done by local speakers, were on the air for the duration." Church leaders told Bolden that the radio programs "were able to keep the church connected and give the members hope."
Bolden and Ron Pottberg, vice president of international relations for WBS, will accompany local church members on a campaign through Gambia, Sierra Leone and Liberia in November. Pottberg said, "We are looking forward to getting back in there and working with some very dedicated brethren."
Though their financial needs are great, Liberian churches rarely request money. Roger Dickson, a missionary in Cape Town, South Africa, spent several weeks in Liberia, meeting with church members and leaders of evangelical groups.
"I've talked to 200 pastors, and not one has asked for support," Dickson said. "They say 'We need literature of any kind.'"
At the G.S.A. Road Church of Christ, "most of the church members don't have Bibles," Beyan said. "We need handbooks, study guides."
In late September visiting U.S. church members announced the shipment of about 100,000 New Testaments to Liberia. Dickson, who directs Africa International Missions, prints the New Testaments in Cape Town and ships them throughout Africa. Each one contains 80 pages of study material and Bible lessons.
During their visit,the U.S. church members arranged for Churches of Christ to receive some of the NewTestaments, to be distributed through the Smythe Road congregation. Marvin Phillips, longtime minister in Tulsa, Okla., raised the funds to ship the books to Liberia. Churches across the United States contributed to the effort.
Dickson said that many of the evangelical church leaders he met are scouring the Scriptures and seeking the truth. He's hopeful that the New Testaments, which he referred to as "little missionaries," will help people across the war-torn country learn the Gospel.
"We're in a restoration movement," Dickson said. "We can only imagine the tremendous impact these little missionaries will have in the years to come."