The real face of Christ?
Hollywood and anthropologists have their own ideas about Jesus' physical appearance, but no man-made image can do him justice. The real Jesus is found only in the Gospels.
---
As it does every decade or so, Hollywood has made another Jesus movie.
This one, called "Son of God," was produced by the husband and wife team of Roma Downey and Mark Burnett, who produced a successful series called "The Bible," which aired on The History Channel last year.
The reviews I've seen have not been terribly kind to "Son of God." One of them said that the actor who portrays Jesus, Portuguese model Diogo Morgado, plays the role with a gleaming smile and
a surfer-dude vibe
. Another said it's hard to be convinced by a pretty man in a white dress strolling around. In
The Christian Chronicle's
review, Grant Stevens said Morgado "
looks a bit like a Portuguese Brad Pitt
" who could be "modeling jeans for Abercrombie & Fitch." You get the idea.
I'm told that the producers don't really care what the media or the Hollywood crowd think of their movie. (See
The Christian Chronicle's
interview with Mark Burnett
about the film.) I suppose if enough church groups go see the film, however, they'll at least recoup their investment.
More preaching to the choir.
This is what so many of our churches have done. We've turned Jesus into the cool, hip, magazine-cover image that we have become so enamored of.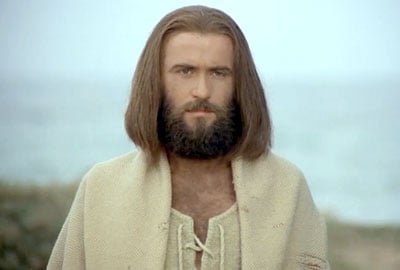 British actor Brian Deacon portrays Christ in "The Jesus Film" (1979) (INSPIRATIONAL FILMS INC.)
Hollywood is very good at doing this. Most Jesus movies picture Christ as a blue-eyed, handsome, perfectly proportioned hulk with long, flowing hair. Reviews Editor Kimberly Mauck
points this out as she reviews
the 35th anniversary edition of "
The Jesus Film
."
They make him sexy. Above all, they make him non-threatening — not the righteously indignant Jesus who
rids the temple of the money-changers
. Or the one who shouted at the Pharisees,
calling them a bunch of snakes
. And certainly not the Jesus who challenges us to look deeply into ourselves and honestly examine our relationship with God.
No, Hollywood wants us to see a surfer dude Jesus. One who tells us everything's cool. I'm OK, you're OK.
But Hollywood did not invent the glamorized Jesus. Renaissance painters did the same thing. Virtually all of them show Jesus with long hair. That, in spite of the fact that Paul said long hair is a disgrace to a man (1 Corinthians 11:14). That's a pretty strong indication that first century men did not wear their hair down to their shoulders.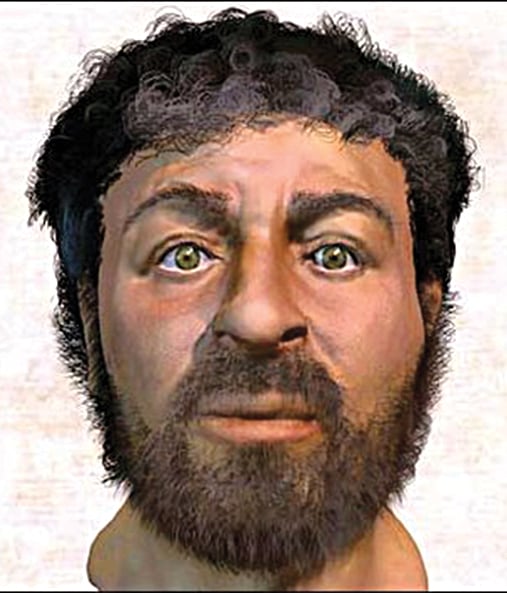 Anthropologist Richard Neave's depiction of how Jesus might have looked. (BBC PHOTO LIBRARY)
You may be surprised at what scholars think Jesus could have looked like, based on what is known about Palestinian men of that time. Richard Neave, a forensic anthropologist at the University of Manchester in England, drew a very different Jesus from that of Hollywood or the Renaissance masters. One with short brown hair, brown eyes, a beard and a flat nose.
The Bible gives few clues to what Jesus looked like. But Isaiah prophesied this about the Messiah: "He had no beauty or majesty to attract him to us, nothing in his appearance that we should desire him" (Isaiah 53:2-3). To me, that means Jesus' countenance is not what attracted people to him. It was his message. He gave hope and real leadership, which were sorely lacking at the time (Matthew 7:28-29).
The real Jesus is not found in any man-made image, on canvas or on film. He is found only in the Gospels. What he looked like was not important, or the Gospel writers would have told us what he looked like.
If you want to see the real Jesus, read and study Matthew, Mark, Luke and John. What he said and what he did are profound and life-changing, much more so than any blue-eyed surfer dude.