Milestones, December 2016
---
Birthdays
101st:
LaRue Ashley
Frankston, Texas
98th: Dina Mitchell
Frankston, Texas
96th: Geneva Marshall McWhorter
Wichita Falls, Texas
95th: Billie M. Brister
Phoenix, Ariz.
90th: Herbert Riley
Frankston, Texas
Anniversaries
Darrell and Beverly Moody


Darrell and Beverly Moody65 years
Darrell and Beverly will celebrate 65 years of marriage on Dec. 22, 2016. They presently live in a retirement village in Lubbock, Texas, where they moved from Abilene, Texas, in July, 2016. They now worship with the Green Lawn Church of Christ.

Art and Laquita Searles
60 years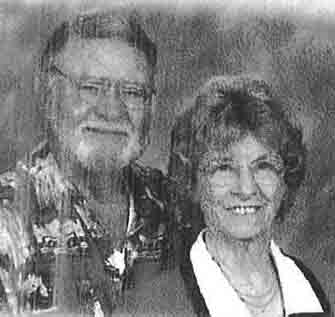 Art and Laquita SearlesOn Oct. 13, Art and Laquita Searles celebrated their 60th wedding anniversary by renewing their vows. They were married at the Church of Christ on Chestnut in Kingman, Ariz., which is now the Desert Church of Christ on Gordon Drive.
Leo Woodman, minister, was the speaker and emcee for the program. Bill McCall sang the same two songs that he sang at the wedding. Tommy Hafley was Art's best man, Rose McMichael Cobb was Laquita's maid of honor and Doyle Sumner was the usher. All of the wedding party was there, along with 85 other family members and good friends to help them celebrate.
 Bill led the group in "Bless Be the Tie That Binds," and Doyle Sumner gave a prayer. The group enjoyed a Mexican lunch cooked by Laquita.
Art and Laquita have four children: Daniel Searles of Corpus Christi, Texas; Randall Searles of Phoenix; Yavonda Russell of Dewey, Ariz.; and Roger Searles of Kingman. They have 13 grandchildren, 17 great grandchildren and two great-great-grandchildren.
 Art was stationed in five areas of Arizona during his 20 years with the Arizona Highway Patrol. After his retirement, he was a juvenile officer in Page, Ariz. He also volunteered as an Arizona game and fish officer and a Page police officer. He owned his own Locksmith Mobile Shop in Page. For 17 years they were caretakers at Copper Basin Bible Camp in Prescott, Ariz., and then returned back to Kingman 10 years ago.
Congratulations, Art and Laquita!
Don and Karen Canter
55 years 
Tyler, Texas.
Memorials
Janice Marie Houtz
1945-2016
Janice Marie HoutzLongtime Kenai, Alaska, resident, Mrs. Janice Marie (McIntosh) Houtz, 69, died Wednesday, Aug. 31, 2016, at her home in Kenai with her husband by her side after a long struggle against cancer.
A celebration of her life was held Saturday, Sept. 10, 2016, at the Kenai Fellowship Church. Minister Rick Cupp officiated. A reception followed the services.
Jancie was born Sept. 21, 1945, in St. Louis, Mo. She graduated from Harding College in 1970 and moved to Alaska in 1972 where she lived in Fairbanks for two years, working for the radio station, KIAK. In 1974, Janice moved to Kenai working for KSRM until 1976. After leaving KSRM she started working for Kenai Peninsula College where she taught English for 52 semesters. She was a current member of the Kenai Fellowship, a Church of Christ. Janice participated in the production of The Music Man, playing Alma Hicks at Pier One Theater. She loved gardening and traveling.
The family wrote, "Janice loved and served her family, friends, and the Lord of her life, Jesus Christ. She and her husband, Allen, were married for 42 years. She had a beautiful soprano voice and sang in the worship team at Kenai Fellowship from the early 1990's until June of 2016. From the time she was 14 years old until this year, Janice taught Sunday school classes. Her love for teaching was also evident in her many years of service teaching English at Kenai Peninsula College. Janice was effervescent in her enjoyment of life. She took great pleasure in sunshine, flowers, her cat Miss Calli, and spending time with her cherished three grandchildren. Janice deeply valued her friends and wanted things to be cheerful and honest. One of her memorable saying was, "Don't think dismal. Think Disney!"
She was preceded in death by her parents, Bill and Lucille McIntosh. She is survived by her husband, Allen Houtz of Kenai, Alaska; son, Micah Houtz and family of Epping, N.H.; brothers: Larry McIntosh of Chicago, Ill., Gordon McIntosh of Metropolis, Ill., Don McIntosh of Metropolis, Ill. and Bill McIntosh of Bland, Mo.
In lieu of flowers, please make any donations to the Kenai Fellowship Building Fund – P.O. Box 538 – Kenai, AK 99611.
  
Buford Dwayne Hollis
1937 — 2016
Buford Dwayne HollisBuford Dwayne Hollis was born on Aug. 5, 1937, to Oran and Ruth Hollis in Wayne, Okla. He grew up in Oklahoma, California, and West Texas. He met his wife, Sue, while working for the General Telephone Company in Hobbs, N.M. Dwayne and Sue lived in many places throughout their marriage. They lived together in Allen, Texas, for five years until he passed peacefully on Oct. 25, 2016.
Dwayne is survived by his wife of 58 years, Sue; his sisters: Gail Wilks of Tyler, Texas, and Kay Hilje of Cotulla, Texas; his four children: Victoria Boykin (husband Leroy) of Albuquerque, N.M.; Susan Hall (husband Keith) of Bartlesville, Okla.; Barry Hollis (wife Chris Henry) of Santa Barbara, Calif., and Virginia Carter (husband Chuck) of Frisco, Texas; his seven grandchildren: Jennifer Marquez, Joshua and Kristin Hall, Chas and Erika Carter, Dain Hollis and Pearl Henry; two great-grandchildren: Trinity and Genesis Marquez.
Dwayne worked for the General Telephone Company for several years until he answered the call of full-time ministry. He attended the Sunset School of Preaching in Lubbock, Texas. At Sunset, Dwayne and Sue accepted an opportunity to serve as missionaries in Norway. They packed up their four children and spent five years in Norway. Once they returned to the States, Dwayne continued ministering by preaching and teaching in Odessa, Texas, Albuquerque, N.M., Mesa, Arizona and Houston, Texas. Many people share with us their fond memories of Dwayne and his exceptional preaching and Bible teaching.
Dwayne loved to work with his hands and fix things. He always kept a workshop full of tools in his garage and enjoyed working on projects ranging from remodels to helping with his grandkid's school projects. Dwayne had a passion for food and sharing meals with his family and friends. Along with Sue, he loved to travel and see his family—including the opportunity to go back to Norway multiple times. Dwayne also loved to play cards and games (especially when accompanied by a sweet treat).
Dwayne was a well-respected man and a fervent student of the Bible. He loved his wife, his family, the Church, and the Lord. He will be greatly missed.
The Christian Chronicle appreciates and acknowledges generous gifts received in memory of R. Vernon Boyd, Anne Chow, Janice Houtz, Katie Smith, Karen Tryggestad, and in honor of Bobby Ross, Jr.