'It's a daily surrender to cope with him being gone'
Army Cpl. Dustin Kendall, the 21-year-old son of missionaries Brandi and Penny Kendall, killed in Iraq.
---
Dustin Kendall, son of missionaries Brandi and Penny Kendall, first joined the Army Reserves to help pay for his college education.
But as he matured, he became more committed to the U.S. fight against terrorism and signed up for active duty, his mother said.
"He believed in what he was doing," Penny Kendall said.
Dustin Kendall, a corporal assigned to the 1st Battalion, 68th Armor Regiment, 3rd Heavy Brigade Combat Team out of Fort Carson, Colo., died Jan. 15 in Baqubah, Iraq, when his Humvee accidentally struck a tank and rolled over.
Army Cpl. Dustin Kendall (IMAGE VIA FALLENHEROESPROJECT.ORG)The 21-year-old Christian from Conway, Ark., was remembered in a memorial service Jan. 21 at the Summerville Church of Christ in South Carolina. He was buried Jan. 25 at Arlington National Cemetery in Virginia.
His parents were in Tartu, Estonia, where they serve as missionaries sponsored by the Granbury Church of Christ in Texas, when they learned of their son's death.
Penny Kendall said she and her husband prayed daily for their son's physical and spiritual safety after he deployed to the Middle East in late November.
"It was a daily surrender for both my husband and myself," she said. And now, "It's a daily surrender to cope with him being gone. When we finally get over the pain, thankfully, we don't have to worry about him anymore. One of the neat things that was said at the service in Arlington was that he no longer needs faith. Now, he has knowledge, and that's a very comforting thought."
Born in West Monroe, La., where his father attended White's Ferry Road School of Preaching, Kendall was baptized at age 12.
"He was a good boy, very outgoing and mischievous," his mother said. "He was a pill when he was little. His smile was just contagious; he could just get away with anything. … He was a charmer. He was charismatic. People loved him. He was funny. He loved being the center of attention."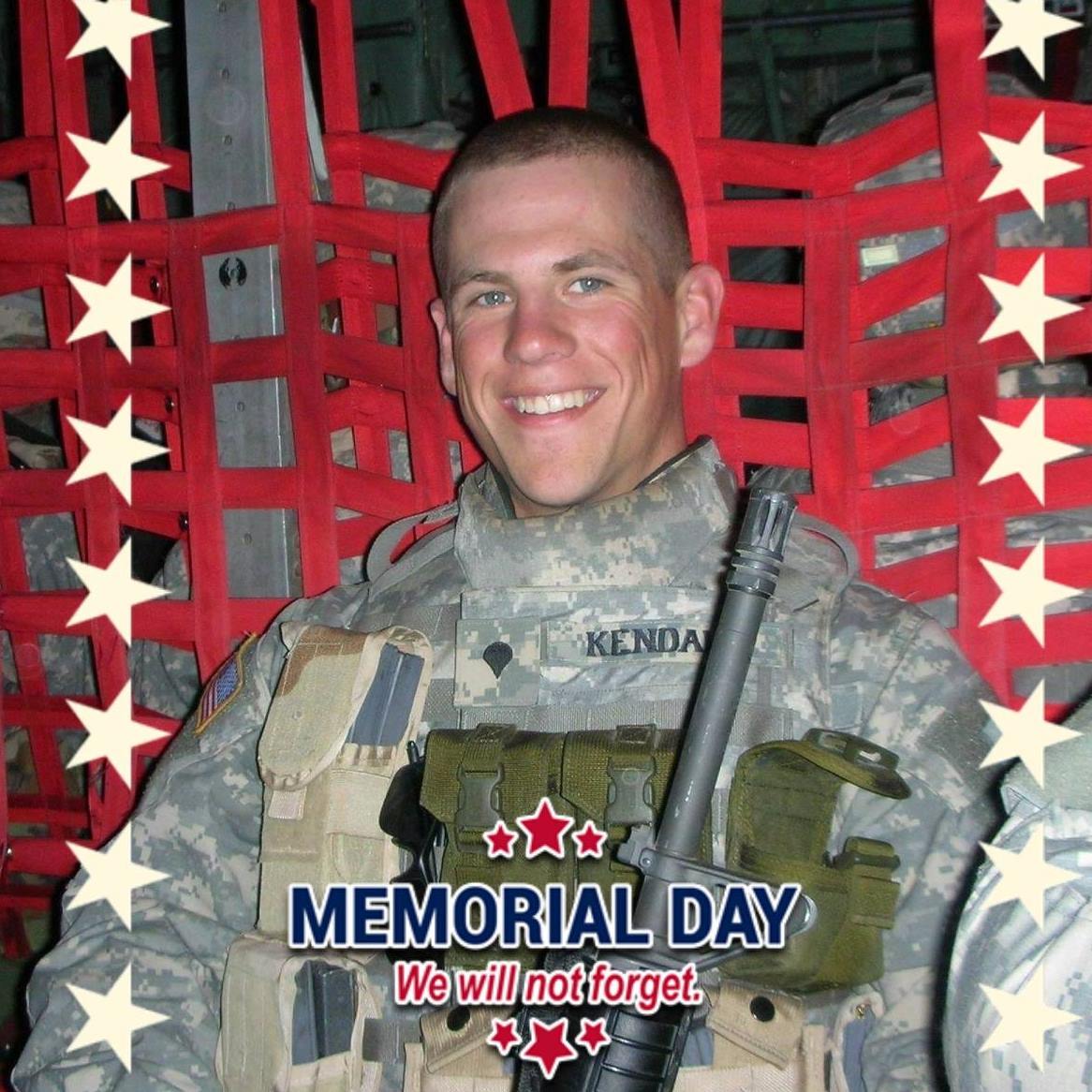 Memorial Day image via Penny Kendall's Facebook page.

LARGER THAN LIFE
At his memorial service, some friends said that Kendall seemed larger than life — like he was "10 feet tall and bulletproof.
"He loved anything adventurous," his mother said. "He loved boy things. He loved fast cars. He loved to cliff dive and bungee jump. He wanted to skydive. I don't think he ever did."
Kendall received the Bronze Star Medal for his exemplary service.
Survivors include his parents, five brothers and sisters and seven nieces and nephews — five of them under age 4.
"He was fighting so that his brothers and sisters and their children would have a free country and would not have to fear a repeat of 9/11," Penny Kendall said.
To friends and colleagues, Kendall was known for his caring personality and charm.
"He really seemed to have his head on straight for someone his age," David McRoberts, who was Kendall's medic at the Army National Guard C Company, 489th, in Conway, wrote in an e-mail quoted by The Washington Post. "I have to say that we, as the world, have lost someone that could have positively affected a lot of lives with his personality alone."
Several of Kendall's family members posted a message to friends in an online guestbook for mourners, The Post reported.
"To those who have known Dustin, you would surely echo our love for the life he lived and portrayed," read the posting, signed by Dane, Linda and Nathan Kendall of Edmonds, Wash. "I know the true devotion, integrity and honor Dustin had toward God, his job and his friends and family. I know this because these things were gifted to us by our dad and in turn were passed on to our children. … Dustin showed, lived and gave the same in everything he did. Our prayers are for the healing and closure to this difficult time."'HAPPY-GO-LUCKY GUY'
Colleagues who had worked with Kendall at a Ruby Tuesday restaurant while he attended classes at the University of Central Arkansas said he was a favorite of regular customers, whom he wooed with his personality and smile.
"He was very outgoing," co-worker Amanda Ballew told the Arkansas Democrat-Gazette.  "He was just a happy-go-lucky guy."
Kendall earlier attended Faulkner University in Montgomery, Ala., where students and teachers remembered him "as a well-liked, charming young man who was best known for his show stopping smile and carefree attitude," according to a Faulkner news release.
Samuel Jeffrey, a member of the Fairfax Church of Christ in Virginia, did not know Kendall but attended the Arlington burial ceremony after learning of the fellow Christian's death. Jeffrey wrote about the service on his blog.
Penny Kendall said the "beautiful tribute" meant a lot to her family.
"I am certainly thankful to the Lord for any blessing that was received by anyone for that post," Jeffrey told The Christian Chronicle. "I wrote it for myself and posted it to my blog because my mother asked me to. I never had any idea that the Kendalls would ever hear about it, much less read it. It is pretty amazing how blogs can bring diverse groups of Christians together from all parts of the world."