Coffee and prayer for the great Siam
In bustling Bangkok, missionaries work alongside Thai Christians and cast a vision for modern, urban ministry.
---
BANGKOK, Thailand — 
Sixty-eight years have passed since this Southeast Asian nation was Siam — an exotic trading hub and throne of the ancient Orient.
Related: In Bangkok, a shrine of the times — "Of all my memories … I can't forget is the sight of a young woman, kneeling in front of a Hindu shrine, pausing in her prayer just long enough to send a text." Read Erik Tryggestad's Road Notes.
Bangkok, capital of the Kingdom of Thailand, is now home to 8 million souls from around the world and remains a port of trade and commerce. Massive, multilevel shopping malls stand beside ornate Hindu shrines. Street merchants sell gold watches and grill spiced meats next to omnipresent 7-Eleven stores.
Gary Ford weaves through throngs of taxis and mopeds on a Friday morning as orange-clad Buddhist monks walk barefoot through the streets. Thais rush to meet the monks, give them plastic bags of food and bow before them to receive a blessing.
As commuters leave their apartments, they pause in front of spirit houses — tiny shrines dedicated to their buildings' protectors — and give a quick bow with palms pressed in prayer-like fashion. Some leave small bottles of cherry red Fanta, with straws, as an offering.
Commuters leave drink offerings in front of a spirit house in Bangkok. (PHOTO BY ERIK TRYGGESTAD)Bangkok moves at a breakneck pace. It's easy for the visitor here to see only chaos.
Ford sees a perfect place for a coffeehouse.
"I've made coffee for my parents since I was little," says Ford, a military kid who lived in Germany and across the U.S. before his parents settled in New Mexico. "It's a personal routine, a ritual, It's communal. It connects people. It's my chill time. Conversations around coffee are impacting."
That's true even in bustling Bangkok, where Ford and his wife, Michelle, serve as missionaries. For busy young professionals, the small coffee shops that dot the urban landscape are places of refuge.
In coffee, the missionaries see opportunities for sustainable, life-changing ministry.


Busy young professionals wait for slow-drip coffee at a Bangkok coffeehouse. The Fords know baristas across the city, have connected with the Specialty Coffee Association of Thailand and have traveled to coffee farms among Thailand's hill tribes. (PHOTO BY ERIK TRYGGESTAD) SERVING REFUGEES, FIGHTING SLAVERY
The Fords had their first real conversation over coffee at Shades of Brown in Tulsa, Okla., during Gary Ford's internship with the Memorial Drive Church of Christ. He and his future bride, a missionary kid who grew up in Russia, shared their dreams of serving Christ. Both trained overseas — Michelle in Okinawa, Japan, and Gary in Bangkok — as part of the Adventures in Missions program, a ministry of Sunset International Bible Institute in Lubbock, Texas.
Gary and Michelle Ford speak with a friend in Bangkok's Nana district, where they work with a ministry that helps trafficked women escape the sex trade. (PHOTO BY ERIK TRYGGESTAD)
Two years ago they moved to Bangkok at the invitation of the Somprasong 4 Church of Christ. The Thai congregation needed English speakers to help reach its increasingly diverse community.
Less than a month after the missionaries' arrival, the church experienced an influx of refugees from Pakistan — forced from their homeland because they professed Christ and endured persecution from the Taliban and other militant Islamists.
Prasit Jirojanakul
The Fords organized efforts to feed and serve the Pakistanis, who live illegally in Bangkok — in fear of arrest and imprisonment. The missionaries encouraged their fellow Christians to help.
"I feel that God sent this couple to the church here," Prasit Jirojanakul, an elder of the church, known as "Soi 4," says of the Fords. The church is more united and mission-minded than in years past, the elder says. And many of the Pakistanis now are baptized members of the congregation.
The couple also urges their Thai brethren to fight one of the plagues on their community — human trafficking. In the brothels of Bangkok are poor, migrant workers from Myanmar, Cambodia and Laos who are coerced into lives of prostitution, human rights groups report.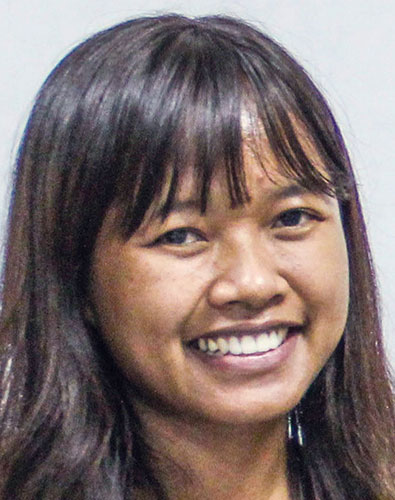 Gratdae JariyaThe Fords work with a faith-based nonprofit, funded in part by a coffeehouse ministry, that sends volunteers into Bangkok's Nana district, filled with bars and strip clubs, and helps workers in the sex industry escape and learn new skills — from sewing to data entry.
Members of the Soi 4 church, including Gratdae Jariya, have joined the Fords in their work with the nonprofit.
"I've been a Christian for eight years, and I just feel that I want to do more," Jariya says. Working alongside the Fords helped her focus on her mission as a believer — serving the lost in parts of her city where darkness reigns.
"I want to try to be a missionary to these places, too," she says.
'SUPER TIRED' AND ENERGIZED After two years of ministry, the Fords move at Bangkok's rapid pace. In addition to their ongoing work with refugees and the Soi 4 church, they want to help Thai Christians plant a network of cell churches, meeting in homes or coffee shops. Many Christians travel for two hours back and forth to church, Gary Ford says. Some attend Wednesday night Bible study via Skype.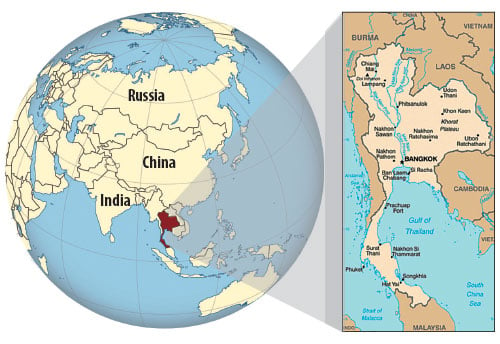 KINGDOM OF THAILAND
POPULATION: 67,976,405; languages: Thai, Burmese, some English and tribal tongues; RELIGION: 93.6 percent Buddhist, 4.9 percent Muslim, 1.2 percent Christian, 0.3 percent other.
HISTORY: The only Southeast Asian country never colonized by a European power, the former Siam became a unified kingdom in the 14th century. Thailand sent troops to fight alongside Americans in Korea and Vietnam. The country has more than 40,000 Buddhist temples.
CHURCHES OF CHRIST: English missionaries introduced Churches of Christ to Thailand in the late 1800s. Missionary Parker Henderson moved to Bangkok in 1958 and planted a church.
The city now has five Churches of Christ with a combined membership of about 700.

SOURCES: CIA World Factbook, "Churches of Christ Around the World" by Mac Lynn, images via Wikimeida Commons
The couple also hopes to launch their own Christian-run coffeehouse. In addition to sustaining their mission financially, the business would provide a safe, relaxed atmosphere where Christians could begin meaningful conversations with their city's busy spiritual seekers — who bow before monks and spirit houses.
The goal: introduce the former Siam to the Great I Am.
"Even though we're drained, and were's super tired from it all, it's worth it," Michelle Ford says. "At the same time, it's still energizing to be a part of it."
In Bangkok, "God is alive, and God is working."
Ministry to the least of these in Bangkok

Gary Ford, a missionary in Bangkok, Thailand, talks about reaching out to the impoverished people of his city — who live along railroad tracks in the shadow of giant apartment buildings. RELATED STORY: https://christianchronicle.org/article/coffee-and-prayer-for-the-great-siam

Posted by The Christian Chronicle on Tuesday, February 23, 2016
MORE ON URBAN MINISTRY: