Chapel: Showing faith in higher learning
---
For half an hour, four days a week, about 1,100 students, faculty and staff at
Lubbock Christian University
in Texas gather to sing, hear a message from God's Word and pray.
Ashley Slaughter loves it.
"Almost everyone on campus is assembled in one place — an event that I cannot imagine happening at large public universities," Slaughter, a junior from Ranger, Texas, says of LCU's chapel. "When everyone comes together, it creates a sense of community."
But that's not why she loves it.
"I love chapel because it reminds us all of the real reason that we are here," she says. "Not 'here' at this university, but here on this Earth."
Across the nation, colleges and universities associated with Churches of Christ take time from the academic day to gather for chapel. It's Bible-focused, faith-affirming and mandatory for full-time students.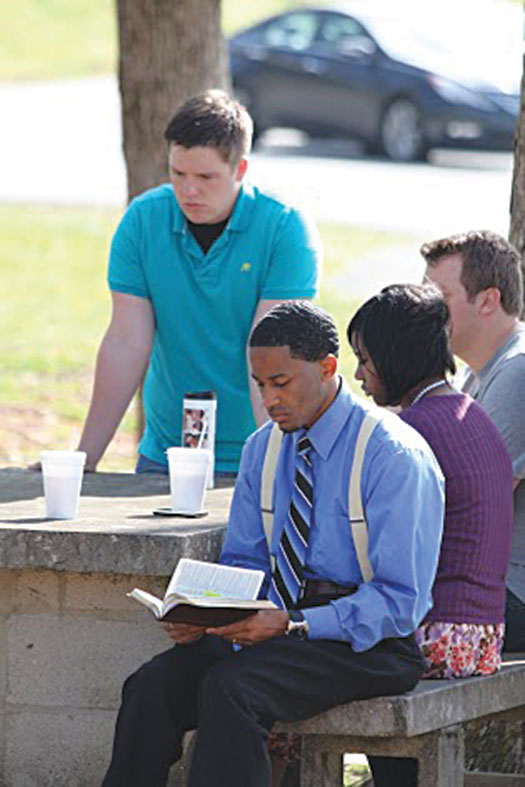 At Heritage Christian University in Florence, Ala., students occasionally lead chapel in nearby Smith Park. PHOTO BY LORI EASTEP
The Christian Chronicle
surveyed 15 such institutions — offering degrees in Bible and a wide range of academic subjects — about their chapel practices and policies. Several, including LCU, report that they have changed from penalizing students for unexcused absences to awarding credits for attendance.
But the concept of "attendance" is increasingly complicated as Christian universities serve growing numbers of non-traditional students, including those enrolled through online programs, said Scott McDowell, vice president for student development at
Lipscomb University
in Nashville, Tenn.
Serving an increasingly diverse student body's spiritual needs also is a challenge, he says, noting that 200-plus military veterans now attend Lipscomb and have "a host of questions … that have yet to cross the mind of a traditional undergraduate." University administrators say they are looking for ways to aid in such students' spiritual development as they evaluate their chapel programs.
Meanwhile, students including Slaughter say that chapel is a vital part of their collegiate experience.
"The core of our existence should be to worship and honor the one that created all things and gave up his son for us," she says. "I love that I am at a school where I am allowed share in that worship with my peers and professors through chapel."
RELATED STORIES: