An emergency landing — and a chance to preach
After emergency landing on Midway Island, Alabama preacher offers Bible studies to anyone who wasn't ready to meet God.
---
"I don't want to scare you, but we need to realize that this is serious," Brent Missildine told his wife, Lisa, and his daughter, Sarah.
"We are on a plane over the Pacific Ocean with the electronics burning enough that there is smoke in the plane. … If this doesn't turn out well, do you feel that you are ready to meet the Lord?"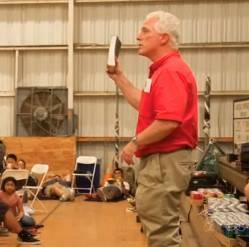 On Midway Island, Brent Missildine invites "anyone who felt like they weren't ready to meet God, to sit down and study the Bible and learn how they can be ready," according to the Prattville Church of Christ's Facebook page. (PHOTO VIA FACEBOOK)
On a United flight between Honolulu and Guam, the pilot and passengers smelled smoke, forcing an emergency landing on Midway Island, a remote, 2.4-square-mile atoll northwest of Hawaii. The church members prayed fervently as the plane landed — safely. (Read the
Los Angeles Times'
coverage of the emergency
.)
As they waited in a gym for a new plane, Missildine told his fellow passengers that he would study the Bible with any of them who felt, during the emergency, that they weren't ready to meet God. At first, all he heard was a laugh from the crowd, he said but two people eventually responded to his request.  
"Each person on our team showed courage and strength," Missildine told The Christian Chronicle. "After the captain addressed (the) crowd of passengers, Demar shouted out his trademark phrase 'God is good,' and many people then shouted, 'All the time.'"