A tragic loss leads a community to serve
---
MANSFIELD, Mass. — 
On a typical Sunday, the
Edgewood Church of Christ
may have 180 people in attendance — perhaps 200 on Easter or Christmas. 
But on a warm Tuesday morning in June, we managed to fit 500 people into our auditorium and an additional 200 into an overflow area. Outside stood 1,000-plus more people, dressed in red and holding red balloons. 
View | Anthony LindenWhen the black hearse pulled out of the church parking lot onto South Main Street, the bystanders released their balloons. The funeral procession moved slowly through the rows of strangers and friends that lined both sides of the road. 
Men and women, young and old, gathered together with hands over their hearts or tissues to their eyes as they said farewell to Shane Farrell, a boy that most had never met. 
It was, for many, the most beautiful funeral they had seen.
Six days earlier, a tragic accident set forth a series of events that cannot be easily explained or understood. As news spread concerning the tragedy involving 13-year-old Shane Farrell, the exact details were uncertain. But a few horrible facts were clear: A school bus. A child on a bike. A death.
Dozens of middle school students witnessed an accident they were not prepared to see. A bus driver, though faultless, was overcome with guilt and sorrow. The responding police officers, firefighters, and paramedics who were all deeply shaken. Hundreds of parents struggled with how to explain a tragedy like this to their own children.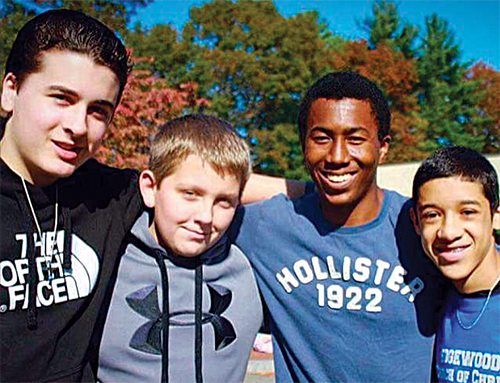 Shane Farrell, second from left, with friends at the Edgewood Church of Christ. (PHOTO PROVIDED BY ANTHONY LINDEN)
And Brian Farrell and Jackie McCabe had to absorb the loss of their son, if such a thing can be done. 
The air on the night of Wednesday, June 3, was heavy with sadness, and as the sun began to set that evening, it was clear that darkness had already fallen. 
The next morning, people woke from their fractured slumber still reeling from the news. As the initial shock wore off, an inexplicable urge built inside of people — an urge to do something, to serve. This service would become therapy, the community's way of coping. 
In the days that followed, our community experienced an outpouring of kindness and compassion. Family, friends and strangers banded together in humble service, all in their own way. 
People found ways to both honor the dead and serve the living. There was food, flowers, fundraising and forgiveness. Through the shock and pain, God worked wonders — bringing the gifts of faith, hope and love to the community. 
Classmates, neighbors, teachers and strangers came forward, and each shared a unique memory of Shane. Each spoken story painted a more complete picture of Shane. 
Those who worshiped with him or attended Bible studies and community groups with him already knew the godly young man he was. But it became evident that this is who Mansfield knew him to be as well. 
What an incredible thing for a boy of 13 to be 100 percent genuine in word and deed regardless of where he was or who he was with. He was a lamp casting its light in the dark room in which we all found ourselves. 
No words can do justice to what the community of Mansfield experienced for a few days in June. Such is the difference that a small light can make in a dark world. 
Shane was not just a member of the Edgewood Church of Christ — he was part of our family. And for a few days in June, so was Mansfield. The body of Christ that meets at the corner of Edgewood and South Main found itself at the center of the universe. 
Our little church, like Shane, is a city on a hill, and the community has seen it. 
ANTHONY LINDEN is an active member of the Edgewood church. He earned a degree in biblical studies from Sunset International Bible Institute in Lubbock, Texas, in 2009. He is the husband of Gina and the father of Anthony Jr., Joanna, Charlotte and Eleanor. Email him at [email protected].