Youth sports: a modern-day idol for some families?
---
Sunday used to be reserved for worship and rest.
Now, youth sports compete for many families' time and attention on the Lord's day.
"I would go so far as to say that children's sports are the idol of this generation," said Judy Square, whose husband, Woody, serves as youth and family minister for the
San Leandro Church of Christ
in California. "Everything on the family's schedule bows down to it."
That includes the Sunday morning assembly.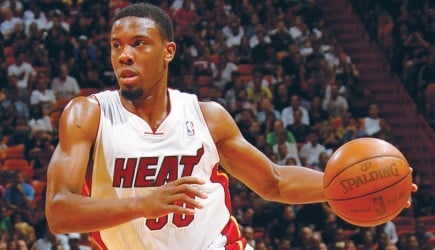 Norris Cole brings the Heat in Miami but makes time for church and inspires young believers. (NBA PHOTO)
In a study
of 16 declining Protestant congregations in the U.S. and Canada, the reason most cited by clergy and members for falling attendance was the secularization of Sunday, with many identifying children's sports as most responsible, according to the Association of Religion Data Archives.
"The repeal of 'blue laws' that kept stores closed on Sundays has resulted in many more people working or shopping on Sundays, and children's athletic activities are often scheduled on Sunday mornings at the very time when many churches traditionally have provided religious education," reported researcher Stephen McMullin of Acadia Divinity College in Nova Scotia.
At the
Canyon Church of Christ
in Anthem, Ariz., families often miss services for soccer, baseball and gymnastics tournaments, senior minister Timothy Gunnells said.
"I think this is a real dilemma for many people," Gunnells said. "They feel like sports are an important part of their children's physical and psychological development. But I think when sports are chosen over corporate worship, it sends the message to the children as to what is more important.
"I do know," he added, "that some people work extra hard to worship somewhere else, do something privately or at least make the effort to attend Bible classes or a later assembly."
Instead of hearing the call to worship, too many young people hear a different message, said Ron Buch, pulpit minister for the
Aledo Church of Christ
in Texas. That message: "Play ball!"
As youth minister for the
Mt. Carmel Church of Christ
in Illinois, Gary Ford II coached and refereed soccer and worked with cross country runners.
Although sports may hurt church attendance, Ford said his volunteer experiences provided tremendous opportunities to demonstrate "missional living."
"Few things made me more proud as a youth minister than seeing and overhearing my teens talk about spiritual things or inviting their friends to youth group during a practice," said Ford, who is transitioning to the mission field in Bangkok. "Or seeing them treat a competitor on the field that wasn't acting fairly with kindness and compassion when they didn't deserve it."
Blake Gordon plays for a select basketball team. (PHOTO PROVIDED BY FAMILY)
Kevin and Lisa Gordon, members of the
Memorial Church of Christ
in Houston, have experienced the tension between sports and church firsthand.
The Gordons declined to let their son Blake, 14, play select baseball because of concerns about weekend travel and games. Two years ago, though, the parents allowed him to join an elite basketball team — with the coach's understanding that Blake wouldn't miss church.
On a recent Saturday, Blake played three games and got home at 10 p.m. The next morning, he attended an early service at the
West Houston Church of Christ
before a 10:20 a.m. game. Then he played in a championship game at 4:20 p.m. before making it to his home congregation's Sunday night assembly.
"Yes, it can be a distraction," Kevin Gordon said of juggling game and church times, "but it can actually be a great way to show your kids and others how important Jesus is to your family."
A high-profile example: Norris Cole.
When Cole began playing basketball at age 3, his parents explained to coaches that if games or practices occurred on Sunday or Wednesday night, he would need to leave early or not participate because of services at the
Webster Street Church of Christ
in Dayton, Ohio.
"His coaches respected our choice, and he never had a problem with his teammates teasing him," his mother, Diane Cole, told
The Christian Chronicle
earlier this year.
Norris Cole still managed to succeed on the basketball court.
In his second professional season, the Miami Heat guard just celebrated his second NBA championship. 
Bobby Ross Jr. is Managing Editor of The Christian Chronicle. Reach him at [email protected].
Feedback

Remove "youth" from the headline and the message becomes more clear. Sports in general are a modern day idol for millions of people in this country. If a quarter of the money, energy, or time that Christians put into sports was put into service in the Kingdom of God, the results would be astounding.

Joshua Jeffery

Westside CofC

Forest Grove, Oregon
USA

July, 12 2013

…and I thought I was the only one pulling out what was left of my hair on this issue! I have pleaded and preached about this since I was a Youth Minister over 20 years ago. I just can't get families to see the danger until their child leaves the faith when they are on their own. Then, somehow, it was the church's fault for not instilling a deep enough faith in their child. yeah, I guess I am slightly frustrated when it comes to this issue. I've seen too many children walk away from God and none of them ever made that pro career.

Jim Dillinger

Rochester coC

Rochester, IN
USA

July, 9 2013