Religious freedom in public schools
Yes, it's constitutional to teach the Bible during the school day.
---
SIMPSONVILLE, S.C.
— Eight middle school students gather around a classroom table at the Holland Park Church of Christ.
Teacher Becky Mays asks if anyone has a prayer request.
"My grandma," one student says.
"My uncle," another says. "He might be paralyzed."
"My dad because he lost his job a while back," a third student adds. "He's still going through a hard time."
This is no extraordinary scene, except that these are not Sunday school pupils.
Instead, they are students from the public school across the street, studying the Bible during the regular school day on a Friday — and it's totally constitutional.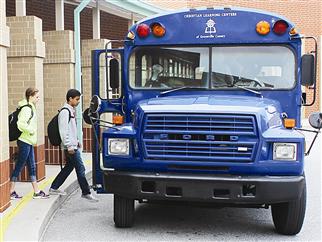 Students at Mauldin Middle School in Simpsonville, S.C., board a bus taking them to "Released Time" Bible class at the Holland Park Church of Christ.(PHOTO BY BOBBY ROSS JR.)
As Butler explains, "Released Time is time during the school day when public school students are released from school, with parental consent, to receive biblical instruction."
TWO KEY HIGH COURT RULINGS
It's not just the Bible that can be taught during Released Time.
The off-campus approach to religious instruction of public school students is prevalent among Mormons as well as some Jewish and Muslim groups.
Nationwide, such programs serve an estimated 300,000 to 350,000 students in 32 states, according to School Ministries, a Released Time advocacy group based in Columbia, S.C.
"My first response was, 'Is this legal?'" said Mary Beth Christy, a Holland Park member and program volunteer. "Yes, praise God, it is legal.
"My feeling is that this program is a tiny opening of the door that was shut in 1962," Christy added, referring to the U.S. Supreme Court ruling that banned teacher-led prayer in public schools.
At the Holland Park church, a student picks out a new Bible to take home. (PHOTO BY BOBBY ROSS JR.)
Decades ago, religious instruction occurred on public school grounds themselves, said Charles C. Haynes, director of the
Religious Freedom Education Program
in Washington, D.C.
"Kids would go to a class taught by a religious leader, depending on their choice," Haynes told
The Christian Chronicle
. "It might be a priest, minister or rabbi. That was not uncommon in American public schools for a period of time."
But in 1948 — in the case McCollum v. Board of Education — the Supreme Court ruled that religious groups and school officials had cooperated unconstitutionally to provide religious instruction.
"Here not only are the State's tax-supported public school buildings used for the dissemination of religious doctrines," Justice Hugo Black wrote. "The State also affords sectarian groups an invaluable aid in that it helps provide pupils for their religion classes through use of the state's compulsory public school machinery. This is not separation of Church and State."
Elementary school girls answer questions about the Ten Commandments during a "Released Time" class in Greenville County, S.C. Pictured at the back are Holland Park church members Mary Beth Christie and Janice Butler. (PHOTO BY BOBBY ROSS JR.) 
Four years later, however, the 1952 case Zorach v. Clauson set the legal precedent that still governs Released Time.
In that case, the high court ruled specifically on the constitutionality of off-campus, Released Time programs, emphasizing the difference between schools supporting religious indoctrination and merely accommodating children's religious needs.
"We are a religious people whose institutions presuppose a Supreme Being," Justice William O. Douglas wrote in the landmark decision. "When the State encourages religious instruction or cooperates with religious authorities by adjusting the schedule of public events to sectarian needs, it then follows the best of our traditions, for it then respects the religious nature of our people and accommodates the public services to their spiritual needs."
Lori Windham
The decision allows schools to permit Released Time, but it does not require them to do so, legal experts said.
Last year, the U.S. Fourth Circuit Court of Appeals upheld a Spartanburg, S.C., program that lets high school students earn elective credit through off-campus religious courses.
"Although we hear threats, there are no major Released Time cases pending right now," said Lori Windham, senior counsel with the Becket Fund for Religious Liberty in Washington.
"I think that decision (by the Fourth Circuit) sent a strong message that Released Time is here to stay," added Windham, a member of the
Fairfax Church of Christ
in Virginia and a graduate of
Abilene Christian University
in Texas.
'ALL ABOUT TEACHING THE WORD'
Here in Greenville County — where the state's largest school district serves 70,000 students — churches from a variety of denominations cooperate to offer Released Time instruction.
Christian Learning Centers buses transport students between schools and nearby churches that host the program.
All participating churches must sign a basic statement of Christian belief — including belief in one God, Jesus as Lord and the Old and New Testaments as "God-breathed."
In the Bible lessons taught to students, the individual churches must leave out their distinctive doctrines, "the ones that cause all of us to be different," director Butler said.
"As a result, you have a lot of people from a lot of different church affiliations able to work together well and not bicker about their differences of interpretations of the Scriptures and stuff like that," she said.
"It's not about that," she added. "It's all about God. It's all about Jesus. It's all about teaching the Word, so that young people can get to know God and Jesus better, to help them understand that they need a Savior."
Janice Butler serves as executive director for the Christian Learning Centers of Greenville County. (PHOTO BY BOBBY ROSS JR.)

Don Taylor, a Holland Park elder, said the congregation southeast of Greenville considered the potential drawbacks of working with other churches.
"There was some question of, 'Are people going to start evangelizing? Are we going to teach them the right way to get salvation?'" Taylor said. "But then we got to thinking and said, 'Look, all we're doing here is teaching the kids the Bible.'"
Once a week, elementary and middle school students leave an elective class such as art or music for Released Time.
High school participants attend for-credit Bible classes daily.
The Holland Park church has developed a relationship with the middle school across the street — and an elementary school next door — beyond the Released Time program.
Members tutor students. They adopt school families at Thanksgiving and Christmas. They provide needy children with backpacks full of non-perishable foods each Friday — an undertaking dubbed "Mission Backpack."
After bowing to pray, volunteer Mays' class turns to the first chapter of the Gospel of John.
"How was Jesus there at the beginning of creation if he wasn't born until the New Testament?" 13-year-old Brooke Evans asks after reading the first few verses.
"He was there, but he came to Earth to be in the form of a human," Mays explains.
Today's class is the last Released Time of the school year, so all the students pick out a brand-new Bible to take home.
Then they enjoy a juice box and a snack before boarding the bus back to school.
"I like learning about Jesus and all that stuff," Brooke, an eighth-grader, tells the Chronicle, "because we don't do that at our school since we go to public school.
"That's why I like coming here."
RELATED STORY
Volunteers take roll before students leave Mauldin Middle School in Simpsonville, S.C., for "Released Time" Bible instruction at the Holland Park Church of Christ across the street. (PHOTO BY BOBBY ROSS JR.)
'RELEASED TIME' CHRISTIAN EDUCATION
• "It's important that public school officials understand that these programs are perfectly constitutional. They should not feel that they need to avoid or resist these programs."
• "Public schools can allow students to take off-campus religious courses and can permit them to receive elective credit for those courses."
• "Schools also should allow students to talk about their faith in class assignments, like an essay or an art project. Schools should also allow students to wear clothing with religious messages or religious symbols."
• "Although there are restrictions, public schools are not a faith-free zone. To paraphrase a famous case, religious students don't shed their rights at the schoolhouse gate."
Feedback

This is so encouraging to me. I see my grandkids and others in the family grow up with no idea of what God is all about. They are filled with the nonsense of evolution and that's all they know or will listen to for fear of not being like the others. I pray this will come to more schools.

Karen Sproles

Morgan Street Church of Christ

Martinsville, In
usa

June, 21 2013

Our culture has corrupted the church. The church of the first century did very well under the Roman government and they did not get to vote. What government can permit it can prohibit and it can permit it again. Christians have to stop trying to get government to enforce their belief. Teach the children at home like the early Christians did.

John Jenkins

GSM CoC

Gatlinburg, TN
USA

June, 10 2013