Why I can't stand Churches That Work
Fitting too much good news into too little space is a heart-wrenching challenge.
---
Members of the Long Island Church of Christ in New York pray during a Friday night devotional. (PHOTO BY ERIK TRYGGESTAD)
It's no secret that I love getting feedback about our work here at The Christian Chronicle. (Yes, even the not-so-nice feedback. It means people are reading.)
I must confess, however, that I get a slight twinge of angst whenever a reader tells us how much they love our Churches That Work series. 
Alas, I inwardly sigh. That means we'll have to keep writing them.
Don't get me wrong. I love telling the stories of Churches of Christ across the nation that are evangelistic, biblical, united and visible (the four criteria we developed for the series way back in 2005). 
But the task of condensing an entire congregation — alive with vibrant ministries, full of people with gripping stories of conversion, grace and overcoming adversity — into 1,200 words or less is beyond difficult for me. 
It's downright painful.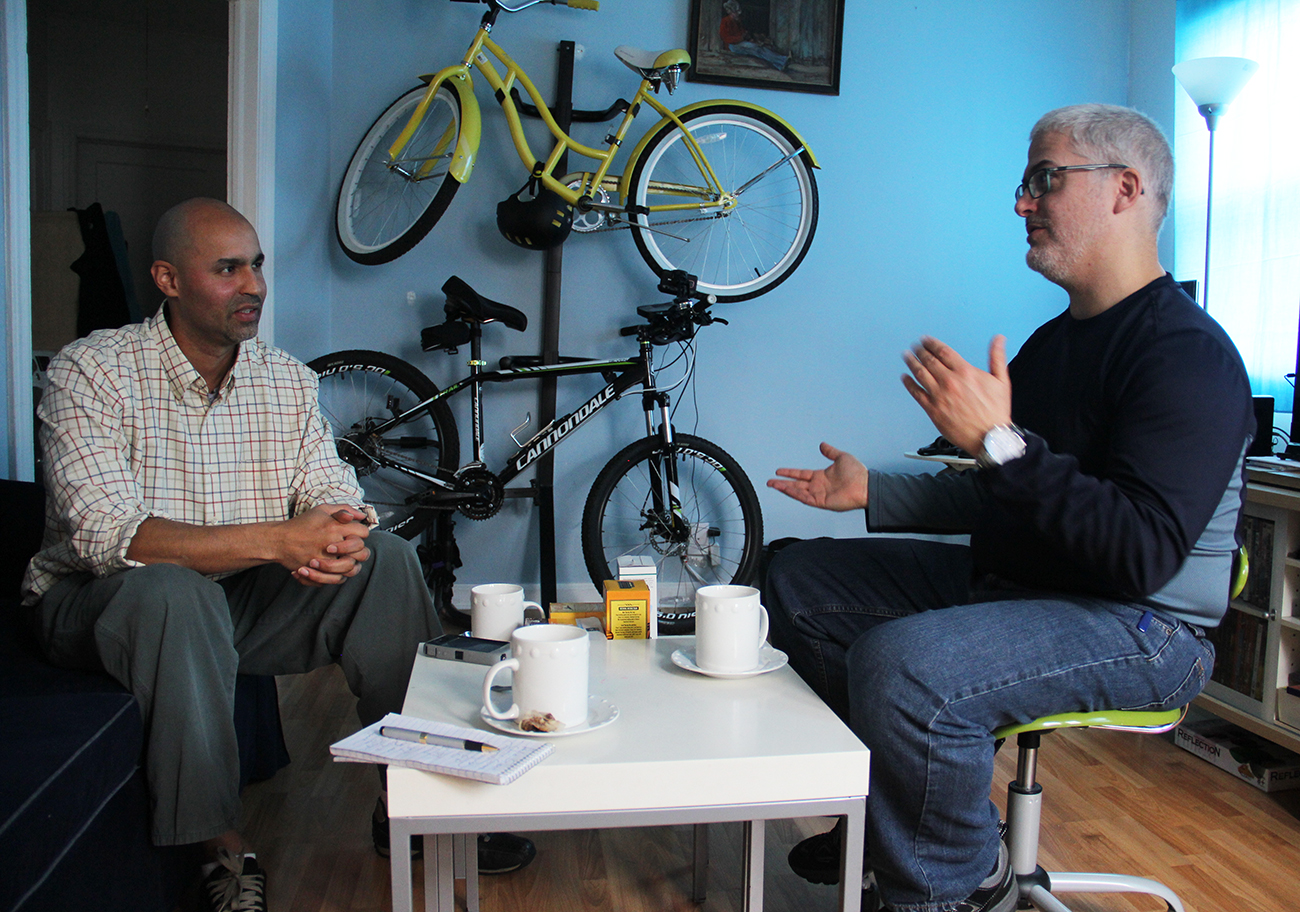 Charlie Gomez, Spanish evangelist, and Pedro Gelabert swap conversion stories in Gelabert's home on Long Island. (PHOTO BY ERIK TRYGGESTAD)
Our latest profile is no exception. I flew to New York to spend a few days with members of the
Long Island Church of Christ
in Central Islip. I stayed in the home of Rob Young, the church's family minister — just on the border of the New York borough of Queens and Nassau County. 
His wife, Rebecca, was a gracious host, as were her parents, Steve and Laura Aponte, who live in an apartment connected to the house. I ate bagels at their breakfast table and played video games with their kids. Steve Aponte even drove me all the way to Newark, N.J., when my flight home got rescheduled. I can't thank them enough.
I met Steve Aponte about a year before my visit. He was coordinating disaster relief as Churches of Christ in New York and New Jersey responded to Hurricane Sandy. (He's still heavily involved in that work, by the way.) 
In the course of interviewing him about the hurricane, I asked him about the Long Island church. A native New Yorker, he told me his conversion story (which actually begins with his daughter's conversion). Then he told me a bit more about the congregation.
I filed the information away, resolving that, if I had the chance, I would go see the church for myself.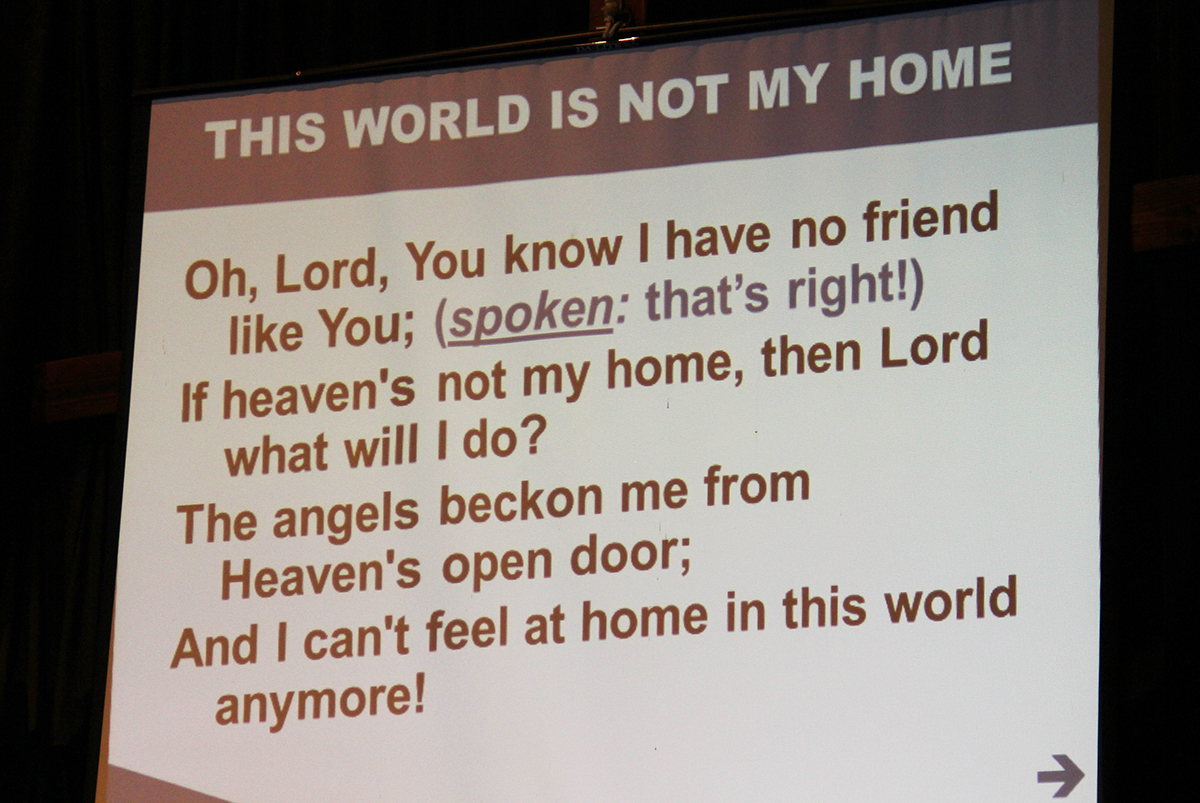 I particularly liked the "spoken word" addition to this classic hymn. (PHOTO BY ERIK TRYGGESTAD)
I'm glad I did. Worshiping with the diverse body of believers at the Long Island church was incredible. It was the closest experience I've had to my
campus ministry days at the University of Georgia
. (Hence the title of the piece,
"A grown-up campus ministry."
)
There are so many things that I didn't get to say in the piece. I interviewed a woman who was baptized as a result of the church's disaster relief efforts, but had to cut her testimonial for space. 
Every member of the church is an evangelist, and all of the church's ministers are home-grown. There's a whole story there that had to be scaled back. The congregation's Spanish ministry barely got mentioned. I could have written an entire piece on the church's mentorship groups.
And I may. Whenever I make the difficult choice to cut, I tell myself that I can always revisit aspects of the story in future issues. Of course, I've been saying that for 12 years, so you can imagine the size of the backlog that's stuffed in my head — and spread across more notepads than I can count.
In the case of the Long Island church, I decided to focus on the conversions that happened through the congregation's campus ministry — and the way children brought their parents into the church. 
It was amazing to me to see how a bunch of hard-headed, former atheists have become evangelists and mentors to future generations of church leaders. God is at work. Hallelujah.
We envisioned Churches That Work to highlight unique or innovative ministries in our fellowship, providing simple steps that other congregations can follow to replicate them. 
As the series has developed, we found the more compelling stories to be those of individuals — not ministries. There's no silver bullet for church growth, but the common thread seems to be humble servants of Christ, willing to be used for God's glory — in ways they can't always anticipate.
Oddly enough, two of the churches that inspired the series have yet to be profiled. One is the South MacArthur Church of Christ in Irving, Texas. I visited the church nearly a decade ago and wrote a profile of their Laotian-language service. The other is the River Road Church of Christ in Albany, Ga., which hosts a training program for church leaders from southern Africa. 
One day, I would love to expand the series to include vibrant congregations outside the U.S.
Do you have suggestions for Churches That Work? Please post below or email me at [email protected].
David Luhrs, left, leads a prayer during Sunday worship at the Long Island Church of Christ. (PHOTO BY ERIK TRYGGESTAD)