Where We've Been: Summer Camp
---
NORMAN, Okla. — 
"I'm singin' for the Lord, just singin' for the Lord. What a glorious feeling, I'm happy again. Thumbs up! Elbows in! Knees together! Ah tootsie tah, ah tootsie tah, ah tootsie tah tah!"
NORMAN, Okla.: Children sing silly songs and play games during "Wild Thing" as they wait for dinner after an afternoon of swimming, games and crafts at Inside Out Camp. (PHOTO BY ERIK TRYGGESTAD)
Boys flung themselves across the stage — sometimes staying upright — as they sang the song during skit night at Inside Out Camp. 
During the four-day experience at Norman's Camp Rock Creek, children learned about seeing God's fingerprints in the plants and animals around them — including a few wild turkeys and more than a few mosquitos after Oklahoma's recent, unprecedented rainfall. 
(They also learned how to sing while sticking out their tongues.)
Rob Robinson, minister for the Thomaston Road Church of Christ in Macon, Ga., speaks to teens about grace during a Bible class at Camp Canaan. (PHOTO PROVIDED BY DOUG WALLEN)
MACON, Ga.: Children decorate placemats during craft time at Camp Canaan. (PHOTO PROVIDED)
Across the nation, Churches of Christ treated young believers to sports, crafts, games and studies of God's Word during annual Bible camps. The results, directors said, were lifelong memories and decisions to follow Christ.
In Macon, Ga., Camp Canaan, hosted by the Thomaston Road Church of Christ, resulted in a baptism.
At the Northwestern Ohio Christian Youth Camp near McCutchenville, the 90-year-old campsite itself is filled with reminders of God's providence.
McCUTCHENVILLE, Ohio: A fire pit devotional at Northwestern Ohio Christian Youth Camp. (PHOTO PROVIDED JULIE O'SHELSKI) 
"One of our directors met his wife at camp," said church member Julie O'Shelski, "and now his children and grandchildren come to camp. As an anniversary gift, he purchased a gazebo and placed it in the spot they first started talking."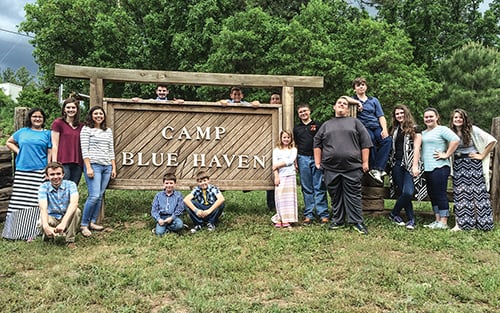 LAS VEGAS, N.M.: Members of the youth group of the Western Hills Church of Christ in Fort Worth, Texas, pause for a photo during their session at Camp Blue Haven. (PHOTO BY ERIK TRYGGESTAD)
WHERE HAVE YOU BEEN? A gospel meeting? A lectureship? What did you like? What could have been better? Email [email protected] or share your experiences here.