Where We've Been: Global Missions Experience
---
Christian students from across the nation experienced the ultimate camping trip infused with worldwide cultures at the
Global Missions Experience
. 
Harding University Tahkodah, or HUT, a campsite in Floral, Ark., was the setting for the four-day experience, formerly known as the World Mission Workshop. 
Philip Kingsley negotiates for his family's meal in the Global Mission Experience market. (PHOTO BY DAVID LOPEZ)
In addition to hearing from missionaries in fields from Alaska to Africa — including Ebola survivor Dr. Kent Brantly — students got a small taste of life in developing nations. 
Organized into "families," each was tasked with preparing a meal. That meant a trip to the GME market, where they haggled with shopkeepers over the price of vegetables and tussled with corrupt police in search of bribes.
For more than a half-century, various campuses associated with Churches of Christ have hosted the workshop. This year's theme was "Relentless," focusing on God's never-ending pursuit of his lost creation.
HUT, a 1,350-acre site north of Harding's campus in Searcy, Ark., serves as a missionary boot camp of sorts, where trainers prepare prospective missionaries for cross-cultural ministry.
BellThe campsite "is something that everybody needs to see," said Sarah Bell, a student at Oklahoma Christian University in Oklahoma City. In addition to serving as an out-of-classroom learning experience, the weekend helped her to "see how important God's mission is and spend more time intensively learning about what that looks like and how to be a part of it." 
Bell said she grew spiritually by fellowshipping with people who want to be intentional in God's mission — wherever they are. She also benefited from the speakers, who have served in countries including Mozambique, Singapore and Peru.
"The thing I enjoyed most was hearing from missionaries who have been involved with a particular work for a long period, to the point where they get to see God working through a long timeline," she said. "So often, when we get involved in short-term missions we don't get to see that effect."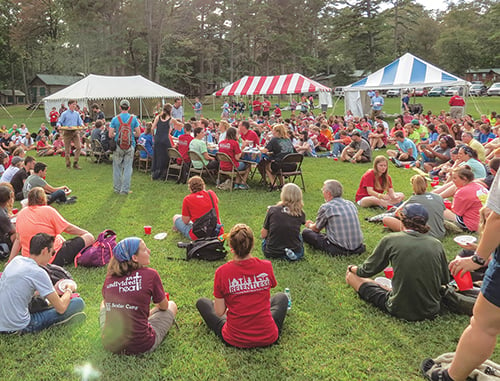 During the weekend, students get a lesson in global income disparity. Divided into groups according to the percentage of the world that lives in poverty, a few enjoy fine dining at a table on the campsite while others eat servings of humble beans and rice. (PHOTO BY PHILIP KINGSLEY)
WHERE HAVE YOU BEEN? A gospel meeting? A lectureship? What did you like? What could have been better? Email [email protected] or share your experiences here.