When your neighbors aren't your neighbors
Church in western New York draws members from miles away but works to connect with its community.
---
ROCHESTER, N.Y. — What happens when your neighbors aren't your neighbors?
That's the challenge faced by the Lawson Road Church of Christ and other congregations that draw many, if not most, members from outside the immediate area where they worship.
Peter Horne, 41, has served as minister for the Lawson Road church for eight years. The congregation in western New York averages Sunday attendance of 115.
A native Australian who came to the United States to attend Harding School of Theology in Memphis, Tenn., Horne goes by "Pita" on Facebook. He is married to Julie and has a 6-year-old daughter, Sophie.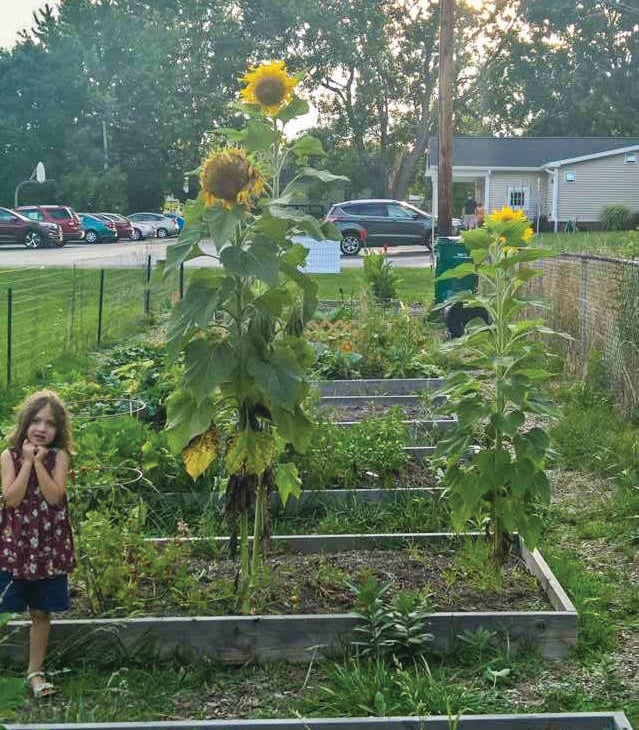 Sophie Horne, daughter of minister Peter Horne, visits the Lawson Road church's community garden. (PHOTO BY PETER HORNE)In an interview with The Christian Chronicle, Horne talked about the racially diverse Lawson Road church's efforts to connect with its community.
What challenges does a congregation face when most of your members live several miles from the church building?

There are obvious challenges like transporting teens to events. Or if a member hosts an event, they may live 30 minutes from the building but an hour from other members. The distance makes socializing and coordinating difficult. Even supporting each other in times of difficulty is tough.
Driving an hour to deliver a meal to someone who's sick is quite different than "popping around the corner" 10 minutes away.
I would say the biggest challenge is coordinating our outreach efforts. Do we focus on the communities we live in or the community around the church building? I don't have exact numbers, but if 30 percent of our members live in the city that is majority black and has one of the highest child poverty rates in the country, and 40 percent of our members live in a suburb that is 95 percent white and very middle class, and our church building is located in that suburb but near the city line in an older, poorer neighborhood — where do we direct our efforts? How do we decide which needs to address?
Can members who live in the city surrounded by myriad social issues realistically be asked to be wholehearted in their commitment to the mission of the church in the suburbs?
What are some ways that the Lawson Road church has endeavored to love God and love your neighbors?

There are quite a few apartment complexes in our immediate community. The last few years we started hosting monthly summer cookouts for the tenants at the largest complex.
Additionally, we also started a small community garden with the goal of providing space for apartment tenants. Although we've started both of these, they're still growing and haven't reached their full potential yet.
We also continue to host small groups in our members' neighborhoods as we encourage them to be good neighbors where they live.
Why did you decide to focus your community service and outreach on the two-mile radius around your building?

This was a tough decision. In the end, we followed the process of a book titled "Church Unique" that prompted us to ask, "Why is this group of people, in this place, at this time?"
We're still working to answer those questions, but we felt that since this is the geographic area all our members have in common, it was best to focus here.
It's easier to invite members to clean up a main road near our church building than to drive an hour to a neighborhood they have no connection with — other than another member lives there — to clean up a park. Additionally, we recognized that there's a large neighborhood to our northeast that doesn't contain another church, making us their "local church."
What can you tell me about your community garden, the crops raised and the response you've received from neighbors?

We're off to a slow start. After two summers we have three of our 10 beds occupied by neighbors. None from the apartments, but we did get a couple who attend an Alcoholics Anonymous meeting at our building sign up for a garden bed, so that was nice synergy.
I know some community gardens donate their crops to the food bank, etc. In our case, the families get to keep the food for themselves, although quite a bit finds itself to a giveaway table in our church foyer. Crops include tomatoes, peas, greens, squash, peppers, herbs, sweet potatoes, and this year, sunflowers.
How have you tried to show Christ's love to the apartment complex across the street from the church building? Have you been satisfied with your efforts there?

Besides what I mentioned earlier, we also plan to install a community library (oversized mailbox) on our church's front lawn. If that goes well, we'll approach the apartment management about building and installing one for them.
This year we didn't host any cookouts as other events in our small church family took precedence. We have a lot of potential to become more organized in the ways we interact with those apartments.
We remain committed to the task.