When you took in a stranger
Ministry that houses Mayo Clinic patients and their loved ones has cared for thousands.
---
ROCHESTER, Minn. — Creaky stairs.
Wooden floors.
To Lee Jamieson Sr., the old house down the street from the Mayo Clinic feels like home.
"It reminds me of my grandparents' house," said Jamieson, minister for the Timberlane Church of Christ in Tallahassee, Fla. "It's got character."
Snow coats the driveway as the preacher and his 19-year-old son, Lee Jr. — who paralyzed his right arm in a skiing accident — carry their luggage once again into the "House of Compassion."
Built in 1921, the three-level dwelling is part of a ministry that has provided soft beds and warm hugs to thousands of Mayo patients and their loved ones.
The ministry, called Hands of Compassion because it involves more than housing, grew out of Rochester Church of Christ members opening their own bedrooms and basements to frequent out-of-state visitors.
"Members were taking random strangers into their houses just because they happened to be sick and going to the Mayo Clinic," said Phillip Quelle, full-time chaplain for Hands of Compassion. "They were doing this week in and week out, over and over and over again."
Launched in 1985, Hands of Compassion expanded with the opening of a second, more modern House of Compassion in 2007. Still, space and facility limitations forced the nonprofit to turn away more than 300 potential guests last year.
The ministry has raised more than half the estimated $600,000 needed to build a third house with capability to serve more patients with disabilities, board president Ross Hoopes said.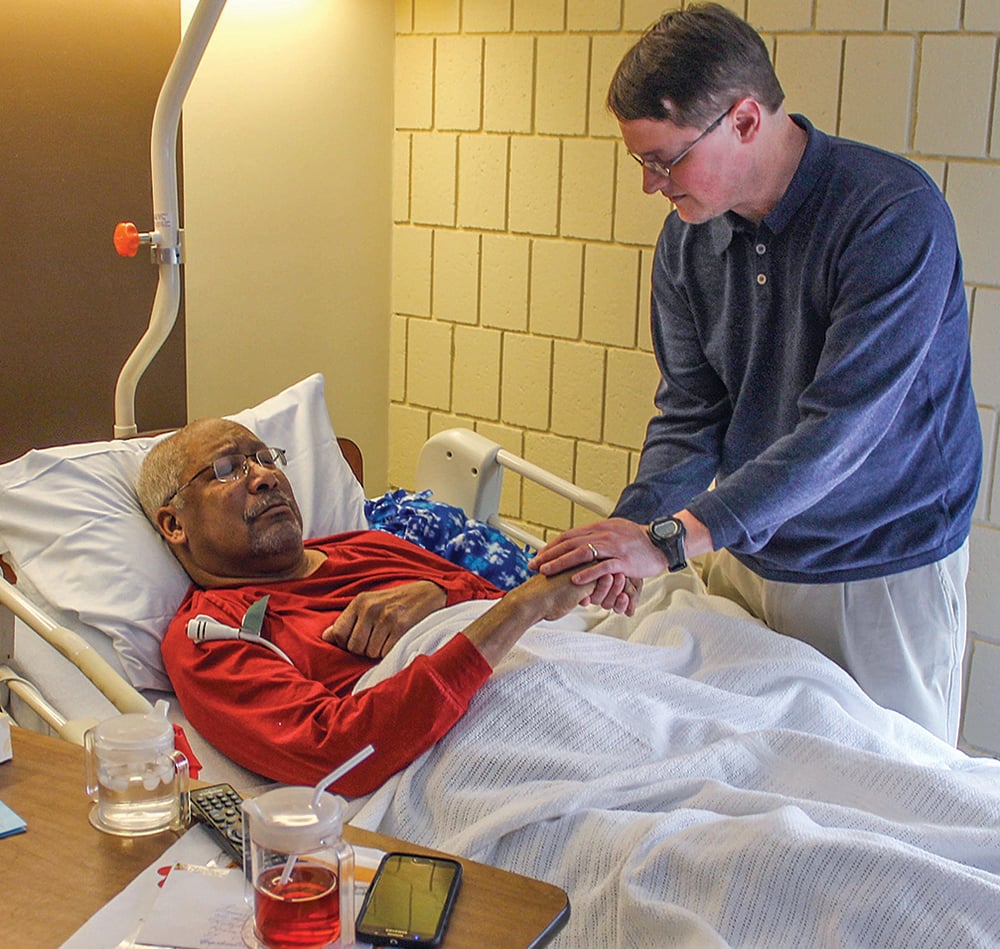 Phillip Quelle, full-time chaplain for Hands of Compassion, prays with a patient named Rudy at a rehabilitation facility in Rochester, Minn. (PHOTO BY BOBBY ROSS JR.)
Eugenio Coco, 63, needs a lung transplant.
He has appointments at Mayo every three months. His doctors' visits usually require a two-night stay in this city of 110,000 souls, about 85 miles southeast of Minneapolis.
Before hearing about the free housing, Coco and his wife, De, members of the Grandview Church of Christ in Des Moines, Iowa, were paying up to $175 per night for hotel rooms.
Those bills added up.
But finances are only part of why Eugenio Coco counts Hands of Compassion as a blessing.
"It's just the idea of being around people that are likeminded and share your faith and understand your situation," he said. "It's a comfort to me and also to my wife."BEST AND WORST OF TIMES
Debra Lawrence pokes her head out the front door of the newer House of Compassion and waves at a stranger lost in the dark.
Lawrence's dog, Audrey, wags her tail as the black-and-white Papillon's owner hugs the late-arriving guest.
Chris and Cindy Frazier and Debra Lawrence hold hands as they pray at Wednesday night Bible study. (PHOTO BY BOBBY ROSS JR.)The devoted house manager has served with Hands of Compassion for 10 years.
Still, she finds it difficult to put her role into words.
She's always been a caregiver. Growing up the oldest of six siblings nurtured some of that. So did tending to her dying mother, who lost her battle with lung cancer a decade ago.
On a typical day, Lawrence cleans the house. She checks in guests. She listens to patients' stories. She offers a comforting word here and an understanding touch there.
But she tries her best not to intrude.
The ministry's facilities simply can't accommodate guests' pets, but Audrey provides a furry, four-legged presence that boosts the spirits of both her owner and many patients.
Typically, the people who come to the Mayo Clinic — one of the best and busiest hospitals in the world —face overwhelming health situations.
Some have a life-threatening condition, and Mayo represents their last hope to survive. Others have an undiagnosed disease, and Mayo marks the end of a long, frustrating journey to identify and treat it.
Some patients get wonderful news. Others return to the house utterly devastated.
Lawrence ministers to them all.
"She's always upbeat and extremely supportive. Joyful," Eugenio Coco said. "She realizes every person she meets is there for one reason. They are confronted with a major challenge in their life, and she is still able to continue to be cheerful in her mission."
"What a ministry to be able to reach out and touch people in their darkest hours," says Chris Frazier, a houseparent with his wife, Cindy, for Hands of Compassion.The Fraziers welcome Mayo Clinic patients and their loved ones into one of two "Houses of Compassion" operated by the ministry, an effort of the Rochester Church of Christ in Minnesota.Video by Bobby Ross Jr.

Posted by The Christian Chronicle on Wednesday, February 10, 2016
A LITTLE CHURCH THAT COULD
Chris and Cindy Frazier's first experience with Hands of Compassion came in 2001.
The Texans brought their daughter Christy to see if she — like her father — might have multiple sclerosis. It turned out she had lupus.
The Fraziers stayed at the original House of Compassion and fell in love with housemother Boots Young. Now 93 and living in Ohio, Young served in that role for 27 years.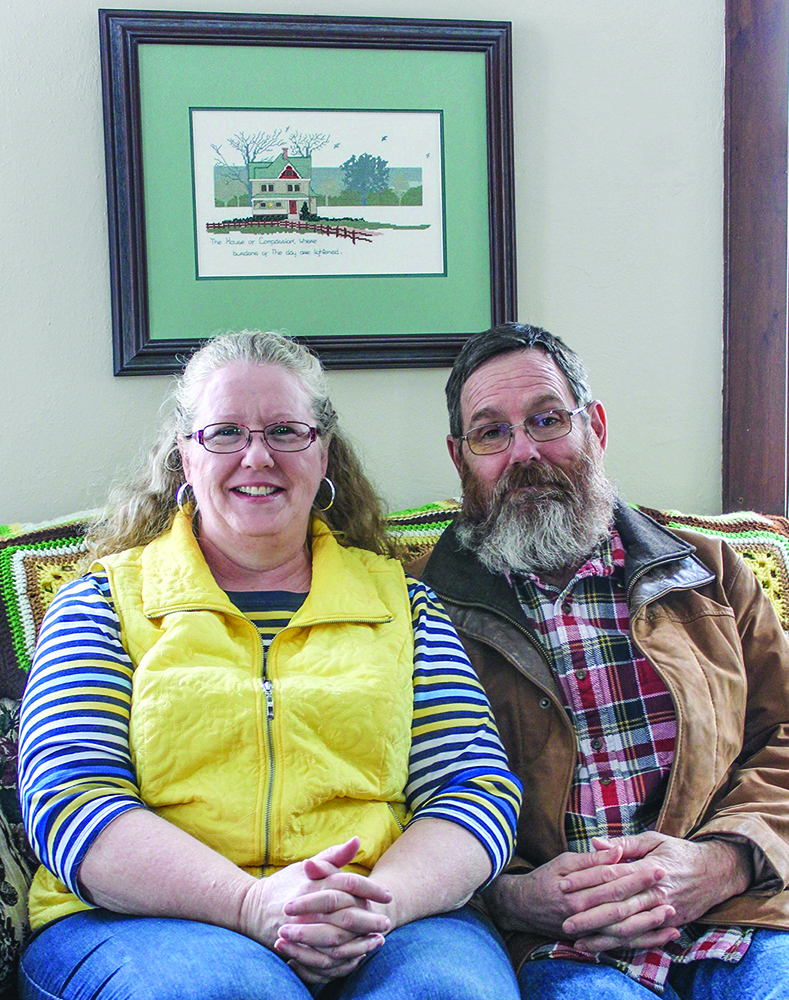 Cindy and Chris Frazier serve as houseparents for the Hands of Compassion ministry in Minnesota. (PHOTO BY BOBBY ROSS JR.)When the ministry advertised for new caregivers in 2014, Chris and Cindy felt God's nudging.
Undeterred by the subzero temperatures, they made the 1,000-mile move north in February 2015.
They found their calling.
"We had one lady who said, 'When I come to your home, I feel like I'm home. I don't feel that comfortable when I go to my relatives,'" Cindy Frazier said. "That's what we want. We want people to feel like they're at home."
First-time guests receive a blanket made by Glendora Davidson and other women of the Mankato Church of Christ, a Minnesota congregation about 85 miles west of Rochester.
"Every single one is different," Davidson said of the blankets. "We want (guests) to know that this is like God giving them a hug."
Cards handwritten by members of the Bellevue Church of Christ in Nebraska and placed on pillows contain messages such as, "God specifically knows your needs, and He is all that truly matters to provide for each of your needs."
Chris Frazier has a scraggly, "Duck Dynasty"-style beard and an easygoing demeanor. He doesn't drink coffee. But he makes it as a means of connecting with guests.
Brent Hanson, pictured with his wife, Becky, awaits a heart transplant. (PHOTO BY BOBBY ROSS JR.)Brent Hanson has battled heart problems for years.
After the 58-year-old father and husband suffered a series of heart attacks last year, his wife, Becky, and teenage son, Tony, stayed with the Fraziers. A Hanson family friend, Stacy Sikes, served as Hands of Compassion's chaplain for 15 years and told them about the ministry.
On the day of her husband's surgery, Becky Hanson got up before 6 a.m. To her surprise, Chris Frazier met her at the bottom of the stairs.
"He just stood there and gave me a hug," she recalled. "And he prayed with me. And he cried with me. I was like, 'This guy doesn't even know me.' We had some good conversations, and it was sincere. That was the turning point for me."
Suddenly, the House of Compassion wasn't just about saving money.
Brent and Becky Hanson talk about their experience with Hands of Compassion, a ministry of the Rochester Church of Christ in Minnesota. The ministry provides free housing for patients and their loved ones who come to the Mayo Clinic."It's bigger than just the house itself," Becky Hanson said of the love and support her family received.Video by Bobby Ross Jr.

Posted by The Christian Chronicle on Tuesday, February 9, 2016
At the hospital, Chris Frazier and Quelle, the chaplain, played the board game Risk with Brent Hanson and his son. Quelle prayed with the family before the surgery.
Since then, the Hansons have moved to Rochester from their hometown of Chisholm, Minn., about 280 miles north. They're renting an apartment as Brent awaits a heart transplant.
The couple's religious background is Assemblies of God. But here, they attend the 80-member Rochester Church of Christ — where they've made friends and feel loved.
"I expected a large congregation because of all they do," Becky Hanson said. "I walked in, and I was like, 'Wow, what a little church can do.'"
The "prayer wall map" at the Rochester church. (PHOTO BY BOBBY ROSS JR.)

A colorful "prayer wall map" at the Rochester church shows all the many states from which Hands of Compassion guests have come.
"We make it a habit to pray over the names on the map," says a note in the church bulletin.
Patti and Steve SikesAbout 60 percent of those housed are members of Churches of Christ. The rest are from other religious groups or have no faith background.
Rochester preacher Steve Sikes and his wife, Patti, lost their 31-year-old daughter, Jessica, to cancer last year. Steve Sikes is Stacy Sikes' brother.
The minister said the congregation lives out Matthew 25, where Jesus declared, "Whatever you did for the least of these brothers and sisters of mine, you did for me."
"We have a church family," Steve Sikes said, "that understands hurt and pain and the need for dependence on God."A BRIGHT SPOT
Lee Jamieson Jr. wiped out on a ski slope in late 2013.
The teen had received the trip to Snowshoe, W.Va., as a reward for earning an ROTC scholarship.
"He hit the side of his head and his shoulder," his father said "And it actually ripped three of the nerves out of his spinal cord and literally unplugged his arm."
Doctors in Alabama — where Lee Jamieson Sr. then preached for the Central Church of Christ in Tuscaloosa — gave no hope.
They said the arm needed to be amputated.
The older Jamieson and the teen's mother, Kathy, refused to give up.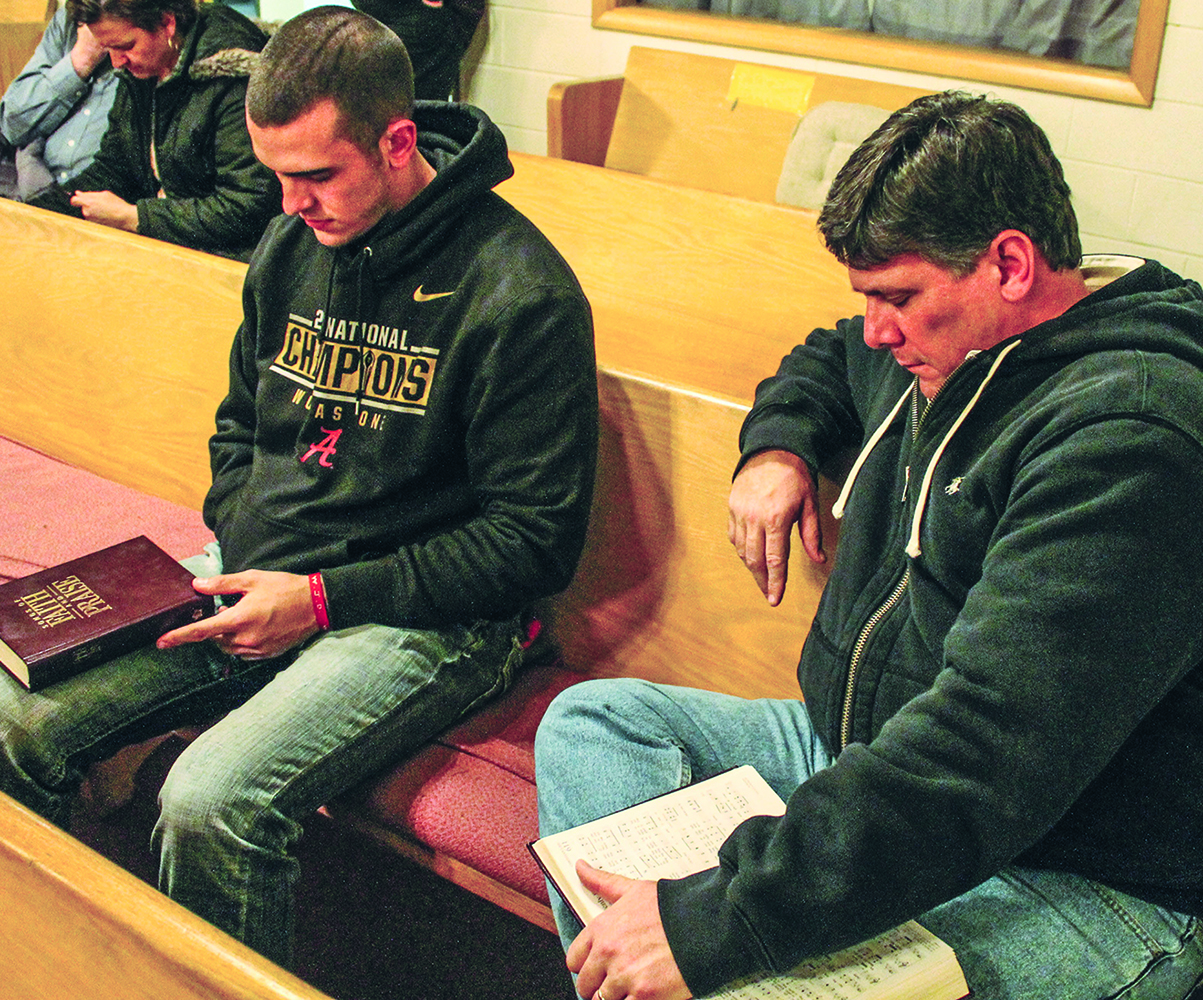 Lee Jamieson Jr., left, and his father, Lee Jamieson Sr., pray at a Wednesday night assembly of the Rochester Church of Christ. (PHOTO BY BOBBY ROSS JR.)
"I promised my son that I would get the best medical care that we could," the father said. "We actually had two different efforts going that led us to the same doctors here at the Mayo Clinic. It was like God was making sure we were going to find this place"
In one surgery, surgeons removed a muscle from Lee Jamieson Jr.'s thigh and transplanted it into his arm. They took sensory nerves out of both legs and did nerve grafts. In a second surgery, they put a plate in his wrist to immobilize it and try to regain some grasp function in his hand.
The Jamiesons at the "House of Compassion." (PHOTO BY BOBBY ROSS JR.)A more recent procedure involved putting a mechanical brace on his arm that picks up sensory inputs from his muscles.
"You've got so many stressful things about traveling a long ways," said Lee Jamieson Jr., a University of Alabama freshman. "Knowing that there's going to be good people here with you, and knowing that you've got a church family here — wanting to welcome you and take care of you — that's an amazing thing."
The family's out-of-pocket expenses have topped $45,000.
Hands of Compassion has relieved some of the financial stress on seven trips between Florida and Minnesota.
And Lee Jamieson Sr. enjoys the homey feel, whether reading a book in the sitting room or chatting with other guests about their experiences.
"I can't imagine anyone coming through here and not appreciating the blessing that this is," he said. "Whether you get good news or bad news over at the clinic, this is a bright spot."