When the youth group takes over
Young Christians are the present — not the future — of the church, say leaders of a small, rural congregation in Central America.
---
XEPOCOL, Guatemala —
It only looks like a church in the middle of nowhere. 
It's deceptively high-tech.
The meeting place of the Xepocol Church of Christ resembles most of the small, adobe buildings that dot the rural Guatemalan landscape. Beneath its roof of simple wood beams and clay shingles, the handpainted words "Iglesia de Cristo" stand out against the bright yellow facade. 
There's room only for two or three vehicles to park — after a Sunday morning drive over steep, dusty roads.


Inside, however, the floor is littered with cables that connect multiple microphones to speakers. As visiting biology students — here on a medical mission trip with Health Talents International — make their way inside the building, young Guatemalan men wave to them as they test the connection between their laptop and the church's overhead projector. Young women pin full-color, computer-generated tags onto each guest with the day's theme: "En busqueda de mi don espiritual" ("In search of my spiritual gift").
Why do so many churches in Guatemala have elders?
Christians from the city of Chichicastenango launched the church about 20 years ago. The growing number of converts here — a result of outreach by the local women — necessitated the birth of a new congregation, says Gaspar Chan, who grew up in Xepocol and now serves as one of the church's elders. Chan's father — once a follower of the traditional Mayan relgion, converted when Gaspar Chan was 12 — was one of the Xepocol church's founders, along with Manuel Xirum.  
The church has about 150 in attendance most Sundays. Chan, an evangelist and counselor for Health Talents, says he doesn't do as much preaching and coordinating here as he used to.
Gaspar Chan and his wife, Juana, center, stand with members of their family and coworkers with Health Talents International outside the meeting place of the Xepocol Church of Christ. (PHOTO BY ERIK TRYGGESTAD)
Why? "Because so many of the youths have taken over those duties," he says in Spanish as his Health Talents coworker, Dr. Lisa Dunham, translates.
The church has nine teams of worship leaders, Chan explains. Each is responsible for welcoming guests, preaching, leading singing and coordinating the Lord's Supper on a rotating basis. The young adults have their own group. In addition to assisting during worship, the youths host a monthly Sunday afternoon gathering before the church's main service.


That gathering includes hymns, led by a team of young men, complete with lyrics beamed from the overhead projector and displayed on a moving video background. Among the songs is "Dios No Esta Muerto," a Spanish version of the Newsboys' contemporary Christian hit "God's Not Dead." The youths produced the a cappella arrangement themselves. They practiced regularly — and relentlessly — to get it right.
"The key principle is organization," says Chan's nephew, Mauricio, a member of the youth team. "Every group has to have some leadership and organization. If you don't have someone coordinating, it falls apart."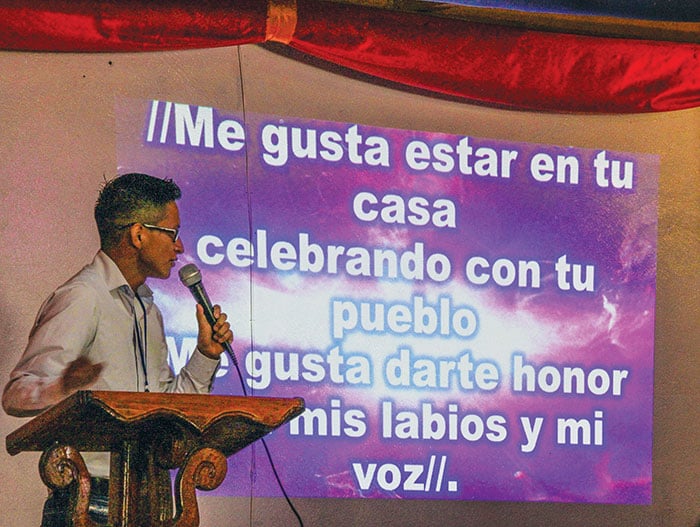 Tomás Chan leads singing during the Xepocol Church of Christ's youth-led service. (PHOTO BY ERIK TRYGGESTAD)
The team started singing together while doing construction work on the church building, says Tomás Chan, one of Gaspar Chan's four sons and the youth service's worship leader. Most of them couldn't read music or harmonize. They got help from another congregation, and Tomás Chan started learning chords.
"We realized we needed to pick up the pace," Tomás Chan says of the church's singing. "And now the church doesn't like just melody. They like to sing parts."
Young men also lead prayers and serve communion during the service. Another Chan brother, Noé, preaches from Romans 12, urging his fellow youths to follow the apostle Paul's admonition to present themselves "as a living sacrifice, holy and pleasing to God" by using their talents.
"When Paul is writing this, it's like he's speaking to you directly," Noé Chan preaches. "A lot of times we do the opposite of what God wants. … We have to tell God, 'Here I am.'
"What would happen if all of us would work? How joyful it would be. What if we came to church not to sit, but to be active? I think then there would be a lot of fruit. And the church would grow spiritually and physically."
Noé Chan preaches about spiritual gifts. (PHOTO BY ERIK TRYGGESTAD)
Gaspar Chan says he's seen positive changes in the church's youth group, now about 30 strong, in recent years. They help the widows and young children in their community. Many youths in Guatemala drop out of school to make money peddling souvenirs on the streets of Chichicastenango. But most of the church's youths have completed high school. Noé Chan has studied physical therapy and now works for Health Talents. 
The only problem, the church elder says with a chuckle, is that many of the congregation's young women recently have married and moved away, leaving them in need of "más señoritas."

"The youth are the present of the church — not the future of the church," Gaspar Chan says. "It is the responsibility of the older people to leave room for the younger people to take on leadership positions. Otherwise, you'll start losing youths. I'm so thankful that we haven't lost any of our young people."
Young women prepare laminated tags bearing the Sunday service's topic, "In search of my spiritual gift," for members and guests of the Xepocol Church of Christ. (PHOTO BY ERIK TRYGGESTAD)
  
In four-part harmony, a team of young men sings hymns as Tomas Chan (at front, not pictured) leads worship for the Xepocol church. The service includes contemporary songs such as "Me Gusta Estar en tu Casa," the Spanish version of "I Love to be in Your Presence." (PHOTO BY ERIK TRYGGESTAD)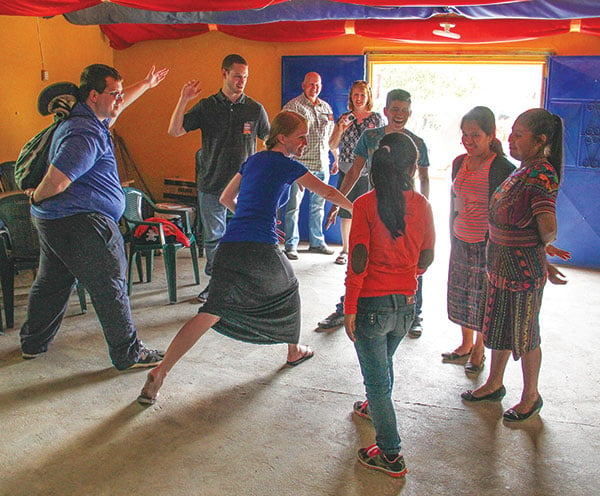 After worship, as they wait for a large delivery of pizzas, biology professors and students from Oklahoma Christian University introduce Guatemalan youths to a game called Ninja. (PHOTO BY ERIK TRYGGESTAD)
(PHOTO BY ERIK TRYGGESTAD)