Welcome to the new Chronicle news blog
---


In the 21st Century, journalism has become a multimedia undertaking.
A publication is no longer print or online. It is a vehicle to deliver news in all the different formats that readers want to receive it.
While continuing to produce a high-quality print edition that serves 250,000 readers in all 50 states and last year won recognition as the top Christian newspaper in the nation by the Associated Church Press, The Christian Chronicle has taken major steps to improve its online presence in recent years.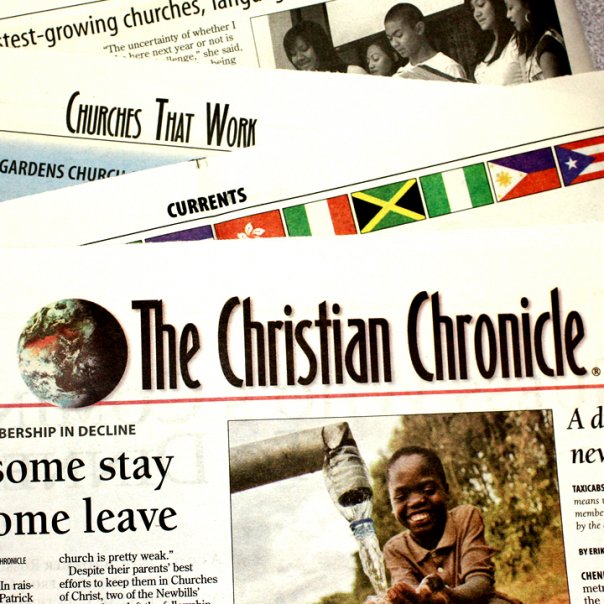 A few examples:
• Our main Web site — Since 2005, the Web site has undergone two major overhauls, led by former online editor (now advertising director) Tamie Ross and our freelance Web guru, Travis Langley of Oklahoma City-based Travis Langley & Associates.
The site has allowed us to cover news when it happens and increased the Chronicle's exposure around the globe. Google, the world's most popular search engine, recognizes the Chronicle as a news source and lists articles from it alongside offerings from media such as the Wall Street Journal and New York Times.
Each month, 50,000 unique users access our site for news of Churches of Christ.
• E-mail news alerts — Our e-mail list (sign up on our home page) for news updates and breaking news alerts has grown to more than 24,000 subscribers.
• Facebook fan page Facebook, the premier social networking site, has eclipsed Google as the No. 1 most-visited Web site. Many of Facebook's 400 million users worldwide depend on the site's news feed for links to items of interest, such as news. The Chronicle tapped into Facebook's appeal by adding a fan page that keeps adding members — rapidly approaching 5,000.
And now we are pleased to welcome you here — our latest effort to improve the way we deliver news and information, photos and videos:
Our official Chronicle news blog will be another news vehicle, not an opinionated site often associated with the term "blog." You can bookmark our blog home page or find links to the most recent posts on our main Web site home page.
Specifically, elements of the Chronicle's news blog will be:
• Breaking news and headlines.

• Behind-the-scene details from Chronicle reporting trips, giving readers more information than can fit in a story or feature article.

• Requests for reader feedback on trends, issues and breaking news such as natural disasters.

• Links to interesting stories in other media about Churches of Christ.

• Links to interesting stories that, while not directly related to Churches of Christ, help keep our readers informed about opportunities for and threats to churches.

• Links to Chronicle stories, photo essays and videos.
The addition of a news blog is vital to our ongoing mission to inform, inspire and unite Churches of Christ. It will provide a steady stream of fresh content for our Web site and allow us to engage you, the reader, even more.
Thank you for stopping by. And please let us know what you think. But check out our comment policy first.
Feedback

I�m excited for the Chronicle with the launch of this new blog. I think it will be a real asset to your publication and your readers. It has been great to work with you on this project and it�s always interesting to see where your vision for the Christian Chronicle will take you next.

Travis

April, 28 2010

Congratulations on the new site!
I may be old school but is there a way to subscribe with an RSS reader?

Eric Tooley

April, 28 2010

It's good to see the Chronicle step forward in the 21st century. The publication has always been a source of news of/for the brotherhood, but sometimes long after an event has taken place. With the blog we should be able to have more timely information. Congratulations!

Lowell Barr

April, 28 2010

Eric, I believe there is and I know Travis is setting up an e-mail alert signup for new posts. But I don't have the answer immediately. 🙂

Bobby Ross Jr.

April, 28 2010

RSS works fine. Getting both articles and comments in my Google Reader. I'm thankful that the CC has put this up on RSS and in blog form. Well done.

Fred Zumwalt

April, 28 2010

Travis, it has been wonderful working with you on this!
Lowell, thank you! We're excited about this.

Bobby Ross Jr.

April, 28 2010

Wow, looks absolutely fantastic. I'm excited for CC.

Trey Morgan

April, 29 2010

Here's links to the RSS feeds you can use:
https://christianchronicle.org/blog/feed/
https://christianchronicle.org/blog/comments/feed/
I'll get them posted on the site soon.

Travis Langley

April, 29 2010

Thank you, Travis. Folks, Travis is awesome if you ever have Web site development needs.

Bobby Ross Jr.

April, 29 2010

Thank you brothers for this blog. Congratulations!
Greetings from Ecuador.

Abel Chafla

April, 29 2010

Thank you for your great
content.

mbt shoes

May, 2 2010