'We have all been victimized' by Ebola
Churches of Christ in Guinea, Sierra Leone share stories of loss, fear, prayer and hope as the virus ravages West Africa. Despite the outbreak, 'God is on our side,' one minister says.
---
In 2006, hundreds of students at a school in Bo, Sierra Leone, crowd around a group of visiting church members to find out more about the World Bible School Bible correspondence course. In recent months, schools have closed their doors as hundreds of West Africans contract the Ebola virus. (PHOTO PROVIDED BY RON POTTBERG)
Christians in West Africa are fighting the largest-ever outbreak of Ebola with prayer and bleach.
In Guinea, where the outbreak began in March, at least one church member has died from the virus, said Nestor Tonguino, a minister for a Church of Christ in the country's capital, Conakry.
"In the town of Guéckédou, we lost a brave sister in Christ, who was the wife of Robert Millimouno, a brother who is zealous," Tonguino told The Christian Chronicle. Guéckédou, a town near Guinea's borders with Sierra Leone and Liberia, is thought to be an early epicenter of the outbreak. Another church member lost a child to the virus.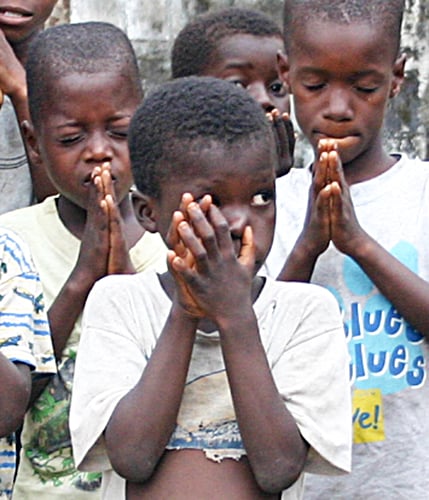 Prayers for West Africa: 
The church and Ebola
• Updates on Dr. Kent Brantly, Texas church member, physician battling Ebola

• Liberia's new war: After decades-long conflict, churches pray for peace, healing

• In Texas, Liberians visit Church of Christ to pray for Dr. Brantly
A minister in Guinea, Saa Tolno Philippe, has lost 12 relatives to the virus, Tonguino added.
"Directly or indirectly, we have all been victimized," he said.
In Conakry, church members have organized prayer meetings and are spending additional time in their homes praying and fasting, Tonguino said.
Other faith groups offer bleach and cleaning products to help people disinfect their homes after an Ebola death.
"This evil has greatly affected the church — in numbers and spiritually," Tonguino said. Paranoia and suspicion — even among Christians — is common, and many church members refuse to shake hands when they attend worship services. Many don't attend at all. 
The outbreak stresses the need for Christians to share the Gospel while they can, said Francis Musa, another minister in Guinea. Ministers call families grieving from the loss of a loved one "and assure them of our prayers," he said.
Preachers have an "opportunity to build our own faith and that of the brotherhood — by encouraging that God is the only protection," he told the Chronicle. 
"Almost every Sunday, congregations preach sermons that are faith-building," Musa said. "Prayers for this epidemic are made every Sunday — and every weekday in homes. Some of us have adopted midnight-hour prayers. 
"It is worrying, but it should just build our faith … that God is on our side."
Jacob Sesay
In neighboring Sierra Leone, government officials declared Aug. 4 a day for families to stay at home and offer prayers "for God's mercy and intervention for our land," said Jacob Sesay, a minister for a Church of Christ in the country's capital, Freetown.
The minister said he has not yet received any reports of church members in Sierra Leone contracting the virus.
"Your prayers are so important to us," Sesay told the Chronicle, "and we appeal that you continue to remember us in your prayers. … We now look to God Almighty to save us from this killer disease."
A map of the Ebola outbreak in West Africa, updated July 20. (CENTERS FOR DISEASE CONTROL AND PREVENTION)