'We are the examples others see'
Secret granddaughters ministry helps a church's youths forge connections with widows and widowers
---
SNYDER, Texas — 
Teen girls carefully look over pictures in the church directory as their teacher introduces them to the faces they're seeing — widows and widowers who sit just a few pews away from them every Sunday.
They know a few of the names, but not much more. That will change.
Voices | Charlotte Clifton
Following the apostle Peter's admonition to "love one another, be compassionate and humble," in I Peter 3:8, the 37th Street Church of Christ launched a Secret Granddaughters program a few years ago. The initiative has served to link and richly bless two seemingly unlike generations of Christians in this 300-member church.
After careful consideration, each girl selects her secret grandparent for the quarter. The class sends messages to the widows and widowers to let them know that they have a secret granddaughter who will send them weekly notes, pray for them on a regular basis and give them a few hints as to her identity.
As the quarter progresses, excitement builds among young and old alike. It often becomes the talk of the congregation. Entire families get involved in the lives of the girls' adopted grandparents.
The recipients become givers, and notes of thanks to the girls, small gifts and other forms of encouragement begin to appear in the church office with instructions "to deliver to the secret granddaughter of …" 
The grand finale for the quarter is a revealing party. Each girl tells a few things about herself. Then the grandparents guess the identity of their adopted granddaughter. 
Most of the time, they are right.
The young Christians, through getting better acquainted with their adopted grandparents, have launched a spin-off ministry to honor our congregation's veterans. The youths helped create a bulletin board and joined forces with the boys' Bible class to host a well-attended reception on Veterans' Day. Each veteran or surviving spouse received a certificate of appreciation for their service to God and country.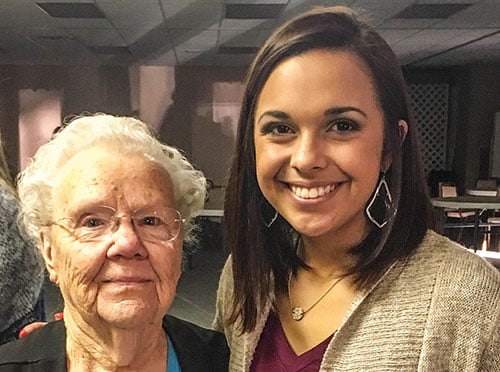 Church member Lavelle Eicke visits with secret granddaughter Jordan Ruiz. (PHOTO PROVIDED BY CHARLOTTE CLIFTON)
After the quarter ends, the girls and their adopted grandparents often stay connected. They share a unique bond, and the widows and widowers are thrilled to be invited to the girls' piano recitals, sporting events and other activities. When the adopted grandparents become ill or miss worship, the girls are very much aware and eagerly check on them.
One of the most touching tributes happened last June when one of the congregation's widowers, Gerald Johnson, passed away unexpectedly. 
When planning his funeral, Gerald's family asked his secret granddaughter, Sarah Posey, to speak at the service. There wasn't a dry eye in the building. 
Prior to his passing, Gerald wrote a note to Sarah: "It is encouraging to us older ones to see you … want to follow Christ's example at a young age. It is a joyful time in our lives as well and constantly reminds us of our duties as a Christian, also. We are the examples others see." 
Sarah said that the ministry "opened the door for me to build a meaningful relationship with Mr. Johnson and other elderly members in our congregation. It gave me a reason and a way to get to know him on a personal level and learn from his faith and character." 
It is hard to fully describe the positive impact of this ministry, but perhaps one of the widowers, Ottus Boyd, said it best. The encouraging notes he gets from his secret granddaughter, Katelyn Clifton, have "given me a reason to want to get up and walk to the mailbox again," he said.
Katelyn says, "I have a bond with Mr. Boyd that will be with me for the rest of my life. He was married to his wife for over 65 years, and he can't tell me about her without getting tears in his eyes. 
"He has taught me about true love, friendship and much more." 
Secret granddaughters and grandparents share what they've gained
"You don't know how much you helped me when you chose me for your secret grandmother. After my husband passed away, I was so lonely and felt so alone."
— Mayzell Fenton, to her secret granddaughter
"I thank you and your class for remembering me and those others of the older generation. I know my heart skips a beat when they speak to me and show an interest in my life."
— R.J. "Pop" Kidd, to his secret granddaughter
"This program has allowed me and even my family to become very close with my secret grandfather. Not only have I been able to serve him and bring him joy, but I've been able to hear and learn from his stories and wisdom. I am so thankful for this program."
— Sarah Wade, a secret granddaughter
"Words cannot express how much I appreciate all you did." 
— Bobbie Taylor, to her secret granddaughter

CHARLOTTE CLIFTON is a member of the 37th Street Church of Christ in Snyder, Texas. She teaches Bible classes for junior high and high school girls.