Walking Nepal's long road to recovery
---
KATHMANDU, Nepal — Christians responding to Nepal's devastating April 25 earthquake felt the earth move again on May 12.
In a mountain village, Nepalis begin the long process of rebuilding their homes and lives after multiple devastating earthquakes. Churches of Christ are providing aid. (PHOTO BY DON JOHNSON)
"Cracked buildings began shaking, and people were screaming and running to the streets," said Gigie Carranza, a church member and part of a MARCH for Christ medical mission team from the Philippines.
The 7.3-magnitude quake claimed more lives and damaged more buildings in the Himalayan nation.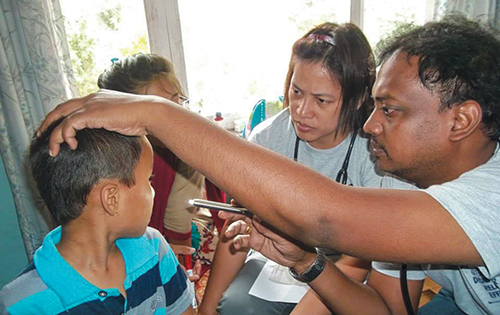 Dr. Stanley Madiki, a physician from Kakinada, India, examines children in Subidhanagar, a neighborhood of Kathmandu, during a MARCH for Christ medical mission. (PHOTO BY GIGIE CARRANZA)