Voices-only Wednesday: 'I Love You with el Amor del Señor'
In Nashville, Tenn., Christians praise God in English, Spanish and both.
---
This week, Voices-only Wednesday gets a bilingual twist as we present "I Love You with the Love of the Lord" — or "Te Amo en el Amor del Señor."
During worship at the Brentwood Hills Church of Christ a couple of weeks ago, I left the pew and filmed a few minutes of the special English/Spanish service. Read more in my recent blog post about the event, which included members of the Grandview Iglesia de Cristo in Nashville and Spanish-speaking Christians from Chattanooga, Tenn.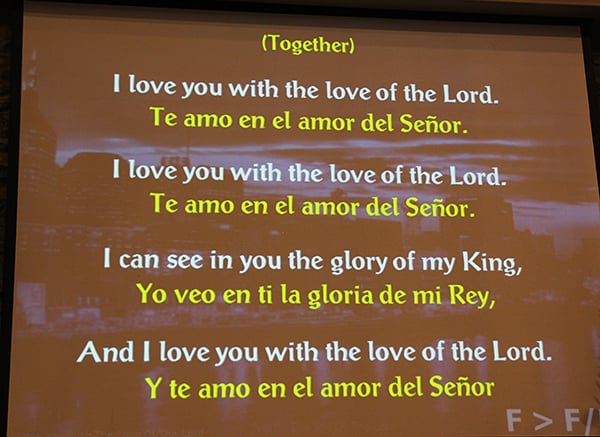 The lyrics to "I Love You with the Love of the Lord" in English and Spanish. (PHOTO BY ERIK TRYGGESTAD)
I've gotten some great feedback about ministry to Hispanics in the U.S. — but I'm always on the hunt for more. So I'll repeat the questions I asked last week.
How does your congregation practice outreach to the rapidly growing Latino demographic? What works? What doesn't? 
What is needed for effective ministry to immigrants from Latin America? What about second- and third-generation Hispanics who grew up in the U.S.? How can we effectively reach them?
Please email me or share your thoughts in the comments. 
Several of you reminded me that bilingual — or trilingual, or multilingual — worship services are common among Churches of Christ outside the U.S. I heard from Christians who have attended church services in Italy and Japan, to name just two. In my years with The Christian Chronicle, I've been a part of multilingual worship in places such as Montreal, Singapore and several African countries.
In that spirit, here's a video from our archives of a Church of Christ in Amsterdam from 2009. Most of the church's members are from Ghana, so you'll hear a mix of their native language (Twi) and English.
In my experience, heartfelt praise to the Lord needs no translation.