Transgender issues: How should Christians respond?
The Christian Chronicle presents a review of our recent coverage, including links to resources.
---
As heated opinions about schools, bathrooms and transgender individuals dominate our social media feeds, how should we respond? Or should we?
Those questions face Christians as they contemplate the debate sparked by directives given to U.S. public schools by the Education and Justice departments. (Read the "Dear Colleague Letter on Transgender Students.")
The Christian Chronicle offers recent coverage from our archives for your consideration. In these stories you'll find additional links to ministries and resources for transgender issues.
• Gay, transgender teens 'matter to Jesus' — Honest, open conversations about sexual identity are needed everywhere — even 'in my tribe,' says Sally Gary, who grew up in Churches of Christ and shares her struggles with same-sex attraction.
• Sexual identity, sin and silence — Churches must become safe places for those experiencing same-sex attraction, transgender issues, say experts at youth ministry conference.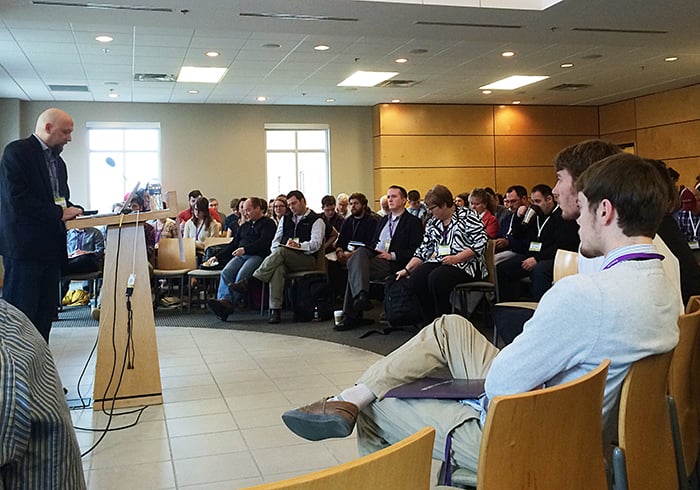 Walter Surdacki, associate professor at Lipscomb University in Nashville, Tenn., introduces the "Tough Topics in Youth Ministry" conference in 2015. The topic was "Sexual Identity, Sexual Abuse and Shame." (PHOTO BY ERIK TRYGGESTAD)

• After same-sex marriage decision, churches urged to reexamine bylaws — Churches should reinvestigate all policies pertaining to the use of church-owned facilities, a legal expert says.
• Editorial: A call for convicted civility — "We have far too many Christians who are strong on conviction, but you wouldn't want them representing you to the broader culture because they're just mean-spirited people," a psychology professor tells youth ministers, "but we also have far too many Christians who are so strong on civility you have no idea what they believe in."