Training to lead
Youth conventions draw more than 40,000 members of Churches of Christ to 16 venues in a dozen states.
---
INDIANAPOLIS
— The crowd was loud and rowdy, ready to explode with excitement.
From all over the Midwest — and as far away as New York — they had traveled for the big event, filling a downtown hotel.
Giant red banners and colorful balloons decorated the stage. Hundreds of trophies adorned a white-clothed table.
But before the festivities commenced, silence washed across the ballroom as nearly 1,400 men, women and children bowed to pray.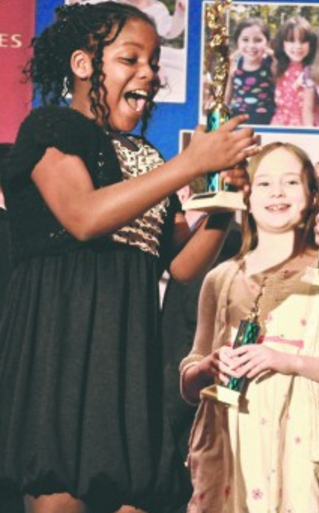 Lauren Harper from the Waterford Church of Christ in Michigan accepts the first-place trophy for Songs of Praise at Lads to Leaders/Leaderettes in Indianapolis. Also pictured is third-place winner Natalie Justus from the Alkire Road Church of Christ in Grove City, Ohio. (PHOTO BY ASHLEY VICTORIA AMIRKHANIAN)For two days leading up to the Saturday night awards assembly, boys and girls — and Scripture-quoting puppets — from Churches of Christ in 10 states packed the Downtown Marriott in the heart of Indiana's capital city.
The future church leaders came for Lads to Leaders/Leaderettes, a national training program that features competition in speaking, song leading, Bible Bowl, mass media, puppet theater and art.
Non-competitive events include Scripture memorization, Good Samaritan service projects, oral Bible reading, PowerPoint presentations and categories such as "Know the Books" and "Teach to Teach."
Cassie Cummings, 13, a member of the Franklin Church of Christ in Kentucky, stepped to the podium before the awards ceremony and offered a brief testimonial.
The eighth-grader spoke with confidence and poise about the role of Lads to Leaders/Leaderettes in her spiritual development.
"I am growing in my faith," she told the crowd. "I have learned how to use my abilities in many areas, especially puppets. I love being able to be on a puppet team. These puppets get the message out about God.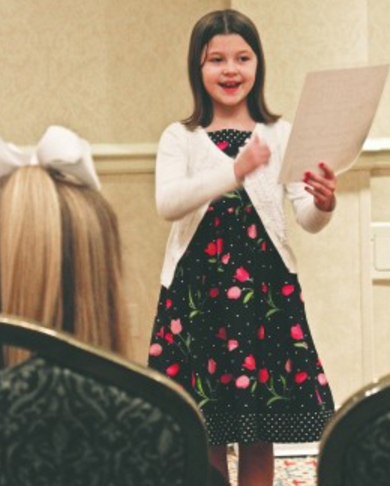 Olivia Marlin from the Bellevue Church of Christ in Nashville, Tenn., leads "You Are My All in All" at the Lads to Leaders/Leaderettes convention in Nashville. (PHOTO BY DIANE BOONE)"I love to sing," added Cummings, who led singing for a female-only group. "Songs of Praise has helped me learn more about how to read music and lead songs. I would say Songs of Praise is my favorite area."
About 15 miles away, 1,000 members of Churches of Christ assembled at a different Indianapolis-area Marriott for the Midwest Leadership Training for Christ (LTC) convention.
Dane Roper, 18, a member of the Lafayette Church of Christ in Ballwin, Mo., has competed in the Midwest LTC's Bible Bowl every year since 2003.
Most years, he's signed up, too, for large-group chorus and live Christian drama, while occasionally choosing puppets and art projects.
"Overall, the LTC experience is something that I look forward to because it really forces me to dig deep in God's Word," Roper said, "and it also helps me build relationships while practicing for things like chorus or drama. It is definitely a time of spiritual growth."
Across the nation this spring, Lads to Leaders/Leaderettes and Leadership Training for Christ conventions drew more than 40,000 members of Churches of Christ to 16 sites in a dozen states. Most of the conventions occurred over Easter weekend — a slow period for most hotels when organizers can take advantage of reduced rates.
"I have never seen another program that drives young people to spend hours studying the Scriptures, and that has to bring about something good," said Reda Redding, whose husband, Lawrence, preaches for the Aberdeen Church of Christ in Washington state.
The Reddings, who serve the only Church of Christ in a county of 70,000 people, brought 10 young people to the Northwest Region Leadership Training for Christ convention in Richland, Wash.
"I personally love the Christian attitudes I see exhibited in these youths as they rejoice with each other when they do well," said Reda Redding, suggesting that LTC helps young people from smaller congregations recognize that they are not alone.
A puppet team from the Edmond Church of Christ Oklahoma prepares to take the stage at the Great Plains Leadership Training for Christ convention in Rogers, Ark. (PHOTO BY MIKE BOSLEY)
HUMBLE BEGINNINGS
Lads to Leaders/Leaderettes began in 1968 as a special Sunday morning class for eight boys at a Church of Christ in Warner Robins, Ga.
Roy Johnson, now executive director of the Montgomery, Ala.-based organization, was one of the initial group of boys trained by Lads founder Jack Zorn.
Johnson remembers traveling with Zorn, his older sister's husband, to speak at numerous churches and Christian colleges and even address politicians such as then-Georgia Gov. Jimmy Carter.
"I held my first gospel meeting at age 16," said Johnson, now 56 and an elder and preacher for the Hollins Church of Christ in rural Alabama.
The first Lads convention drew 74 participants to Alabama Christian College — now Faulkner University — in 1973.
In the late 1970s and early 1980s, Lads welcomed annual crowds of more than 2,000 to the Superdome in New Orleans.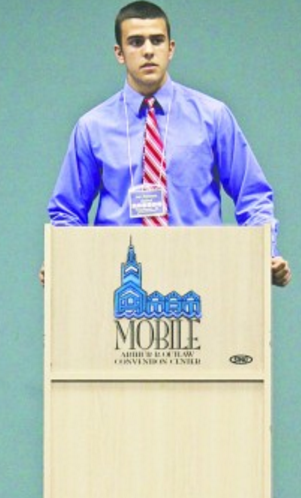 Lee Jamieson Jr. speaks at the Southeastern LTC in Mobile, Ala. (PHOTO BY CHANDRA CLARK)With the title "Preparing for Tomorrow," a photo on the front page of the March 1983 Christian Chronicle showed Lads participants posing near a bridge on the banks of the Mississippi River.
In the late 1980s, the program's growth resulted in Lads hosting separate conventions in Nashville, Tenn., and Houston. The Nashville site remains Lads' flagship venue with attendance approaching 10,000 a year. But the Houston site lasted only one year.
Johnson said geographical issues and a "friendly disagreement" over doctrine resulted in Lads ceding Texas and Oklahoma to a group that started a new program called Leadership Training for Christ, which became known as LTC.
The North Texas LTC held its first convention in Dallas in 1989 and has grown to annual attendance of about 12,000 church members split among three major hotels.
One point of contention concerned women's roles, Johnson said. Lads does not allow men in the room when girls read Scripture. The LTC in Dallas permits men in the room unless a girl requests otherwise, registration coordinator Tim Henderson said. At other LTC convention sites, the stance varies.
In the past two decades, the North Texas convention has sparked the creation of LTC events in nine additional cities across the nation — from Charlotte, N.C., to San Jose, Calif.
Lads has expanded from Nashville to convention sites in Atlanta; Indianapolis; Memphis, Tenn.; and Orlando, Fla.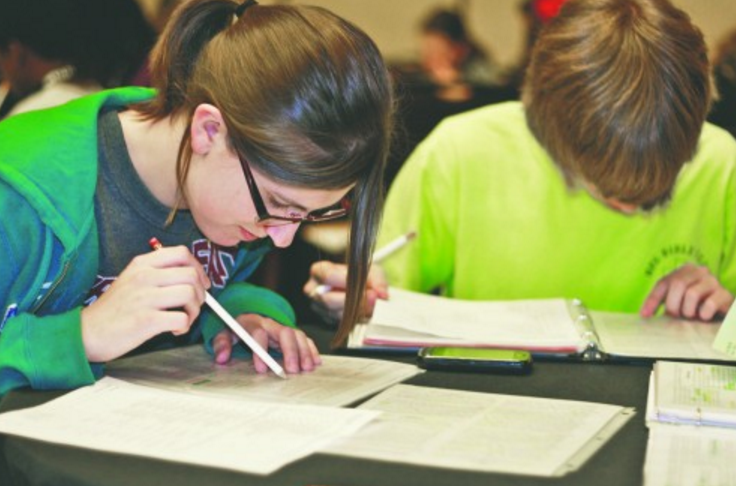 Brianna McCorkle from the Shiloh Road Church of Christ in Tyler, Texas, takes a Bible quiz at the North Texas LTC in Dallas. Also pictured is Whalen Garza. (PHOTO BY HENRY HOLUB)
Last year, Lads returned to Texas after a quarter-century away — starting its newest annual convention in Dallas. In its second year in Dallas, Lads drew 918 people.
Jeff Jenkins, a national board member for Lads and the Dallas convention's director, said Lads fills a special niche.
"I know firsthand the caliber of young leaders it produces," said Jenkins, who preaches for the Lewisville Church of Christ in Texas and voices concern about the worship style at some LTC conventions.
Henderson, a youth minister for the Shiloh Road Church of Christ in Tyler, Texas, has served on the North Texas LTC board since the early 1990s.
He said he had no problem with Lads entering Dallas.
"If their philosophy fits a church better, then I'm fine with it," Henderson said. "We all need to do as good a job as we can in serving and ministering to kids."
A puppet team from the Northside Church of Christ in Jeffersonville, Ind., accepts a second-place trophy at the Lads convention in Indianapolis. (PHOTO BY ASHLEY VICTORIA AMIRKHANIAN)
FRENCH FRIES ALL THE SAME?

To the casual observer, the formats and approaches of Lads and LTC seem strikingly similar. A closer look reveals differences:
• Organization:
A single national body coordinates the Lads conventions. Independent boards oversee each LTC convention.
"We're a lot like McDonald's," Mike Horn, Lads' field services manager, told church leaders in Indianapolis. "If you go to McDonald's in Indianapolis, Detroit or Montgomery, Ala., the french fries are exactly the same."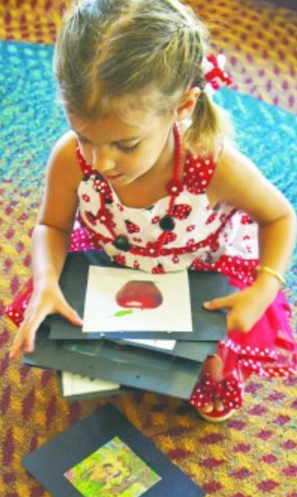 Wren Wilkerson, 3, of Branford, Fla., prepares for her speech at the Lads convention in Orlando, Fla. (PHOTO BY LAUREL SEWELL)
On the other hand, Henderson said LTC extends the concept of congregational autonomy to the regional conventions.
"We're not here to oversee everybody else," he said of the North Texas LTC. "We want each convention to be able to make local decisions."
• Competition:
In competitive events, Lads awards first-, second- and third-place trophies.
LTC uses a ratings system — gold, silver and bronze — whereby any number of participants can attain the highest medal.
"One of the things we felt strongly about, and I feel strongly about, is that there's enough first, second and third places in the kids' world, on the soccer field and such," said Rusty Maynard, co-founder of the Midwest LTC and youth minister for the
Center Road Church of Christ
in Kokomo, Ind.
On the other hand, Johnson said competition allows the "cream of the crop" to rise as Lads produces top-notch preachers, song leaders and other high achievers who excel at Christian universities.
The Lads director stressed that a majority of pre-convention events — such as service projects — are non-competitive. Those who do win trophies one year are moved into a "Winners Circle" the next. That ensures that a first-time participant won't compete against someone who already has won a trophy.
• Categories:
Lads conventions do not include drama and choral groups. Such groups comprise a major element of most LTC conventions.
"Our training is specialized toward service in the church," Johnson said of Lads' reasoning. "In the church, you would not have a choir."
PROPER FOCUS?
Some churches opt not to participate in either event.
"We prefer ministry training that culminates in a role, not an event," said Brandon Baker, youth and family minister for the
Western Hills Church of Christ
in Temple, Texas.
"While the goals of programs like LTC and Lads to Leaders are to equip and integrate students into the ministries of the church," Baker said, "many students and children become focused on the annual trips, competition and awards."
However, Stephen Lindenberger, youth minister for the
Northwest Church of Christ
in Canton, Ohio, said the Lads convention rewards young people for hard work throughout the year.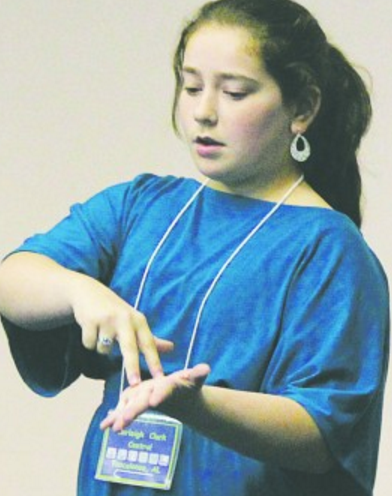 Carleigh Clark from the Central Church of Christ in Tuscaloosa, Ala., signs during the Southeastern LTC. (PHOTO BY CHANDRA CLARK)
"Here at Northwest, we don't emphasize the 'winning' aspect of Lads to Leaders," said Lindenberger, who spoke at the Indianapolis convention. "We want them to do well because they love the Lord, not because they want a trophy."
Malik Danzy, who attends the Northwest church, has Down syndrome, but that didn't keep the 8-year-old from participating in oral Bible reading and song leading.
"Even with his special needs, we want him to be a strong leader in the church," said his mother, Trina Danzy.
Sarah Palmer, a member of the
North Central Church of Christ
in Indianapolis, said the Midwest LTC has made a profound impact on her children.
"Studying Romans in 2011 brought our two oldest girls to the decision to be baptized," Palmer said of Rachel, 12, and Annie, 11.
Katie DeVore, 17, a member of the
East Peoria Church of Christ
in Illinois, has competed in song leading, speech, puppets and other events at the Lads convention in Indianapolis. She has served as a hostess who congratulates younger winners as they rush on stage to receive awards.
"In the church today, we focus so much on training our young men and looking for them to be good Christian men, to be song leaders, preachers, deacons and elders," DeVore said. "In Lads, I used to be upset that I would never be a song leader or a preacher or lead a congregation as an elder.
"Not anymore," she added. "I am blessed to be a woman. I will have the privilege of loving a husband, raising children and teaching other women to glorify God. Lads has taught me that and so much more."
Georgia Claire Campbell and Julia Collins from the Burnt Hickory Church of Christ in Marietta, Ga., before a drama event at the Southeastern LTC. (PHOTO BY LIBBY CAMPBELL)
For years, Shannon and Susan Houtrouw's two oldest children worked on Bible Bowl questions, Scripture memorization and service projects for the Midwest LTC.
Now, Daniel Houtrouw, 19, is a freshman at Harding University in Searcy, Ark., on a full-tuition scholarship.
His training and service through LTC "are all beginning to pay off," said Shannon Houtrouw, a member of the West Kalamazoo Church of Christ in Michigan. "I am eager to see where the Lord takes him in the future and beyond.
"Grace has also turned out to be a lovely, God-fearing young woman," Houtrouw said of his 16-year-old daughter. "And even though both these teenagers have been attending public schools, by the grace of God, they have been unwavering in their commitment to Christ."

RELATED STORY
• Blessed are the caregivers: Feature on Lads to Leaders founder Jack Zorn and his wife, Frances

Feedback

Competition? Whatever happened to,"Make me a servant?" Seems Jesus had a problem with competition with the mother of James and John. The disciples never did get it until after the resurrection and ascension. European Christians marvel at the American competitive church model. That is the way it is with our culture.

John Paul Hundley

Egilse du Christ

Brussels, AR
Belgium

May, 12 2012