Through pain, an angelic spirit smiles
In Alaska, a crash survivor's spunk and determination inspire her church family and community.
---
ANCHOR POINT, Alaska — 
"I got a new dog! Her name is Stubsy! She was rescued from the side of the road after being hit by a car. Isn't she great?" 
Angelica Haakenson cradled the three-legged, mangled mutt in her lap. She'd given it a hot pink "faux-hawk," matching her single pigtail.
That was nearly six years ago.
Angelica has since learned that her dog didn't lose a leg in a car accident. He merely was born that way. 
But Angelica, now 11, is an amputee herself — after surviving a Christmas Day car accident. 
The love and acceptance she showed her dog, paired with unyielding determination, is helping her heal. Her energetic spirit has inspired her church family — and is bringing her rural Alaskan community together.
TRAGEDY, PRAYERS AND HYMNS
In rain boots and a red satin dress, she was a whirling dervish at church potlucks, always on the move. On summer days she worked alongside her mother, Mathany Satterwhite, who operated a towing service.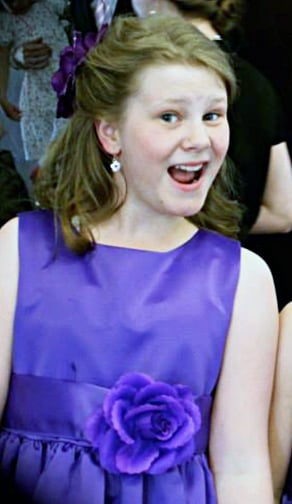 To assist in Angelica Haakenson's recovery, see her GoFundMe page. (PHOTO PROVIDED)
Her dad, Matt Haakenson, captains a tender boat called the Totem. She spent weeks aboard with the crew, who transport 2.5 million pounds of salmon per season to processing plants, navigating the treacherous waters of the Cook Inlet.
Her great-grandparents were among the first homesteading families in Anchor Point — a tiny community on Alaska's Kenai Peninsula — and were original members of the Church of Christ here. Her grandfather and father grew up in the congregation. Her great aunt, Mary Haakenson Perry, teaches her Bible class. 
Perry and her husband were sharing Christmas dinner with one of the church's ministers when they got a heartbreaking phone call. Angelica and her mother were headed home from their own Christmas celebration when they had car trouble. They pulled off the dark, icy road and waited for a jump start from Angelica's grandfather.
As Angelica's mother attached the jumper cables, an oncoming car slid into theirs, pinning Angelica between the two cars and throwing her mother into a ditch. The accident broke several of Angelica's vertebrae. Doctors had to amputate both of her legs above the knees. 
The Perrys and the minister rushed to the emergency room. Other church members followed, offering prayers in the hallways and singing hymns in the intensive care unit as they pleaded with God to spare Angelica.
WHEELCHAIR DAREDEVIL
Since the accident, she has endured countless surgeries, excruciating wound debridement — removing dead and damaged tissue in hopes of better healing — and painful physical therapy. Through it all, her family of faith has done their best to turn her agony into joy.
Angelica Haakenson sings from a church songbook before the accident. (PHOTO PROVIDED)
All the while, Angelica has inspired them. As she recovers at Seattle Children's Hospital, doctors are fitting her for prosthetic legs. Meanwhile, she uses a wheelchair to get around. She's already been reprimanded for "daredevil" driving. 
Don and Ann Bailey, members of the Anchor Point Church of Christ, visited her and her family recently and took them to lunch.
Returning to the hospital, "as we approached a flight of stairs, I brought Angelica's wheelchair to a stop and prepared to help her up the stairs," Don Bailey said. "Before I could blink, she hopped off her chair, grabbed the handrail and — hand-over-hand — hoisted herself up not one, but two flights of stairs. 
"Now, that sure put things in perspective for me."
PLANE RIDES, SPAGHETTI, ROAD FLARES
Across Alaska, family members and complete strangers have heard about Angelica's recovery and have contributed to help with medical bills and the necessary home renovations that will help Angelica when she returns. Raffles, auctions and spaghetti dinners have raised more than $50,000. 
A Church of Christ in Hawaii sent a sizable donation, as well as congregations across "the lower 48" states. Friends and family set up a GoFundMe account for her.
Angelica and her friends get a look at the Space Needle in Seattle. (PHOTO PROVIDED)
"Thousands of people have come forward offering what they can," said Angelica's aunt, Emily Haakenson. "Whether it's a prayer, well wishes, lodging, food, rides, plane tickets, donations or one of the many, many other ways people have offered to help, we cannot express enough how thankful we are."
Concerned Alaskans also want to keep accidents like this from happening. A group that includes the Alaska State Troopers is selling "Angel Kits," which include a flashlight, flares and an information sheet to assist those making roadside stops. Volunteers have assembled 300 kits so far, and their sale will be an ongoing fundraising effort.
The journey ahead will be difficult. Angelica receives regular words of encouragement, just as her spirit and determination encourage others.
"You have so many people thinking of you and praying for you. … No battle is too large to overcome," one contributor wrote on her GoFundMe page, and then quoted Joshua 1:9: "'Be strong and courageous Do not be afraid; do not be discouraged, for the Lord your God will be with you wherever you go.'"
To assist in Angelica Haakenson's recovery, see her GoFundMe page.