Threads of Compassion
Handmade scarves, made by volunteers, serve as reminders for victims of sexual violence that they're not alone.
---
OKLAHOMA CITY —
 Seven years and nearly 3,000 scarves — it's beyond what Jessica Estes could have imagined.
One Sunday a month, Estes, a member of the Memorial Road Church of Christ, meets with a group of women to make scarves.
These aren't just any scarves. Each one will go to a victim of sexual assault.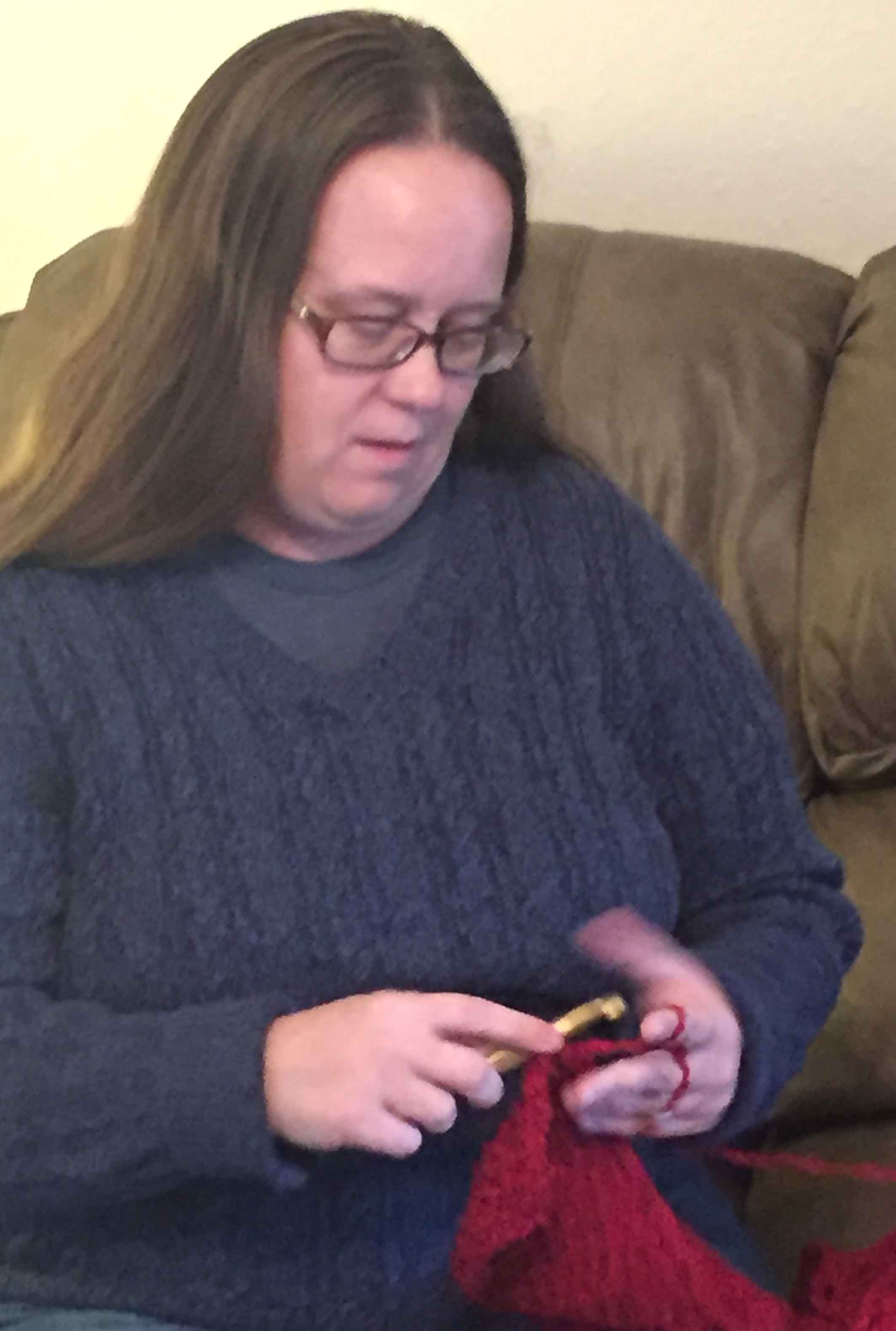 Jessica Estes works on a scarf that will be donated to her local YWCA."They say people are really touched when they get them — that it's a reminder they're not alone," Estes told The Christian Chronicle. "Some of them will cry because it's so special to them."
Karla Docter, senior director of sexual violence prevention and response for the YWCA of Oklahoma City, praised the church member's efforts.
"I can't tell you enough how much this has had a meaningful impact on the thousands of people that we've served in our program," Docter said.
That's no exaggeration, she added. Estes, fellow church members and volunteers from the community have "literally affected thousands of individuals and given them hope."
Estes is the leader of a chapter of Threads of Compassion. The organization was originally started in Chicago, but this chapter has knitted and crocheted scarves for victims of sexual violence in Oklahoma since January 2010.
"(She has) literally affected thousands of individuals and given them hope."
The seemingly simple scarves can serve a great purpose in helping victims of abuse, Docter said.
A note is included with each scarf, letting the recipient know someone else cares for them.The scarves are all handmade, hand packaged and prayed over by volunteers. A special note is included with each scarf to let the recipient know someone cares what they're going through.
"What it really does is it gives them something tangible that they're truly not alone," Docter said.
Once packaged, the scarves are delivered to the YWCA. From there they are sent to hospitals in the area where a team of specialists, who work with victims of sexual violence, let victims pick out a scarf.
"They'll pick out their favorite scarf that they see, and we tell them the story on how these were made by somebody who wants to support you, who may be a survivor as well," Docter said.
This ministry started as a way for Estes to use her talent, a way to give back to the community.
Each handmade scarf is placed in a plastic package. The recipients get to choose which one they would like. "I was looking for a charity to crochet for because I didn't have any more people to give baby blankets to, but I wanted to still crochet," Estes said.
But it has grown into a deep passion not only for her but for many of the volunteers. The group has received donations of yarn — hundreds of skeins. A woman from Michigan donated 600 scarves to the cause.
Docter encourages others to follow Estes' example.
"I strongly recommend you reach out to the local rape crisis center or domestic violence shelter in your area," Docter said.
Threads of Compassion has guidelines for making scarves. Each must be about five inches wide and 65 inches long, but can be of any color or pattern.
In Oklahoma, each month different women gather to be a part of the work. For some, the project is personal. For others it's a hobby.
Estes said she doesn't ask volunteers why they come; she's just glad they're here.
"People's reasons can be so personal," she said, "and I want this to just be a fun, safe place for them to come."