'This is not about me'
Ebola survivor Dr. Kent Brantly thanks 'our great, compassionate, merciful God' as he speaks at ACU, urges believers to help West Africa.
---
Dr. Kent Brantly had a message for all those inclined to panic about a possible Ebola outbreak in the U.S.
Don't.
"There has been a lot of panic, a lot of — I hesitate to use the word hysteria — around the events in Dallas," he said during a visit to his alma mater,
Abilene Christian University
. The medical missionary and Ebola survivor urged people of faith to spend time praying and seeking ways to help the people of West Africa, "not worrying that, because we live 100 miles from a hospital that treated a patient, that we are at risk."
Two days before Brantly spoke, during ACU's homecoming weekend, Thomas Eric Duncan died from Ebola at Texas Health Presbyterian Hospital in Dallas. Two days after Brantly's visit, health officials announced that a second person — Nina Pham, a nurse who had treated Duncan — tested positive for the deadly virus.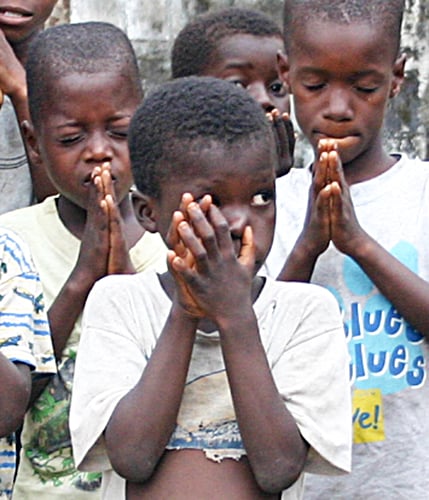 Prayers for West Africa: 
The church and Ebola
• Ebola kills, Jesus saves: In West Africa, Christians give aid, spread the Word

• The inside story of Dr. Kent Brantly's decision to serve in Liberia

• 'God has placed a call on all of us': Kent Brantly's sermon from 2013

• Liberia, land of tears and hope: Erik Tryggestad recalls his 2005 visit after a 20-year civil war
"My heart is broken for his family," Brantly said of Duncan, a native of Liberia, where Brantly served in a post-residency program with
Samaritan's Purse
and contracted Ebola.
"The truth is Ebola is a very serious disease," Brantly said in an interview with ACU Today editor Ron Hadfield while on campus. "But I want to be very clear that — for someone who is not in contact with a person who is sick with Ebola — there is no risk."
Brantly's photo appeared on TV sets across the U.S. as the physician battled the virus. Around the world, people prayed for him by name — and for Nancy Writebol, another American who contracted Ebola while serving in Liberia. Both were treated and recovered from the virus at Emory University Hospital in Atlanta.
En route to Abilene, he received a phone call from the Nebraska hospital treating photojournalist Ashoka Mukpo, also diagnosed with Ebola in Liberia. The two men have the same blood type, so healthcare workers
asked Brantly to donate blood
, hoping that the antibodies he acquired would help Mukpo in his fight. Brantly stopped at a nearby hospital and made the donation.
"This is not about me," Brantly said, repeatedly, as he spoke at ACU. "This is about our great, compassionate, merciful God and our neighbors who need our help."

PRAY FOR AFRICA LIKE YOU PRAYED FOR ME
Brantly, who grew up in the pews of the
Southeastern Church of Christ
in Indianapolis, came to ACU in 1999, "unsure of what I wanted to major in," he told a capacity crowd in the university's Moody Coliseum.
"It was here that I first began to feel the Lord's calling on my life to serve as a missionary," he said, adding that the university "helped me learn what it means to be a disciple of Christ."
He graduated in 2003 with a degree in biblical studies but returned for an additional year of science courses after he decided to pursue medicine.
That year, during a medical mission trip to Central America, he met his future wife, Amber, a pre-nursing student at ACU. The couple and their two children worshiped with the
Southside Church of Christ
in Fort Worth, Texas, before moving to Liberia in late 2013.
"I want people to know we are just regular folks seeking the Lord's will for our lives," Amber Brantly said in an
interview with ACU Today
. "We only did what we felt he asked us to do, and because we had already died to ourselves in order to follow him, we didn't think much of it when he called us to Africa."
Her husband's voice cracked with emotion as he talked about the people they served. He noted that, when he was interviewed on NBC, the network reported the number of Ebola cases in West Africa at about 4,000. A few weeks later, the death toll exceeded that number.
"I assure you that the reality on the ground in West Africa is worse than the worst report you've seen," he said. "And our attention and our efforts need to be on loving the people there, on praying for them the way that so many of you prayed for me."
He urged followers of Christ to use their money and talents to raise awareness of the problem, advocate for the people of Africa and "end the hysteria here." He also urged students at ACU to put God first as they prepare for the future.
"Besides the degrees you're earning," he said, "the goal of everything you're doing in this place (is) to become a disciple of Jesus Christ."