Thirsty souls: Churches help victims of Flint water crisis
With residents angry and frustrated over lead contamination, Christians work to meet physical and spiritual needs.
---
FLINT, Mich. — "Father, we know the water saves us," North Central Church of Christ member Robert McDaniel prayed on a recent Sunday.
The living water of Jesus Christ washes away sins, McDaniel declared as 150 men, women and children bowed their heads.
But people depend on water, too, to quench physical thirst, he said.

Tap water samples taken from a Flint household after the Michigan city switched to the Flint River as its water source. (PHOTO BY CHURCHES OF CHRIST DISASTER RELIEF EFFORT)
Amid a crisis involving lead-tainted drinking water in this economically depressed city of 100,000 souls, McDaniel's words resonated.
Twenty-four-pack cases of water were stacked high inside the church building and its nearby storage facility. Outside, the congregation's marquee sign invited residents to pick up free water between 9 a.m. and 4 p.m. weekdays.
Since this city 65 miles northwest of Detroit declared a state of emergency in mid-December, the North Central church has distributed between 150,000 and 200,000 bottles of water, organizers said.
---
Update: President Obama listens to Flint minister's concerns

Church members Javaris Burks and James Greer, joined by fellow Christians, volunteer all day before going to their regular jobs.
"I always want to hear, 'Well done, my good and faithful servant,'" said Burks, a team leader at a General Motors truck assembly plant. "We're in the middle of a community that can really use our help."
"We just want to make sure we're reflecting Christ," added Greer, a lineman for a cable company. "Because sometimes we are the only Bible that people see."
Church members help during Flint water crisis

James Greer and Javaris Burks, members of the North Central Church of Christ in Flint, Mich., are working overtime to distribute bottled water to residents affected by the lead-tainted water crisis. The church has given away more than 150,000 bottles of water so far. (Video by Bobby Ross Jr.)

Posted by The Christian Chronicle on Tuesday, February 9, 2016
Like the North Central congregation, the Bristol Road Church of Christ in Flint has distributed water to residents.
The Bristol Road church's Helping Individuals Succeed ministry provides groceries to more than 400 families per month. Months ago, HIS ministry volunteers began including water, too.
Steve Cunningham"Since then, we have been coordinating efforts with about a dozen Churches of Christ in southeastern Michigan to see how we can help," Bristol Road minister Steve Cunningham said.
Much, but not all, of the water given away by the North Central church came from Nashville, Tenn.-based Churches of Christ Disaster Relief Effort.
The national disaster relief organization rushed three truckloads of water to the North Central church and a fourth shipment to the West Carpenter Road Church of Christ in Flint, executive director Mike Lewis said.
Each truckload contained 30,240 one-liter bottles.
"You can imagine the panic of the people not knowing if they're going to have water to drink," Lewis said. "For them to know, 'Hey, the local church is a good place to turn,' that could tie to so many aspects of life."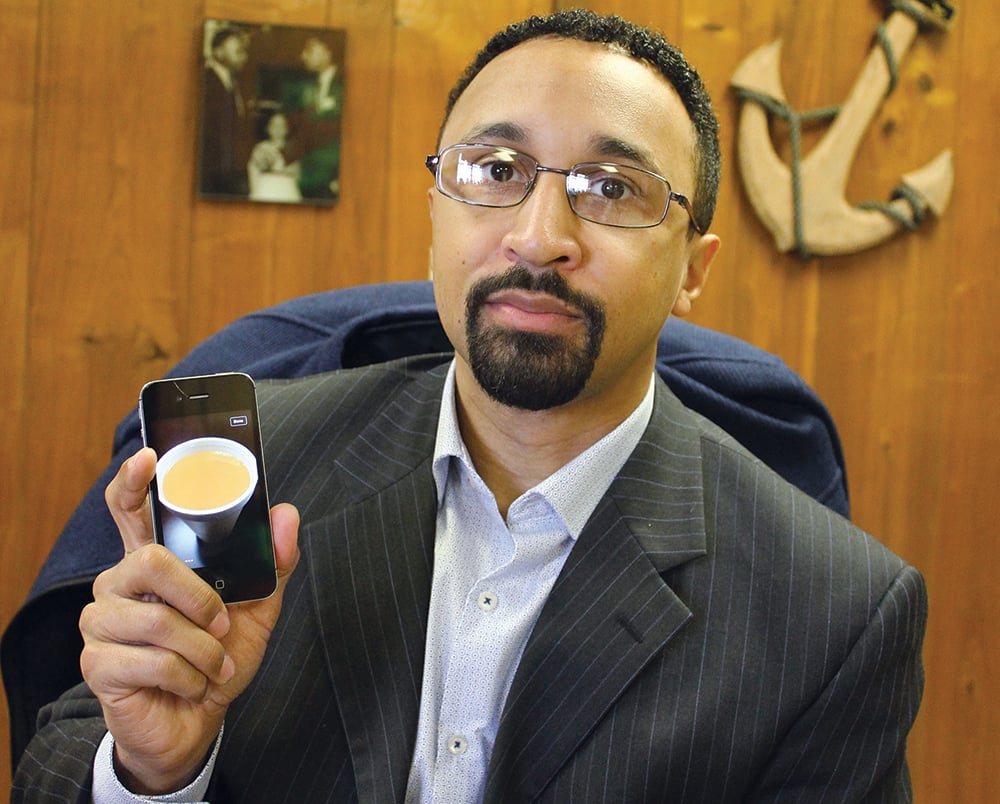 Minister Rigel J. Dawson shows a cell phone picture he took of tap water at the North Central Church of Christ in Flint, Mich. The water was the color of orange juice. (PHOTO BY BOBBY ROSS JR.)
CHILDREN'S RASHES RAISED CONCERNS
For Rigel and Qiana Dawson, rashes on their two young children were the first indication something was wrong.
"It was all over their bodies — legs, stomach, arms, back," said Rigel Dawson, 39, minister for the North Central church.
Red marks and dry, flaky skin on son Roman, now 3, and daughter Rylan, 5, made the parents rack their brains.
"My wife and I were trying to figure out what was going on," he said. "Did we start using a different soap or something that's got them irritated?"
A trip to the doctor turned up no answers.
But like thousands in this one-time automaking hub that in recent decades has battled high crime, unemployment and urban decay, the Dawsons soon identified the culprit: the water flowing from their home's faucets.
Ella Greene-MotonSince then, Flint's lead-contaminated water has put the majority-black city — where 42 percent of residents live below the federal poverty level — in the national spotlight.
"For me, when it first happened, my initial position was hurt," said Ella Greene-Moton, a longtime North Central church member who serves as vice president of the Flint School Board. "It's like, 'How dare you? How dare you allow something like this to happen to us and our families and our children? You wouldn't do it to your family.'"
Greene-Moton lives with her daughter, her daughter's friend and two grandchildren, ages 8 and 11. Over a year ago, she started experiencing shortness of breath. Her voice, she said, has lowered an octave.
The water could have nothing to do with her health issues, she said.
Or everything.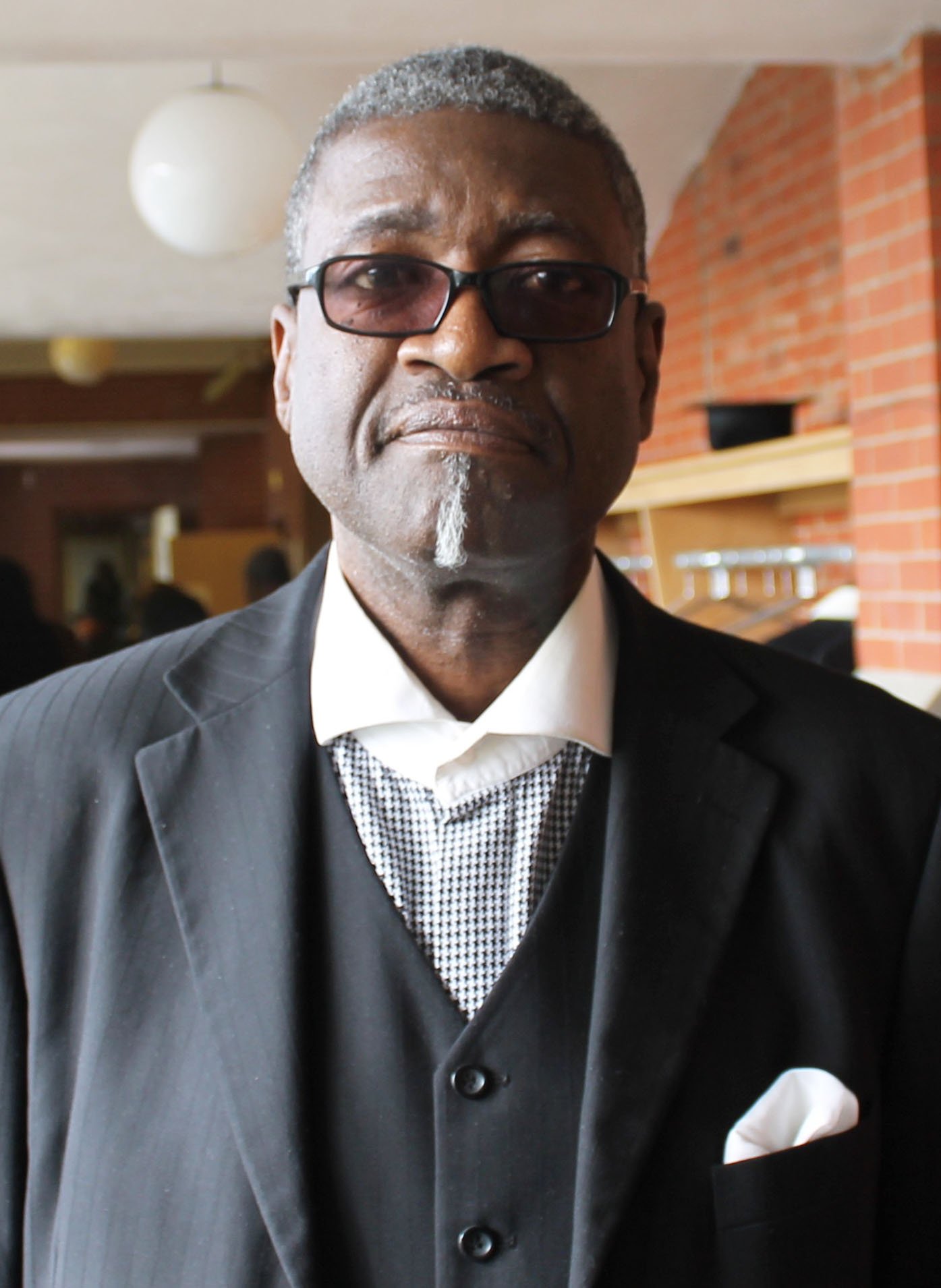 Steve Stockard"We don't know how it's going to play out," Greene-Moton said of the overall crisis. "We don't know what impact it's going to have on our kids … what impact it's going to have on the pregnant moms and those breastfeeding or using that water for preparing babies' formula."
Despite warnings against it, Greene-Moton's family has kept showering with the water.
"We don't get (an adequate amount of bottled) water for five people at a household to take a bath," she explained.
Another North Central member, Steve Stockard, said he's working with hotels to arrange a deal where residents could take safe showers for $5 each.
"The Creator put it on my heart, and the idea just came to me," said Stockard, who for now relies on heated bottled water and a bar of soap to clean up.
Peggy Johnson, right, greets Damerion Pendleton at the North Central church. Damerion's grandmother Carolyn Pendleton, left, stands beside him. (PHOTO BY BOBBY ROSS JR.)
'ALL LEVELS OF GOVERNMENT FAILED'
The problems stretch back to April 2014: To cut costs while under state financial management, Flint stopped buying Lake Huron water from Detroit and switched to the Flint River as its water source.
"You don't swim in the Flint River. It's gross," said Kayce McClure, whose father, David McClure, leads the worship ministry at the Valley Church of Christ in the Flint suburb of Burton.
Kayce McClure"So when they said they were switching over to the Flint River, it was kind of funny," the 25-year-old Flint resident added. "But you trust that they are going to treat the water."
However, regulators failed to ensure the water's proper treatment — which allowed lead from aging pipes to leach into the water supply.
Lead in drinking water can cause delays in physical and mental development in babies and children, while adults who drink such water could develop kidney problems or high blood pressure, according to the Environmental Protection Agency.
Gov. Rick Snyder"All levels of government failed the people of Flint," said Michigan Gov. Rick Synder, a Republican whose office faces scrutiny for its role.
Campaigning at a Baptist church across the street from the West Carpenter Road Church of Christ, Democratic presidential candidate Hillary Clinton called what happened in Flint "immoral."
"For nearly two years, mothers and fathers were voicing concerns about the water's color, about the smell, about the rashes that it gave to those who were bathing in it," Clinton said at House of Prayer Missionary Baptist Church. "And for nearly two years … Flint was told the water was safe."
The crisis has brought outrage in Flint — and rightly so, North Central minister Dawson believes.
At the church, the preacher took a cell phone picture of foul-smelling tap water the color of orange juice.
"There's all this evidence that it's bad, bad, bad," he said. "All the while (government officials) are telling us, 'No, it's OK.' That makes you mad when you're constantly being lied to."
After identifying the cause of the rashes, the Dawsons started buying gallon jugs of water for bathing. The family already drank bottled water.
"So many underprivileged families in the area can't do what we've been doing for a long time," he said.
Volunteers who said they were from Chicago offer free cases of water to motorists on a major commercial street in Flint. (PHOTO BY BOBBY ROSS JR.)
The governor activated the National Guard to help with water and filter distribution while long-term solutions are developed.
The North Central church is focused on the community's water needs, Dawson said, but members must guard against becoming weary.
When Dawson started to sense short tempers during water distribution, he delivered what he described as a "halftime speech."
"I just wanted to remind (members) why we're doing what we're doing," he said. "This is for his glory first and foremost, and if we're not going to give Jesus a good name in the midst of it, we might as well not do it.
"We kind of all got back on the same page and prayed together."
"This is for his glory first and foremost, and if we're not going to give Jesus a good name in the midst of it, we might as well not do it."
Rigel J. Dawson, minister, North Central Church of Christ