'They truly have unbreakable spirits'
The parents of 'Kid President' Robby Novak and his sister, Lexi, share their journey of faith and foster adoption.
---
The little girl in the car seat had a big smile on her face — and a gauze bandage wrapped around her leg. The case manager didn't know why the bandage was there and hadn't yet found the nerve to pick her up.
Laurie Novak reached down to hold the little girl, Lexi, whom she and her husband, David, had agreed to care for as foster parents.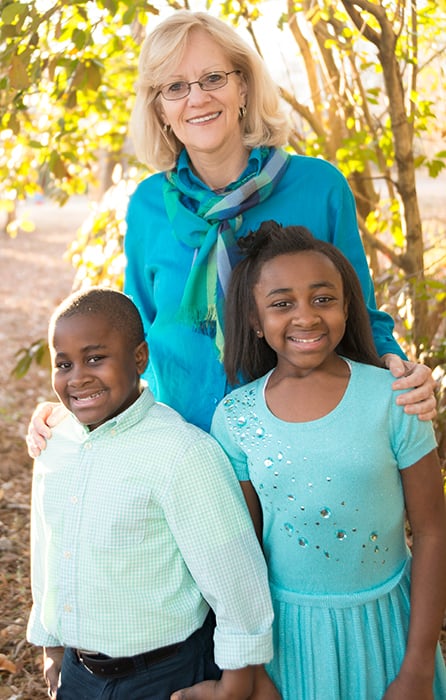 "To look at them, you would never know they have endured so much," Laurie Novak says of her two adopted children. (PHOTO BY KRISTI MONTAGUE)
A grimace quickly replaced the smile as Lexi braced for the pain she would inevitably feel at being handled, even gently. 
The parents of two grown daughters and a 14-year-old son, they had decided, as a family, "to provide a place for children to feel safe and loved," David Novak said, "and to provide a home where they can be a kid — and enjoy life as a kid — and not have any worries."
But Lexi was different. At 17 months old, she hardly cried and didn't talk. She could sit but not walk, largely due to the curvature of her legs, a common condition for children with Osteogenesis Imperfecta, or O.I., erroneously known as "brittle bone disease."
On New Year's Eve, Lexi's 2-month-old brother, Robby, also entered the Novak home. Robby, who shares his sister's condition, weighed six pounds. The first trip to the hospital was soon after Robby arrived. He was screaming in the middle of the night and broke his tibia. Then the weight of the splint used to secure the bone broke the baby's femur. 
In March, on a family vacation to the beach, Lexi also broke her femur — just from pulling up to stand — and ended up in a body cast after having surgery to set the bone. 
In their kitchen, Lexi and Robby Novak work on their homework as their mom, Laurie, supervises. The Novaks homeschool the children, ages 11 and 10. (PHOTO BY KRISTI MONTAGUE)
The Novaks prayed "and decided that we just couldn't do this anymore," Laurie Novak said. "Both kids were always in so much pain, and between the two of them, one always had something broken. We honestly felt like this was more than we could handle."
Reluctantly, she called the case manager to find other options for the siblings. She learned that, when they had taken in Lexi, they were her second foster home in a week. Lexi and Robby were running out of options.
Laurie Novak put down the phone and went online, learning everything she could about the siblings' condition and how to treat it. 
Two-and-a-half years later, in May 2006, the Novaks completed the adoption process. 
On adoption day, Lexi took her first steps by herself. She was 4 years old.

'LET YOUR KIDS BE KIDS!'
"We didn't go into foster care looking to adopt," Laurie Novak said. "We were older and had raised our family and were doing it to care for children who needed love until they could return home — or to a new, adopted home."
Nonetheless, the Novaks found themselves parenting two young children — both with special medical needs. 
After much research and consultations with multiple physicians, the couple met Dr. Jill Simmons, a pediatric endocrinologist at Vanderbilt Children's Hospital in Nashville, Tenn. 
She recommended bisphosphonate infusions to boost the children's bone density. Though there is no cure for O.I., "the infusions do a great job of reducing fractures and bone pain," Simmons said.
Even so, the smallest accidents — such as bumping into a water fountain at church — can result in broken bones, Laurie Novak said. To date, Lexi has had more than 80 documented breaks, and her brother more than 70. 
Trips to the local medical clinic are a routine part of their life. Often, a doctor from their church meets them at the clinic to take X-rays and check for possible breaks.
The temptation to shelter the children is great, Laurie Novak said. 
Robby and Lexi Novak with their mom, Laurie, in Henderson Tenn. (PHOTO BY KRISTI MONTAGUE)
However, "the best advice we got was from a mom who had O.I. and had three children who all had O.I. She said that, growing up, she had over 100 broken bones and doesn't remember all her breaks. 
"But she remembers all the times that her parents were overprotective and wouldn't let her do things.
"She said to me, 'Let your kids be kids! Don't shelter them. Let them experience life!'"
The Novaks prayerfully endeavor to live by those words. In fact, many who meet the siblings do not realize the severity of their condition, Laurie Novak said. Not only do both children walk — something doctors doubted they would do — but they run and ride bikes, though always with the possibility of breaking a bone. 
"To look at them, you would never know they have endured so much," Laurie Novak said. "They truly have unbreakable spirits."

'KID PRESIDENT' TAKES OFFICE

"Did you always know that being weird would pay the bills?" Robby Novak asks Weird Al Yankovic in a "Kid President" video — before challenging the comic musician to a staring contest. (VIDEO STILL VIA WWW.HUBNETWORK.COM) The siblings, now 11 and 10, are an inexhaustible source of wiggles and giggles — especially Robby. 
Just ask one of his big sisters, Kristi Montague, who faced the challenge of getting him to sit still for a recent photo shoot.
"Seriously, he never stops moving," she said of Robby, whom Laurie Novak describes as "Evel Knievel in Humpty Dumpty's body" — always up for anything that's "scary."
Montague's husband, Brad, quickly became best friends with his young brother-in-law — a relationship that resulted in the YouTube sensation "Kid President."  
Brad Montague, who worked in marketing for Freed-Hardeman University in Henderson, developed the idea as a silly way to promote a fundraiser at the 1,900-student university associated with Churches of Christ. The featured speaker was former U.S. Secretary of State Condoleezza Rice.

Dressed in a suit, Robby spoke in a series of short, "presidential" videos. They caught the attention of Rainn Wilson, better known as Dwight Schrute from the NBC sitcom "The Office." The actor, along with Joshua Homnick and Devon Gundry, had launched a media company, SoulPancake, to discuss topics including spirituality, creativity and philosophy. Now SoulPancake promotes "Kid President" videos, written by Robby and Brad Montague.
In one, titled "A Pep Talk from Kid President to You," Robby paraphrases a poem by Robert Frost.
"Two roads diverged in the woods," he says, "and I took the road less traveled. And it hurt, man, really bad! Rocks! Thorns! Glass! My pants broke! Wahh! Not cool, Robert Frost!"
Despite the obstacles, he urges his audience to "keep going, keep going, keep going," looking past each other's differences and working to make each other's lives better.
"Kid President" Robby Novak asks U.S. President Barak Obama, "How can kids and grown-ups work together to change the world?" The president's response: "The most important thing we can all do is to treat each other with kindness and respect." (VIDEO STILL VIA SOULPANCAKE.COM)
When facing life's struggles, "we can cry about it, or we can dance about it," he concludes. "We were made to be awesome."
The video has 33 million views — and counting.  
Recently, the Hub Network launched a "Kid President" TV show. Robby has interviewed actors, including Wilson and Lake Bell, and musicians from Gene Simmons to Weird Al Yankovic. "Kid President" also spoke at the 50th anniversary celebration of Martin Luther King Jr.'s "I Have a Dream" speech.
"Kid President" is a family project, Brad Montague said. 
"We have been working to make sure that the content we create points people toward things that matter," he said. "It isn't about the celebrities or the view counts."
Last year, "Kid President" inspired more than 1 million people to help the homeless through a project called "Socktober," and "we have even bigger dreams for this year," Brad Montague said. Through social media, the brothers-in-law helped pack and ship 150,000 meals for the needy, in partnership with Feed My Starving Children and Freed-Hardeman's annual GO! Camp.
Lexi Novak is participating in her seventh year of dance class. (PHOTO PROVIDED)
Also last year, "Kid President" met President Barack Obama, who invited him to try out his chair in the Oval Office. 
"Let's make sure not to cause an international incident," the U.S. president said, as Robby played with the phone on the desk.
The media exposure "Kid President" receives shows that "O.I. doesn't define Robby," his mother said. "It's just part of him, and he is so much more."

'IF WE CAN DO IT, ANYONE CAN'
After 37 years of marriage, Laurie and David Novak are spending their retirement traveling — back and forth to Nashville for appointments and occasionally to the emergency room. 
There also are plenty of trips to dance class. Lexi, though not as well-known as her brother, is extremely active, participating in her seventh year of tap, jazz and ballet.
It's a life the couple would never trade, Laurie Novak said — a life God planned for them.
"If we can do it, anyone can," she said. "God's dreams are bigger than our dreams. 
"We never could have imagined how much adoption would change our lives and how much we would be blessed by it."

PORTIONS OF THIS REPORT WERE ADAPTED , with permission, from a feature written by Rachel Pate for Christian Woman magazine, a publication of Gospel Advocate in Nashville, Tenn. For more on "Kid President," see kidpresident.com or soulpancake.com.