The other side of paradise
In Hawaii, a small Church of Christ ministers to the hurting and homeless seldom seen by tourists.
---
WAIPAHU, Hawaii —
 One Sunday, a man wandered into the parking lot of the Wellspring Fellowship Church of Christ, a small congregation that meets in this working-class neighborhood of Honolulu, about 30 minutes west of Waikiki's crystal beaches.
He started asking church members for money. They invited him inside.
He attends regularly now — especially on "Aloha Sundays" when the church has an after-worship potluck. The believers welcome him and help him whenever they can.
Once, he pulled out a harmonica and attempted to accompany the otherwise a cappella worship service.
What tune did he choose?
"Oh, there was no tune," minister David Cady said. "He doesn't know how to play the harmonica."
This isn't the Hawaii you see on postcards. Waipahu is a maze of small homes with wire fences — the humblest of which rents for $2,500 per month.
Multiple generations, descendants of immigrants from Philippines and Asia, share the same roof. Not far from the church's building is a Buddhist temple.
The 52 souls who call the Church of Christ "ohana" — the Hawaiian word for "family" — represent a broad swath of income levels, ethnicities and journeys of faith. Some have good jobs with the military, the tourist industry, even the National Weather Service.
Members of the Wellspring Fellowship church pray for a graduating student. (PHOTO BY AMY CADY)

But many struggle to make ends meet in the high-priced "Aloha State," which has the highest per-capita homeless population in the nation. At least 8,000 people in Hawaii are homeless, according to government figures. Social service workers suspect the actual number is larger.
"Everybody here … you're living paycheck to paycheck. It could easily be you," said Patricia Flores, who worships with Wellspring Fellowship along with her husband, Albert, an Army chaplain's assistant stationed at Schofield Barracks.
As church members reach out to the hurting — in their community and their ohana — they're blessed with circumstances that keep them from taking themselves too seriously, said Cady's wife, Amy. 
"In Hawaii, you don't wear shoes in someone's house. And this is God's house. It's holy ground."
In addition to harmonica solos, there are geckos who scamper up and down the walls of the church building, a rooster that crows during worship and Sugar, a member's dog who is among the church's most faithful attendees.
But beneath the church's casual exterior is a serious faith, said Kevin Roach, a longtime church member. He occasionally leads prayers for the Lord's Supper — sporting a braided goatee and barefoot.
"In Hawaii, you don't wear shoes in someone's house," he explained. "And this is God's house. It's holy ground."
A MISSION-MINDED FAMILYThe Cadys lived 3,910 miles from Hawaii — in the Houston suburb of Friendswood, Texas — before moving here with their two young children, Mackenna and Jonathan, in June 2009.
The Cadys — Mackenna, Amy, David and Jonathan — stand in front of the Wellspring Fellowship Church of Christ's building. The congregation changed its name from Waipahu Church of Christ in part to avoid confusion with nearby, similarly named churches. (PHOTO PROVIDED)They weren't in search of paradise. After seven years with the 1,000-member Southeast Church of Christ in Friendswood, where David Cady served as an associate minister, the couple was considering mission work, possibly in Nicaragua or Ecuador.
David Cady's father, Dennis, was a longtime missionary to Southeast Asia who married a Malaysian Christian, Susan. Through the Starfish Foundation, a ministry Dennis Cady founded, he and fellow Christians oversee children's homes, support relief and development work and spread the Gospel in nations around the globe — Indonesia, Haiti and, most recently, South Sudan.
David Cady and his siblings, Michael and Sarah, grew up in small-town Ryan, Okla., as their dad preached. All alums of Oklahoma Christian University in Oklahoma City, they have served churches, Christian K-12 schools and universities. Along with their spouses and children, the siblings have accompanied their parents on mission trips to countries including Belize and Indonesia.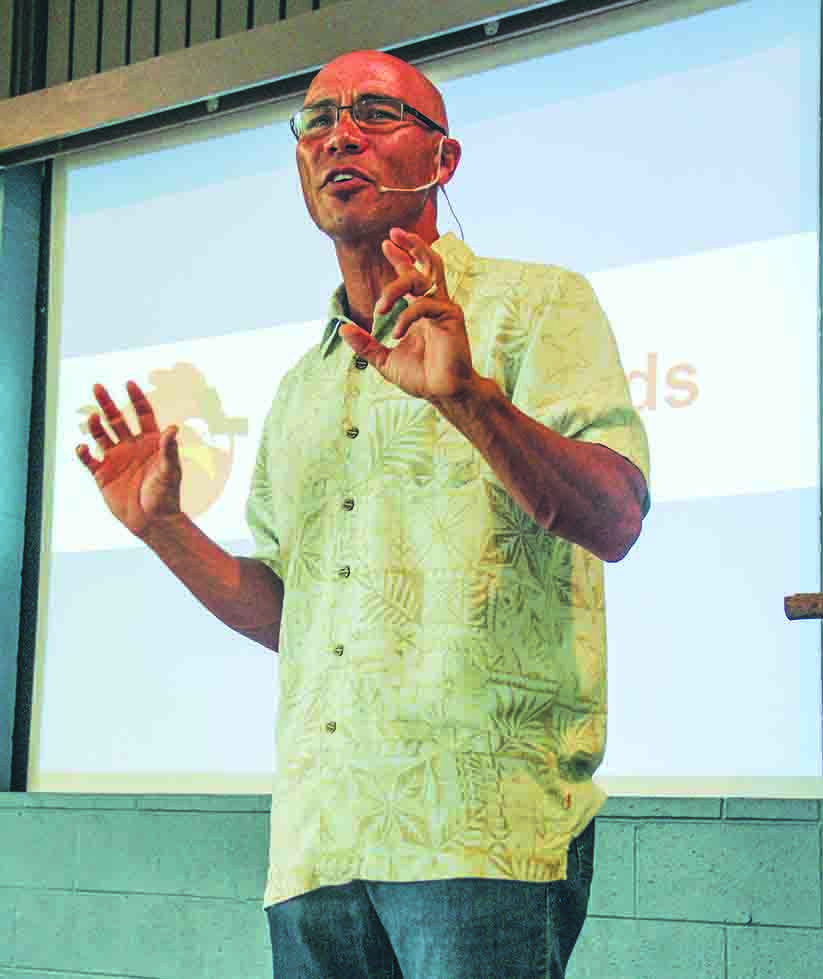 David Cady preaches about the importance of the Lord's Supper.At first, ministering in Hawaii seemed too domestic — almost too "churchy," David Cady said. He quickly learned that the culture is different from the U.S. mainland.
"So it fit the bill," he said. "And we felt God's hand in it."
The Southeast Church of Christ agreed to help support the family in their domestic mission work. Shortly after the Cadys moved to Hawaii, the rest of the family planned a mission trip here — to repaint the church building and the parsonage next door.
HARD TO BUILD A CHURCH, EASY TO BE THE CHURCH
Since moving to Waipahu, the Cadys have searched for a phrase to describe their community.
"I don't think there is one," David Cady said. "It's almost one-third inner-city, one-third suburban, one-third developing nation. Somehow it all fits together."
In such an environment, "it's hard to build a church institutionally," he added, "but it's easy to be the church." The congregation doesn't have to create programs to serve the underserved. Instead, "just come and love on people who you would never cross paths with in any other setting."
That's what David Cady — who has a master's in psychology from Abilene Christian University in Texas — and his family are trying to do.
Amy Cady, the daughter of longtime Church of Christ minister Lyman Mereness, never saw herself following in the footsteps of her mother, Dana, as a preacher's wife.
Now, "I look around, and I see all these precious people," she said of the church. "So many of them weren't here when we got here.
"There is no one who could show up here that we wouldn't welcome. Regardless of your background, situation or lifestyle, this is a safe place to be loved, to hear that you're included, and to be introduced to Jesus."
The congregation serves special-needs adults who live in group homes near the church's building. Many suffer physical and psychological ailments — some from past years of substance addiction and abuse.
After years of self-described "hard living as a child of the 60s," Cheryl Carpenter suffered a stroke and woke up wheelchair-bound.
"I consider my chair a blessing, really," she said. "The stroke brought me to God … and this church."
Now "I always have a place to sit," she said, "but I do look forward to dancing in heaven."
More than half of the congregation's members have come into the church since the Cadys arrived — most from outside Churches of Christ. Among the first was Charles Dias, who the Cadys met through the church's involvement at a nearby YMCA. Dias, who works there, had come to a faith in God and was looking for a way to introduce his wife, Chanel, to Jesus.
"Church was unfamiliar to me," Chanel Dias said, so she was a bit apprehensive about visiting Wellspring Fellowship. "I remember leaving my first Sunday amazed at how relevant David's message was to me."
On July 17, 2010, the couple was baptized in the Pacific Ocean. Now they are active members and work with the congregation's youths.
At the YMCA, David Cady has found "a whole other church," he said. "I've gotten to pray for and counsel people there. Many have visited church. Several have stayed."
Church members helped build a playground and assist in fundraising for the Y. David Cady leads prayers before special events there, including an annual ukulele class concert.
IT'S OK TO ASK QUESTIONSOn a recent Sunday, the congregation sang "Amazing Grace" in English and then paused as Jackie Bagood sang the lyrics in her native Hawaiian.
Bagood grew up going to church. A friend invited her to the Waipahu congregation and she never left.
Her husband, Butch, said he "used to walk on the dark side, y'know?
"This is where I found God."
Jackie Bagood has become an adopted mother to Jeremy and Lizzi Armstrong, a young couple that began attending in 2014.

Jeremy and Lizzi Armstrong share a hug with their adopted mother, Jackie Bagood, after worship. "At some churches, you're not allowed to ask questions," Jeremy Armstrong said. But at Wellspring Fellowship, the minister says, "Let's talk about it."
"I like the way David preaches. He doesn't assume stuff. He goes back to the Bible," Jeremy Armstrong said. "At some churches, you're not allowed to ask questions. David says, 'Let's talk about it.' He doesn't put up a front. He's OK with disagreement."
Whatever the theological issue, he added, "you always leave saying, 'Wow, I have a new view on it.'"
After worship, church members set up folding tables in the back of the auditorium for "Aloha Sunday." Over plates of chicken, rice and mixed vegetables, they talked about the role the church plays in their lives.
Andrea Evans and her husband, Tom, came into Churches of Christ through the Boston Movement, a group that originated in the fellowship that left in the mid-1980s and became the International Churches of Christ. The group's controversial discipling practices drove them away, and for 12 years they avoided church completely.
Four years ago, Andrea Evans found Wellspring Fellowship. She worried that her husband would refuse to visit when he learned the congregation had "Church of Christ" in its name. But he gave it a chance and now is a leader in the church.
Now, "this is our ohana," Andrea Evans said. "These are the people I wanted to be with, the people I should be with. I love these people so much."
PACKING MEALS FOR 'POINT PANIC'
After an "Aloha Sunday" potluck, Patricia Flores and Butch Bagood prepare to-go boxes for the homeless at a nearby park.As the Christians finished lunch, Patricia Flores and a few volunteers formed an assembly line, scooping the leftovers into to-go boxes for Kakaako Waterfront Park.
Known to surfers as "Point Panic," the park also is a gathering place for Honolulu's homeless.
"The most I've found was a family of 10 — all these beautiful children, peeking out of a tent," Patricia Flores said, scraping the last of a casserole into a box. "The kids, they're the ones that just took my heart."
The church knows how easy hunger and hurt can come, she said. It seems appropriate to end their meal of shared fellowship with an act of service.
"We all bring love to the table, and we take that love to the streets."
Related Stories:
• A heart for Hawaii
• Blessings flow as Pearl of a church is saved