The Obstinate Faith of France
In the city of Lyon, where Christians once died in Roman amphitheaters, a Church of Christ shares its message of simple, Bible-based belief.
---
LYON, France —
Here, people of faith gave their lives to — and lost their lives for — the cause of Christ. 
This city of nearly 1.6 million souls, 250 miles southeast of Paris, once was the capital of the Roman territory known as Gaul. Nearly hidden among Lyon's modern apartments and office buildings are the remains of the Amphitheater of the Three Gauls.
Arlin Hendrix strolls through the ruins of the Amphitheater of the Three Gauls. (PHOTO BY ERIK TRYGGESTAD)
On a cloudy Saturday morning, missionary
Arlin Hendrix
finds a rare treat at the ruins — an open gate. He joins a handful of tourists walking among the ancient stones, where early Christians were fed to "wild beasts" for the amusement of the crowd, according to a
letter dating back to 177 A.D.
Under emperor Marcus Aurelius, Christians in Lyon were ostracized, arrested and tortured — roasted to death on chairs of burning iron, according to the letter. Yet the martyrs "endured every form of torture in the amphitheater as if they had no suffering at all before," its unnamed author wrote.
More than 1,800 years later, crosses — once a symbol of Rome's power — dot Lyon's skyline. The Catholic church, though in decline across much of Europe, remains strong here, Hendrix says. 
Behind the massive, ornate
St. Jean Cathedral
are the remains of a fourth century baptistery, used for adult immersion until the 1100s. In front of the cathedral, a more recent statue — only a few centuries old — depicts John the Baptist baptizing Jesus, pouring water over his head from a bowl.
The ruins of a baptistery from an early Christian church, circa 400 A.D. (PHOTO BY ERIK TRYGGESTAD)
Hendrix, a native of Madera, Calif., moved here with his wife, Judy, in 1975 to teach any who would listen about simple, Bible-based Christianity. Working alongside missionaries Max and Prisca Dauner, they helped establish a Church of Christ. Other missionary couples have come and gone — some to plant churches in other French cities and French-speaking territories, including the Caribbean island of Guadeloupe. 
Judy Hendrix died of cancer in 1988. Arlin Hendrix later married Pamela Whitesell, who has worked alongside him in Lyon ever since. 
"We're 'Framericans' because we've been here so long that our cultures are mixed," Arlin Hendrix says, reflecting on nearly 40 years of mission work. "This is home."

GOD'S WILL AND THE FRENCH WORLD
For the Church of Christ, "home" is significantly humbler and cozier than the great cathedral and basilicas of downtown Lyon.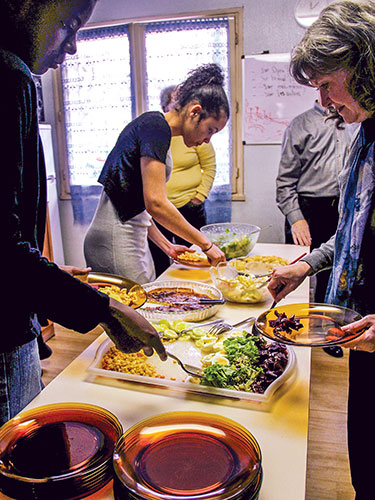 Members of the Lyon Church of Christ fill their plates at an after-church potluck. (PHOTO BY ERIK TRYGGESTAD)
The congregation meets in the bottom floor of an apartment building. On Sunday morning, the members arrive early, carrying dishes for an after-church potluck. They kiss each other on the cheeks and speak in hushed tones, careful not to wake those still sleeping in the apartments above.
Ekel Jean, a native of Haiti, teaches Bible class, focusing on the temptations Christ faced in the wilderness, recorded in Matthew 4.
"Jesus never talked about himself — always God," Jean says in French as Pamela Hendrix takes notes in English for a reporter. The Savior was "obstiné" in doing God's will, he says, using a French word that can mean "obstinate," "stubborn," even "obsessed." Followers of Christ must also be "obstiné" in their obedience to God, Jean says.
"Obedience isn't worth a lot if it's easy, with no effort," he says, citing Jesus' words in John 6:38, "For I have come down from heaven not to do my will but to do the will of him who sent me."
INSIDE STORY: The faith I have found in 'post-Christian' Europe
After worship, over plates of salad, cheese and braised beef, the church members talk about what attracted them to the congregation and its practice of simple Christianity.
"My voice is an instrument," says Michaela Bonfre, sharing her love of the church's a cappella worship. 
Christophe Varoquier says he appreciates the church's focus on Bible knowledge. Many homes in France — even Catholic homes — have no Bible, he says.  
Evangelism here is difficult, he adds. Non-Catholics often are regarded as members of a religious "sect" and mistrusted. Many French people fear faiths from outside their borders, partly due to growing numbers of immigrants from Muslim nations.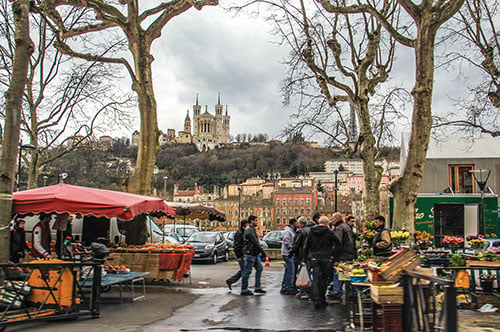 The Basilica of Notre-Dame de Fourvière overlooks a street market in Lyon. Built in the late 1800s, the basilica occupies what once was the Roman Forum of Trajan. (PHOTO BY ERIK TRYGGESTAD)
In four decades, Arlin Hendrix has seen the church experience "struggles, growth, sometimes tragedy, joyful periods. … life," he says. As many as 80 people have worshiped with the church, though now the number is closer to 40. 
From Lyon, a university town, Christian converts have traveled around the globe — and taken the Gospel with them.   
The Hendrixes make regular trips to Guadeloupe to conduct marriage enrichment seminars. In Lyon, they host young missionary families as they study French, preparing for mission work in the nations of French-speaking Africa.
France is a gateway to the world — including predominantly Muslim nations, Arlin Hendrix says. 
In Lyon, he has watched as generations of new believers have grown up in the church. Though their numbers are small, he sees in these Christians the same steadfast, "obstinate" faith of the martyrs who once stood in the Roman amphitheaters.
Soon, French Christians will lead as the church's elders, he says. He and his wife look forward to the day when "we work ourselves out of a job."
"The church does not depend on us," he says. "It depends on the Lord."
Ekel Jean teaches a Sunday morning Bible class for the Lyon Church of Christ. The small congregation includes native French Christians and believers who came to France from Caribbean nations and territories including Haiti and Martinique. (PHOTO BY ERIK TRYGGESTAD)