Chicago —
 "Celebrating the Covenant" was the theme of the 71st National Lectureship, an annual gathering of predominantly black Churches of Christ. Chicago-area congregations hosted this year's event.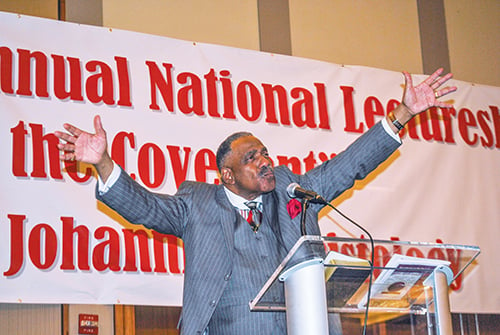 James O. Maxwell, longtime minister and administrator for Southwestern Christian College in Terrell, Texas, speaks during the 71st annual Church of Christ National Lectureship in Chicago. Maxwell presented biographical sketches of outstanding Christian leaders and delivered an evening sermon during the lectureship.

Alice Lynch, a member of the Compton Avenue Church of Christ in Los Angeles, has missed only two National Lectureships in the past 32 years. Her husband, Jake, an elder of the congregation, also attends faithfully.
Lynch
"It's a family reunion, so we don't like to miss this," Alice Lynch said. "It also helps me being a leader's wife."
The lectureship has changed — for the better — through the years, she said, although many of the speakers are the same.
"The speakers are more mature and dedicated," the retired bookkeeper said. "As you mature, you learn that it's not about me but about the kind of people you are and what you stand for."
Her favorite part of the four-day schedule is the women's program.
Brenda Jones of Memphis, Tenn., speaks on "Connecting Sisters to Christ and to Each Other" during a women's luncheon. program. "The lectures are very practical," she said, "and you leave here with something to take home and share with others."
Many young women from her congregation aren't able to attend because of their work schedules, so Lynch says she tries to hear as many lectures as possible and share what she learns with the women when she returns to Los Angeles.
Churches in Memphis, Tenn., will host the 2016 National Lectureship.
WHERE HAVE YOU BEEN? Have you attended a faith-based conference, gospel meeting or lectureship? What did you like? What could be improved? Share your experiences here or by emailing [email protected].