The introvert behind the pulpit
For these preachers, devotion to ministry requires balancing need for solitude with passion for sharing God's word.
---
No offense, but people drain Mark Littleton of much-needed energy.

Here's what invigorates him: sitting in his church office — alone — with his Bible, study books, computer and a Diet Dr Pepper.
Mark Littleton
"It's not that I don't want to be around people," said Littleton, pulpit minister for the
Athens Church of Christ
in Tennessee. "I don't mind that, for short periods, when it's balanced out by my 'alone time.'"
Like a surprising number of preachers, Littleton feels much more comfortable standing behind the pulpit than approaching strangers at a church fellowship meal.
"I think I was in my 30s before I realized that
most
preachers in my experience were actually introverts," said Bruce McLarty, 57, a longtime minister who serves as president of
Harding University
in Searcy, Ark., and describes himself as slightly more extroverted than introverted.
"I have actually had people tell me that I can't be an introvert because my preaching style does not reflect it," he said. But like other introverts, Bennett gains energy in times of solitude and quiet.
Lance and Misty Bennett
In large-group social situations, his extroverted wife, Misty, typically meets everyone in the room. On the other hand, he tends to be quieter and focus on a smaller number of people.
"God takes care of me," he said. "In those seasons of busyness and frantic schedules, he has always provided a respite or break exactly when I needed it."
At the same time, Bennett must be careful not to turn down social invitations just because he craves his "alone time."
"My wife is great at identifying this tendency in me and keeping me honest," he said. "I appreciate her willingness … to push me out of my comfort zone at times."
If ministry didn't require involvement with people, Jeremy Sigle jokes that he'd prefer life as a hermit in the mountains.
"I feel like my desire to reach people with the Gospel and my love for my brothers and sisters in Christ become priority," he said, "although I still need the time to myself to re-energize."
Jeremy Sigle
For Sigle, balancing time alone with God with the needs of his congregation and community is a struggle.
"Areas such as evangelism, community involvement and visitation do not come easy or feel natural, so I make extra effort in those areas," he said.
Like Sigle, Matthew Dowling, minister for the
Monmouth Church of Christ
in Tinton Falls, N.J., said he takes his personality into account when planning his schedule.
"One of the most common assumptions about introverted people is that they are shy, even awkward," Dowling said. "In reality, I am a very outgoing person, but it drains me.
"After Sunday preaching and worship, I like to save more people-intensive activities like counseling for any day of the week other than Monday," he added, "so I can study and pursue the more isolated activities of ministry, like bulletin writing or sermon prep."
Matthew Dowling
Dowling urges new preachers to figure out their personality type early and understand how it will affect how they do ministry.
"I am convinced that knowledge of my own personality type has helped me serve the church better and take care of myself appropriately," he said.
Matt Dabbs, minister for the
Westside Church of Christ
in Bakersfield, Calif., said he sets aside his introversion as much as possible.
"It's hard to reach out to people, counsel people and encourage people if you are shy and seem disconnected," Dabbs said. "So I have had to learn to 
jump past that."
At the same time, he said, "It can be a great help to my study, as I am very happy to sit and study for whatever time is needed. At times, I think it helps me be a better listener as I don't always feel the need to jump in and fill the air with noise."
As Harding's McLarty sees it, "an awareness of who we are helps us not to beat ourselves up emotionally for not being something other than what we are." 
McLarty described a friend who couldn't stop talking about "Brother X," who spent each morning in secluded Bible study and preached each Sunday "from the overflow" of that study.
Later, McLarty's friend went on and on about "Brother Y," who spent each morning visiting with folks at a doughnut shop and was known by everyone in town.
"Obviously, one person cannot be both men," McLarty said. "The more important message is that both men brought strengths to their ministry based on the particular gifts God had given them."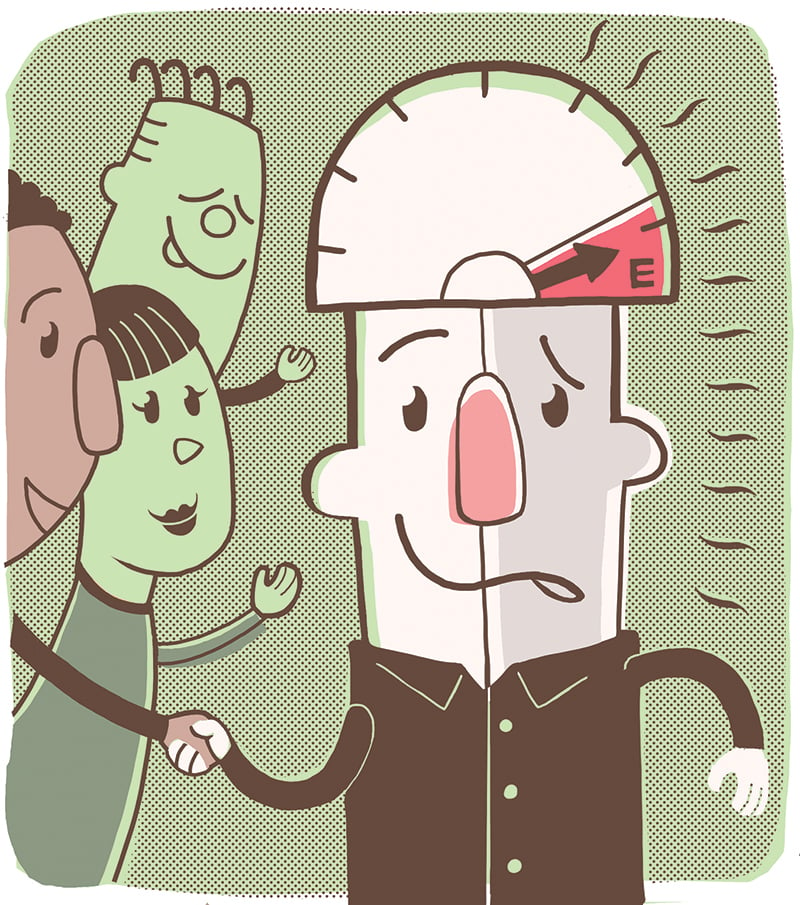 ILLUSTRATION BY DAN McGREGOR
Even though he understands how God has gifted him, Littleton — the Diet Dr Pepper-loving Tennessee minister — still struggles with his picture of the ideal minister.
"There was a time early in my ministry where I actually considered doing something else because I felt I could never be what I saw other preachers being," Littleton said. "They were very vocal and outgoing all the time — the center of attention.
"I've just come to realize that God made me the way I am, and I've seen him use me to accomplish some things in people's lives, so I keep on going."
RELATED COVERAGE