The faith I have found in 'post-Christian' Europe
At a Bible study in Brussels, I encountered something I once thought to be rare. Plus, some thoughts on the difference between Flemish and 'Phlegmish.'
---
A close-up detail of the statues that adorn Brussels' Town Hall in Belgium. (PHOTO BY ERIK TRYGGESTAD)

BRUSSELS, Belgium — Post-Christian Europe?
I'm not sure I buy that description anymore.
You see, there are spiritual seekers in this West European capital, known for chocolate, lace, waffles and high-level talks about intergovernmental military cooperation. (NATO headquarters is here.)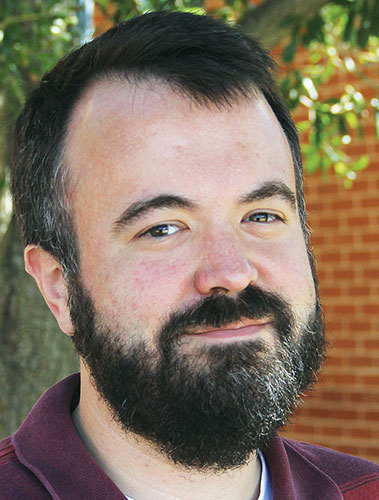 Inside Story | Erik Tryggestad
During a Wednesday night Bible study, I saw something that I didn't expect to see in Brussels — something downright faith-shaking. 
A visitor.
It happened in the apartment home of Blair Roberts, a quiet, unassuming Christian from the Canadian province of Saskatchewan. 
He and his wife, Susan, served for 14 years among the Flemish-speaking churches of Belgium before returning to Canada. Now empty nesters, they live part of the year in Brussels, hoping one day to help launch a Dutch-speaking church in this city of 1.1 million souls. 
(Dutch is one of the official languages of Belgium, and Flemish is considered a dialect of Dutch, but they're basically the same language. I speak neither.)
Luckily, this Bible study was in English. It's something Blair Roberts does for a handful of Christian expats — including some U.S. military families stationed in Belgium. One of the participants, Catherine, struck up a conversation with a young man on the subway en route to the apartment. She invited him to join us. 
And he did.
Dressed in a trendy leather jacket and boots, he had a "deer in the headlights" look about him, as if he weren't quite sure what he had gotten himself into. 
I thought about how I would feel, walking into the apartment of someone I didn't know, surrounded by strangers who wanted to tell me about Jesus. This guy was brave, and I have to believe that something drove him to step out in faith. 
He was here for a reason.
He participated in our discussion — even made a couple of good points, as I recall. And after the devotional, he didn't bolt for the door. I'll never forget the tough, tattooed U.S. Marine who made his way over to our visitor. (Or was he Air Force? Either way, he could've bench-pressed me.) 
"I'd like to pray with you," he said. "What's something we can pray for?" 
I'm going to keep praying for Europe. I know we'll probably never see the kind of baptism numbers here that we see in Africa, India and other parts of the world where the Gospel spreads like wildfire. 
But we're needed here, too. 
Europe has empty cathedrals and empty hearts. Beyond the noise and clamor of its busy streets and subways, there is a search for meaning here. Only God can provide that meaning. He can use us here.
Let's not give up on Europe. 
Speaking of Flemish … 
Arlin believes, firmly, that you haven't really experienced the Bible until you've read it in the original French. One day, as he was taking the class through a passage about the Holy Spirit, he openly lamented an English word choice — one that just didn't capture the spirit of the Greek word like the French translation did, he said.
"How would you say that word in Flemish?" he asked them.
Immediately, a rather smart-alecky student next to me started making a gross, guttural noise — like a cat coughing up a hairball.
He was speaking Phlegmish.