Ten stories that inspired me — and hopefully you — during 2015
These Christians and congregations demonstrated faith, hope and love.
---
I am blessed.
As chief correspondent for The Christian Chronicle, I am privileged to tell the stories of Christians living out their faith — often under difficult circumstances.
Over the last decade, my travels with the Chronicle have taken me to 48 states (I'll make it to the Dakotas eventually!) and 10 countries.
As we near the end of this year, here are 10 individuals and congregations who inspired me — and hopefully you — during 2015.
These are just a few examples among many who deserve to be recognized.
1. WISSAM AL-AETHAWI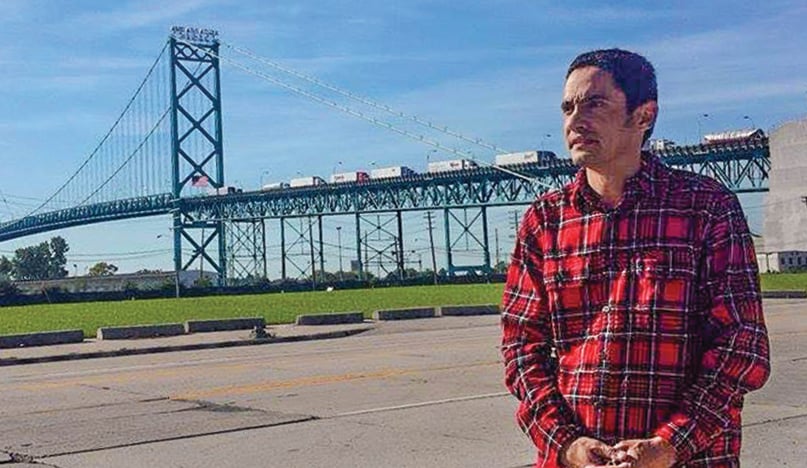 Wissam Al-Aethawi stands by the Ambassador Bridge, which connects Detroit to the Canadian city of Windsor, Ontario. (PHOTO PROVIDED BY WISSAM AL-AETHAWI)


The long road to Baghdad
DEARBORN, Mich. — In the heart of this Detroit suburb, Muslim women who wear hijabs to cover their heads abound.
Signs for Middle Eastern restaurants, halal meat markets and even national chain stores such as Walgreens appear in Arabic and English.
Cedar trees — the national symbol of Lebanon — line the streets.
A century after Henry Ford recruited thousands of Lebanese, Yemeni and other immigrants to work in the auto industry, this Michigan community boasts the largest concentration of people of Arab origin outside the Middle East. They comprise roughly 40,000 of Dearborn's total population of 100,000.
"I call it the Arab Chinatown," Christian missionary Wissam Al-Aethawi, 36, says as he drives along Warren Avenue, the city's business and cultural hub.
Al-Aethawi, a one-time Iraqi soldier and engineer, believes God led him here — to the epicenter of Arab life in America and the home of the largest mosque in North America — to share the hope he found in Jesus.
This former Muslim's dream: to establish an Arabic-speaking Church of Christ in Dearborn.
Read the rest of the story.
2. RHONDA FERNANDEZ
Rhonda Fernandez, center, oversees the around-the-clock care of her parents, Jack and Frances Zorn. Fernandez enjoys a laugh with Helen Mulaparthi as Frances Zorn watches. (PHOTO BY BOBBY ROSS JR.)

From daughter to caretaker
SYLACAUGA, Ala. — The little girl tugged at her father's leg.
"Don't go, Daddy," she begged. "Don't go."
Jack Zorn — known to generations in Churches of Christ as "The Man in the Red Jacket" who founded the Lads to Leaders program — was leaving to speak at a church in another state. His daughter Rhonda wanted him to stay home and play.
"Dad sat in the floor and explained his commitment to the church and supporting his family," Rhonda Fernandez recalled. "He said, 'Rhonda, you don't want me to disappoint all those people expecting me and not do my work, do you?'"
Decades later, Fernandez, now 53, found her role reversed as she explained to her parents — who entered hospice care a year ago — that she had to go home to Orlando, Fla., after six weeks at their central Alabama home.
Jack Zorn, 81, is mostly blind, has hearing difficulties, battles regular strokes and sleeps between 20 and 21 hours a day. Besides that, he has an arthritic hip that causes severe pain.
Frances Zorn, 79, suffers from heart problems and dementia. The extent of her memory loss fluctuates from day to day.
Both Zorns were in a serious car wreck in 2009 that exacerbated their health concerns.
"I needed to go home to my job, my dog, my own kitchen, my church family and, most of all, my precious husband, Halo," said Fernandez, a member of the Concord Street Church of Christ.
But when Fernandez broke the news that she was flying home the next day, her mother wept and said she couldn't sleep if Rhonda weren't there. Her father assured her Halo would understand if she stayed just a little longer. Get him on the phone, Jack Zorn urged.
Read the rest of the story.
3. MATT MILLS

Campus minister Matt Mills reflects on favorite Scriptures that students have written on a wall in his office. (PHOTO BY ERIK TRYGGESTAD)

Beside Stillwater
STILLWATER, Okla. — Campus minister Matt Mills heard the sirens, but he had no idea of the extent of the tragedy.
On football Saturdays in this college town, the Church of Christ University Center at Oklahoma State University organizes a pregame tailgate party. Students involved with the "UC at OK State" enjoy burgers and soft drinks. Guys bring cookies. The girls? Chips.
As Mills prepared for the party after Oklahoma State's homecoming parade Oct. 24, friends and family began texting and calling.
"Are you OK?" they wanted to know.
A woman had crashed her car into a crowd assembled to watch the parade, killing four people and injuring more than 45. The disaster occurred just four blocks from the UC at OK State, a ministry of the Stillwater Church of Christ.
As Mills grasped the news, four of his own students showed up. The two male and two female students had witnessed the crash up close. They were physically fine but emotionally shaken.
"The car went right in front of us probably about 5 feet or so," said senior Ryan Watson, who grew up in the Draketown Church of Christ in Huntsville, Ark. "We heard the impact … and screams."
Immediately, Mills and women's minister Elyse Tharp formed a prayer circle with Watson, his three friends and a few other students.
"We talked and prayed for an hour," said Mills, whose contribution to helping the campus of 26,000 students heal was just beginning.
Read the rest of the story.
4. DANIEL NORRIS

Baptized in his baseball uniform
DETROIT — The 16-year-old pitching phenom stepped into the baptistery wearing his high school baseball uniform.
Fresh dirt stains splotched his white uniform pants as Daniel Norris crept barefoot into the water to confess his faith in Jesus Christ and be immersed for the forgiveness of sins.
The hard-throwing lefty's brother-in-law put his hand on Norris' shoulder — just above the bright red No. 18 on his dark jersey top — and reflected on the significance of the choice.
"This is something that Daniel has been thinking about, and a lot of people have been praying about, for a long time," Tim Haywood told a small group of family and friends at the Central Church of Christ, Norris' home congregation in the East Tennessee mountain community of Johnson City. "In just a few moments, he's not just going to be my brother-in-law anymore, but he's going to be my brother."
Norris, now 22 and a starting pitcher for the Detroit Tigers, made the decision to be baptized after a regional tournament win for his hometown Science Hill High School, where he also starred in football and basketball.
"We had just won, and obviously, the glory always goes to God," Norris recalled in an interview with The Christian Chronicle. "For some reason, it just clicked. I said, 'You know, right now is when I'm going to do it.'"
Read the rest of the story. 5. ANTONIO OWENS

Teacher Antonio Owens, left, and student Jamar Jordan pray during a men's class at HopeWorks, a nonprofit ministry housed at the Midtown Church of Christ in Memphis, Tenn. (PHOTO BY BOBBY ROSS JR.)
Walking (with God) in Memphis
MEMPHIS, Tenn. — In a room at the Midtown Church of Christ, a dozen men bow to pray each weekday morning.
Then they drop to the ground and do 10 to 15 pushups.
"It's just something I added to relieve a little physical stress," teacher Antonio Owens — known to his students as "Tough Love Tony" — said of the exercise regimen.
These men — most convicted felons who spent years behind bars — know a little something about stress, as do the women studying down the hall with senior teacher and counselor Laura Harrison.
"I'm trying to get myself headed in a brand-new direction," said Joshua Banks, a repeat offender who served nine years in prison. "I know I can't start over, but I can make this a new beginning."
Banks credits his chance for a new beginning to HopeWorks, a Memphis job-training ministry associated with Churches of Christ.
The program, which traces its roots to Christians who came together in the late 1980s to fight homelessness, has graduated more than 1,000 students since 1998.
Read the rest of the story.
6. PEARL HARBOR CHURCH OF CHRIST


Sharing concerns and studying the Bible in a Sunday class at the Pearl Harbor Church of Christ in Honolulu are Jenni Logsdon, Priscilla Mathison, Joy Corpuz, Velma Fontanilla, Becky Braga, Maria Williams, Espy Garcia, Doriann Yuson, Ruth Byrne, Rebecca Rudder and Mandy Smith. (PHOTO BY BOBBY ROSS JR.)
A heart for Hawaii
HONOLULU — "Aloha!"
Mark Young stretches out each syllable of the traditional Hawaiian greeting as 150-plus church members and visitors fill the blue-gray wooden pews in a simple, A-frame auditorium.
"Welcome to the Pearl Harbor Church of Christ, where we keep a little bit of the States and a lot of the Polynesian culture together," says Young, an Army major sporting shorts, sandals and a flowery shirt.
As the Sunday assembly starts, a fighter jet roars overhead — a reminder of the nearby U.S. Air Force and Navy bases known as Joint Base Pearl Harbor-Hickam.
Over nearly six decades, the Pearl Harbor church has served as the temporary home for an estimated 3,000 military personnel and their families, minister and elder Steve Byrne said.
"I've been to congregations from Germany to Italy to all over the place, and there's no place like this," said Army Master Sgt. Q.P. Bean, arriving with his wife, Charidy, and infant daughter, Lily.
"When you walk through that door, you're not a stranger," the Alabama native added. "People just flock around you. It's like a king or royalty coming in. It's overwhelming."
Read the rest of the story.
7. STATE SEN. ANASTASIA PITTMAN


State Sen. Anastasia Pittman, D-Oklahoma City, poses with children at the Northeast Church of Christ before the church's Sunday morning worship assembly. (PHOTO BY BOBBY ROSS JR.)
Forgiving a racist chant
OKLAHOMA CITY — State Sen. Anastasia Pittman chose forgiveness over bitterness.
Pittman — the only African-American female among Oklahoma's 149 legislators — made national headlines when she stood beside an expelled University of Oklahoma fraternity member at a March 25 news conference. Levi Pettit, who is white, apologized for his role in a racist chant caught on video.
But what brought the respected state senator and the disgraced frat boy to the same stage?
"I can't promote Christianity or Christ-like values in policy, and then when I have an opportunity to forgive, I don't," Pittman, a longtime member of the Northeast Church of Christ in Oklahoma City, told The Christian Chronicle.
The 44-year-old Democrat recalled the conversion of Saul in the Book of Acts: "He was bold in his persecutions of Christians. But on the road to Damascus, he had a change of heart. He became a prisoner of Christ. He became bold in saving and winning souls."
With regard to 20-year-old Pettit, she said, "I think this young man has a bright future."
8. LAWRENCE RODGERS

Lawrence W. Rodgers, right, ministering evangelist for the Westside Church of Christ in Baltimore, observes a demonstration after the death of Freddie Gray. (PHOTO BY K. REX BUTTS)
'Jesus is in the streets'
BALTIMORE — As residents protested the death of Freddie Gray, Lawrence W. Rodgers joined them in the streets.
That's where Rodgers, ministering evangelist for the Westside Church of Christ in Baltimore, believes Jesus would be.
"Jesus is in the streets," said Rodgers, 30, describing where he finds Christ as he pores over the Scriptures. "He is involved."
After Gray's death, area church leaders accompanied Rodgers to nonviolent demonstrations.
Those joining him included Winston Curry, senior minister for the Bowie Church of Christ, south of Baltimore, and K. Rex Butts, former minister for the now-closed Columbia Church of Christ, west of Baltimore.
The ministers' goal: listen to the people — protesters and police — and understand their perspective.
"As I talked to everyone, I noticed that we all struggle … with seeing one another's humanity," Rodgers said. "We all have a rap sheet with God. The Bible tells us that we have all sinned and come short of the glory of God.
"But despite our rap sheet, God didn't give up on us. God never called us a thug," the minister added. "Instead, what God did was, God sent God's son to die for us, to redeem us, to rehabilitate us, to restore us."
Read the rest of the story.
9. SOUTHSIDE CHURCH OF CHRIST
Daniel and Falacia Torres sign to the song during the Sunday worship service of the Southside Church of Christ in Fort Worth, Texas, as Samantha Branch interprets for the deaf. (PHOTO BY BOBBY ROSS JR.)

A church for the broken and hurting
FORT WORTH, Texas — Some in the group have been sober for years. Others measure recovery in days, not weeks.
A few still smell like alcohol.
To measure the heartbeat of the Southside Church of Christ, visit the HOPE class.
HOPE — which stands for Heavenly Options for Pain and Emptiness — meets right after the Sunday morning worship assembly.
Part adult Bible study, part 12-step Christian recovery group, the class draws a ragtag collection of addicts, ex-convicts and street people — all focused on the healing power of Jesus Christ.
"When you go to the hospital, you don't have to confess you have a disease, do you?" group leader Dan Leaf asks the more than 60 struggling souls. "The church is a hospital for sinners."
His words inspire an enthusiastic round of clapping and amens.
"Falling down is not as bad as not getting up," Leaf assures the group. "It doesn't matter how many times we fall down — God is walking us home."
Read the rest of the story.
10. HAYLEY WALDRON

Hayley Waldron, center, walks down a hallway at the Shepherd Center in Atlanta, joined by her husband Harrison's parents, Phil and Donna Waldron. (PHOTO BY BOBBY ROSS JR.)
'He's with me, and he's fighting'
ATLANTA — Raindrops tap the roof of Hayley Waldron's temporary home in an Atlanta suburb.
It is Day 87, she realizes as she opens her eyes. Nearly three months have passed since tragedy interrupted the 22-year-old's life and that of her 23-year-old husband, Harrison.
Please, God, she begs. Let today be the day he wakes up and begins his full recovery.
Hayley dresses, grabs a quick bite to eat and sets off on the 25-minute drive to the Shepherd Center, a rehabilitation hospital dedicated to caring for those with brain and spinal injuries.
For the next six hours, she'll sit with her husband. When possible, she'll assist with Harrison's speech, occupational and physical therapy.
They might watch The Weather Channel or the news together. Perhaps his younger sister, Laura, will come by to read the Bible to him, or their parents may visit to hug Hayley and speak softly to Harrison.
"I'm so thankful that I still have him," she said, "that I can come talk to him and hang out with him still."
Read the rest of the story.
YOUR TURN
Who inspired you during 2015?

Share your own reflections below. Be sure to include your home congregation, city and state in case we decide to quote you.