Team Cúcuta
A look at the seven-member squad of Latin American Christians serving in South America.
---
After training at the
Baxter Institute
in Tegucigalpa, Honduras, a seven-member team of Latin American Christians moved to Cúcuta, a city of about 1 million souls in northern Colombia — on the country's eastern border with Venezuela — in early 2017.
Related: A rescue mission — A team of young Latin American Christians moves to Colombia to plant a church — and hears a call to serve the suffering in nearby Venezuela.
Supporting their work is Great Cities Missions, a ministry associated with Churches of Christ that seeks to plant a congregation in every major city of Latin America.
The Vielmans (PHOTO PROVIDED)
Luis and Susan Vielman
Both converted in Guatemala, the Vielmans married in 2010 and enrolled at the Baxter Institute "to dedicate ourselves fully to the work of the Lord," Susan Vielman says. They have one son, Isaiah.



Abel Gonzalez distributes fliers for the Cúcuta church's inaugural worship service. (PHOTO PROVIDED)
José Abel Gonzalez
A native of El Salvador, Gonzalez grew up in a Christian family and served as a minister in the town of Ipopanga before he attended Baxter.



The Sabinos (PHOTO PROVIDED)


Ronald and Monica Sabino
Born in Venezuela, Ronald Sabino and his family were baptized after studying with minister Dennis Ruiz. He met Monica, a native of Colombia, online. They have two sons, Ronald Jr. and José.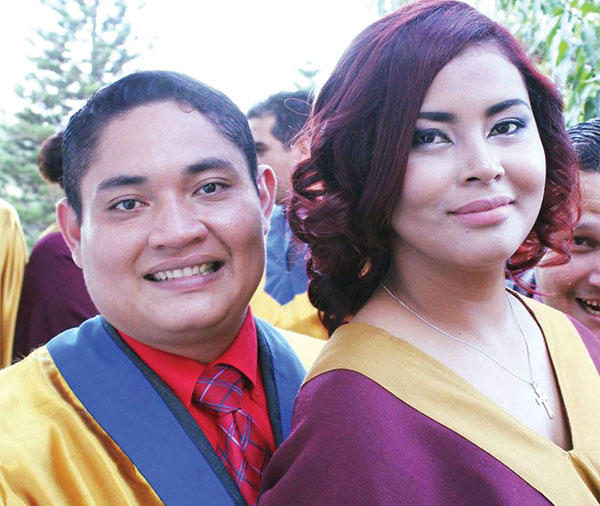 The Castillos (PHOTO PROVIDED)
Milton and Martha Castillo
Milton Castillo grew up in Honduras and served as a youth leader for the La Ceiba Church of Christ. There he met Martha, a children's Bible class teacher. They have one daughter, Emely.