Tales of an honest-to-God cowboy
Wizards, zombies and vampires dominate young adult literature. S.J. Dahlstrom adds cowboys, family and faith to the mix.
---
OKLAHOMA CITY — "Our children are being brought into a world of constant, flickering distraction and amusement. We should not forget that we have real adventure to offer them, if we can have the courage to turn off their machines and screens and take them outside."
Dialogue | S.J. Dahlstrom
So said S.J. Dahlstrom as he accepted the 2017 Western Heritage Award for his young adult novel "The Green Colt," the fourth book in "The Adventures of Wilder Good" series. The books celebrate the great outdoors, seen through the eyes of 12-year-old Wilder.
Elements of faith — including detailed descriptions tiny church buildings, coat racks loaded with cowboy hats — permeate Dahlstrom's writing. The real-life cowboy grew up in Churches of Christ and once served at Timothy Hill Children's Ranch, a church-supported ministry in New York. He and his family live in West Texas and worship with the Quaker Avenue Church of Christ in Lubbock.
In an interview with The Christian Chronicle, Dahlstrom talked about his desire to help children unplug from their devices and experience "dirt, trees and rocks … real, authentic adventure."
You've been a cowboy, worked at a children's home. How did you make the jump to author?
I think a lot of people who make art on some level have had that little impulse for a long time. I always liked to write poems, but I didn't really try to start doing it as a professional until I met a great man, John R. Erickson, who writes the "
Hank the Cowdog
" series. He's a believer and a great guy. Most of the people in the Southwest probably have a "Hank the Cowdog" book on their shelf.
I met him about 12 or 13 years ago, and we developed a friendship. We both love cowboying. He was my mentor. He said, "That's great that you want to write books, but you're not a little genius. You're going to have to work." He taught me to get up every day to write — and realize that the first million words you write are going to be garbage, but you've got to keep working.
About five years later, I had a manuscript that was decent and shopped that around — and just kind of built a career from there.

Tell us about Wilder Good. Does he reflect you on some level?
He's 12 years old. He has a mom and a dad and a little sister. They go to church three times a week — much like how I was raised. He spends time in the outdoors, so the first book is about him on a hunting trip with an older man, Gale, who's an elder at the church.
My oldest kid is 14, and I started writing these books, really, so they would have these values and they would know what it was like to grow up without an iPhone in your hand, without killing 10,000 zombies every day on a video game.
These books aren't saying, "Stop playing video games," but they are role-modeling great experiences in the outdoors, real adventure.
"The Green Colt" has a vivid description of a small Church of Christ in the country. You can almost picture yourself there on a Sunday morning. Tell us about what went into that story.
"The Green Colt" by S.J. Dahlstrom
I'm thrilled that you can see yourself there. I was raised in a small community in Roosevelt County, N.M., and went to the Floyd Church of Christ until the age of about 15.
We were there three times a week. I think it was about four families, maybe 35 people. It was a small white building. I didn't know anything else. My dad was the part-time preacher. He preached every other Sunday. I grew up leading singing on the front pew with my dad.
I think lots of Church of Christ kids grew up in these small churches. I appreciate the values I learned there. I try to pass those on to my kids, so they show up in the Wilder Good books — down to the baptistery with the lush mountain scene painted behind it, even though we were in the middle of brown-as-can-be West Texas and eastern New Mexico. That was my raising.
There's a distinct lack of magic wands or children hunting each other in these books. Was there a concern they wouldn't sell?

That's certainly accurate! The biggest genre in YA, young adult literature, is dystopian — kids killing kids and a lot of teen relationships and sexual pressure. You walk into Barnes & Noble and that's what you see. If you want to get successful really fast, that's what you need to write. I didn't want to do that.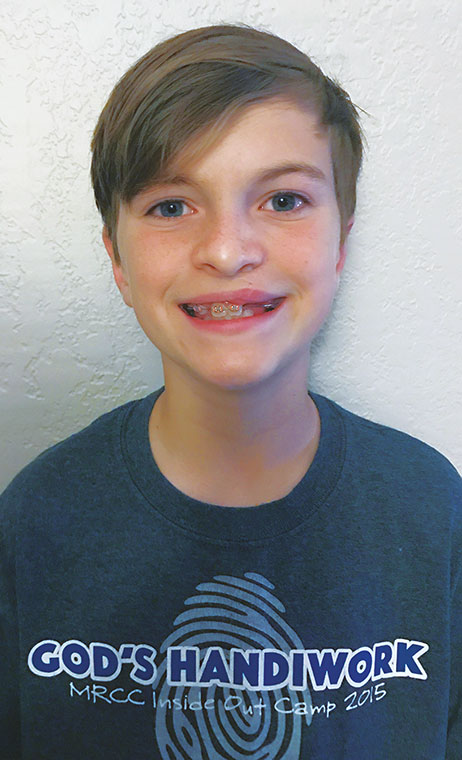 S.J. Dahlstrom "includes great details in each book that make it easy for the reader to feel like they are a part of the adventure," says 11-year-old reviewer Aidan Laxson. See his recommendations in "What We're Reading."
I wanted to write books that I was raised on, like "Old Yeller," books with dogs and horses and real adventure, books with old people in them — with grandparents and kids learning from each other. I wanted to write books about family — something that's been taken out of most of young adult literature.
I didn't know if it was going to be successful or not. We're selling books. They're not "Hunger Games." They're not "Harry Potter." But they're doing well. And they are books I'm proud of — in the sense that I can let my mom read them.
I think there are a lot of people in art who make compromises to get their stuff out there. I'm proud that these stories aren't doing that.
Are the books finding an audience in big cities?
My publisher is in Philadelphia. They don't shoot a whole lot of deer in downtown Philadelphia. They don't hunt many elk, they don't rope many cattle, but they like the books. They get reviews by The Wall Street Journal and Forbes. Those aren't hunting or fishing magazines.
I think there are people who are beginning to say, "I'm not sure that was a good thing that I raised my kid on an iPad." So I think the books are finding their place. Millions of people everywhere hunt and go fishing. They want their kids to spend time at church — with elders and grandfathers and grandmothers.
Anything else you want say about faith and writing?
Preaching in the Churches of Christ has been the best preaching anywhere for many years. However, for the most part, I think we learn through something older than preaching — storytelling. The Wilder Good books don't preach at people, but there is a subtlety in the storytelling that shows how valuable faith is to this kid.
In the first book, when Wilder is about to shoot an elk — and it's this big and beautiful elk — he sits there and he stops and he thinks, "Is God OK with this?" He's growing up around people shooting animals and eating animals. He knows God exists. He sees this beautiful piece of creation, and he has to reprocess the right and wrong of that. What are his values about shooting and killing?
It's the same thing Peter thought about, perhaps, when God told him to "kill and eat" in Acts 10. It's the same thing Adam and Eve probably thought about the first time they killed an animal and ate it. Even though God had sanctioned that, it wasn't fruit.
Those values inform every piece of the storytelling. They are part of who I am, and without those values I wouldn't be honestly telling the story.

WEBSITE: www.wildergood.com
Related
• Great series celebrates the great outdoors