Take a new kind of mission trip — vacation
---
Short-term mission trips and "voluntourism" sometimes seem mandatory for people of faith — for anyone with a conscience, really.
At church, we hear about these kinds of trips constantly. Social media brims over with pictures of people posing for pictures surrounded by kids in impoverished nations. I've done these things myself.
Views | Bart DodsonBut I think it's time we all took a different sort of trip.
It seems like people are reluctant to go to a place like Honduras on vacation. There are plenty of gringos taking trips to Honduras, but the vast majority are there with the goal of helping. It's difficult to spend thousands of dollars on airfare, hotel rooms, restaurants, sightseeing and souvenirs and not do anything to try to help when there is extreme poverty right around the corner — or, in some cases, right in your face, begging for money or food.
So we go to places like Honduras and try to fix the problems. Then we take our vacations elsewhere.
But while we are relaxing in Hawaii or Disney World, safely removed from having to deal with that pesky issue of poverty, does the issue go away just because it isn't right in front of us? And, if we really believe what we say we believe about material wealth not being synonymous with happiness or godliness, why does poverty make us so uncomfortable when we are face to face with it?
I'm not saying we should ignore poverty. Extreme poverty and gross economic inequality can and should be eradicated from society. But cycles of economic poverty are perpetuated by the materially poor feeling inadequate or ashamed of who they are. It's easy to see why these people may become hopeless. Often, their home countries are world-renowned for corruption, violence and starvation.
The people of poor nations like Honduras are well aware of how the world sees them — as a project that needs fixing, as people to be pitied, as "the least of these" we read about in Matthew 25.
Three years in Honduras gave me way more questions than answers. Poverty is an unbelievably complicated issue that can't be solved by just giving people more money or more stuff.
But if I could give the wonderful people of Honduras one thing, it would be confidence — confidence that they are not forgotten by God, that they have received countless blessings from him and that they are as wise and as capable and as loved by him as anyone anywhere.
Honduras is not a perfect place, but it is a beautiful place with amazing scenery, beautiful weather, and a rich culture. Of all the things that we did in our time there to try to connect with the local people, what seemed to make the biggest impact was when we simply described to someone what we loved about their country. It was amazing to see their faces light up when we told them how much we enjoyed one of their cities or parks or beaches or some typical cuisine that we had tasted.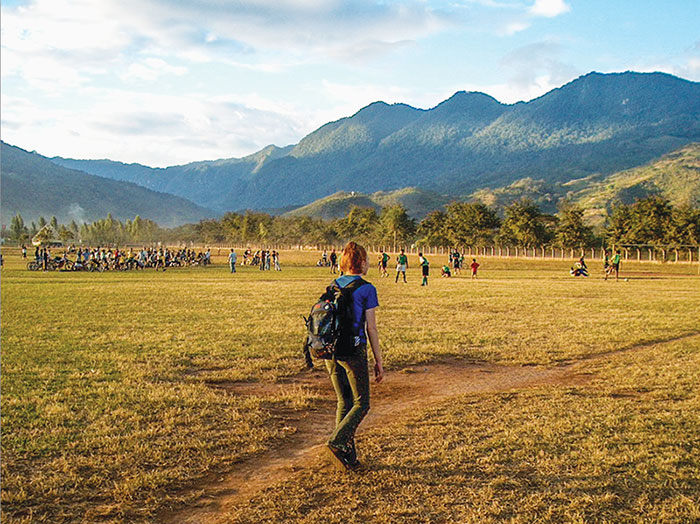 A backpacker walks across a soccer field in Catacamas, Honduras, just before the 2003 dedication of a missions hospital. (PHOTO BY ERIK TRYGGESTAD)
I think that there are appropriate ways that we can help countries such as Honduras out of the blessings that God has given us. But God has richly blessed the people there, too. Their blessings may not look like ours. (That's a good thing.) But we can be an encouragement to them if we focus on all they do have instead of what they don't.
Let's stop treating people as projects. Let's join with the locals to discover the unique beauty of their homelands and enjoy together all the different ways that God blesses his children all over the world.
BART DODSON and his wife, Melissa, spent three years as missionary apprentices in the Central American nation of Honduras before returning to the U.S., where they are active in ministries for Spanish speakers. They worship with the Northwest Church of Christ in Oklahoma City.