Spotlight: Roll the Gospel mini-chariots along
---
KPALIME, Togo
— Christians recently dedicated a "mini-chariot" to help spread the Gospel throughout the villages and towns of this small West African nation, missionary Willie Gley said. 

The bright-red van is one of five sponsored by South Africa-based Gospel Chariot Missions, under the direction of George Funk. Other "mini-chariots" are at work — or are planned — for Liberia, Zimbabwe, Malawi and Benin.
Funk and his wife, Ria, both South Africans, launched the ministry in 1994. Using Gospel Chariots — trucks that hold tents and speakers for gospel meetings and materials for the World Bible School correspondence ministry — workers have traveled to 11 African nations and baptized more than 7,000 souls, George Funk said.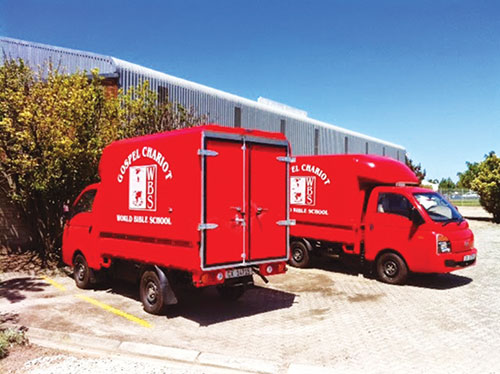 Two "mini-chariots" under construction in South Africa. (PHOTO VIA GOSPELCHARIOT.BLOGSPOT.COM)
The "mini-chariots" are smaller than the Gospel Chariots, "but are just as effective," he said. Church members will use them to help equip congregations to do follow-up with World Bible School students. 
Christians also will use the vehicles in prison ministry.
"We are hoping to have 20 of these in years to come," George Funk said. 
Gley said, "The churches in Togo are grateful for this great tool for evangelism."