Sparse numbers, strong faith in North Dakota
Small, isolated congregations face challenges in the state with the nation's fewest Churches of Christ.
---
BISMARCK, N.D. — Talk about a Sunday commute.
For 15 years, Rod and Rosalyn Genrich drove 100 miles each way to worship with the Minot Church of Christ.
The Genriches, who farmed 1,900 acres of wheat in the small North Dakota community of Fessenden, made that trip three Sundays a month.
"The fourth Sunday, we tried to invite people from around the neighborhood, kind of like a house church," said Rod Genrich, now retired and living in this state capital of 69,000 souls, where he serves as an elder of the Bismarck Church of Christ.
For members of Churches of Christ in North Dakota, long commutes to services are not unusual.
Bismarck member Bernice Gullickson, for example, owns a farm 55 miles away and has made the weekly drive since 1962.
"No big deal," she said as she made her way into worship. "We've got good roads."
This mostly rural state stretches 335 miles wide from Montana east to Minnesota and 211 miles high from South Dakota north to Canada.
Yet North Dakota has just seven Churches of Christ, the fewest of any state, according to a directory published by Nashville, Tenn.-based 21st Century Christian.
"The congregations in North Dakota are typically small but made up of disciples, not just church attendees," said Scott Laird, minister for the Great Falls Church of Christ in neighboring Montana.
"The depth of faith and commitment to God is amazing to witness as they continue to serve, reach out and worship in a culture and climate that is often harsh," added Laird, a frequent speaker at a regional church leaders workshop hosted each year by the Bismarck church.

CHURCHES WELCOME OIL BOOM 'INFLUX'

An oil boom has brought thousands of newcomers to North Dakota in recent years. That boom has waned amid decreased global oil prices, and pipeline expansions have sparked clashes such as the Standing Rock Sioux tribe's recent protests of the Dakota Access project.
Still, North Dakota, with 757,000 total residents, remains the nation's fourth least densely populated state with 11 people per square mile. More than half the state's residents identify as Lutheran or Catholic, buoyed by a history of German and Scandinavian migration.
Combined Sunday attendance at the seven Churches of Christ averages 420, according to the "Churches of Christ in the United States" directory. Dakota Christian Camp, conducted each summer in rental facilities 35 miles north of Bismarck, helps bring together those Christians.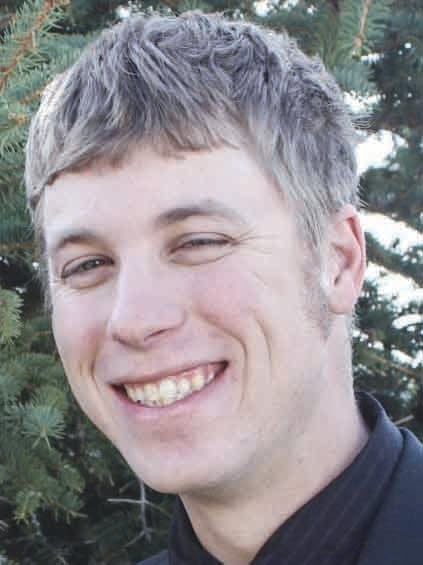 James Foreman"With the oil boom, we've had an influx of people from all over the U.S.," said James Foreman, who moved to North Dakota for an energy job in 2012 and worships with the Dickinson Church of Christ.

The church, Foreman said, has become "a melting pot for people from all around." Sunday attendance averages about 50, he said.
"Everybody makes a good effort to stay connected," said Foreman, whose wife, Janette, is pregnant with their first child. "With so many coming from out of town, so many moving in, it's a really friendly group, and everybody kind of knows what it feels like to be the new people."
The Dickinson church doesn't have a paid minister, so a half-dozen men — including Foreman — take turns delivering the Sunday lesson.
The state has only two full-time ministers: Walter Clark in Bismarck and Mark Batteiger in Minot.
"You just have to keep praying and keep doing what God wants you to do and not worry about the attendance or the numbers," said Clark, who with his wife, Cindy, was honored earlier this year with the Fields Are Ripe Award. That award, given by York College in Nebraska, honors graduates who serve small churches in the Upper Midwest.

Members and visitors stand to sing at the Bismarck Church of Christ, one of only two in North Dakota with a full-time minister. (PHOTO BY BOBBY ROSS JR.)
A WIDE-OPEN MISSION FIELD

In North Dakota's wide-open mission field, Churches of Christ look for — and embrace — new opportunities to serve, Clark and Batteiger said.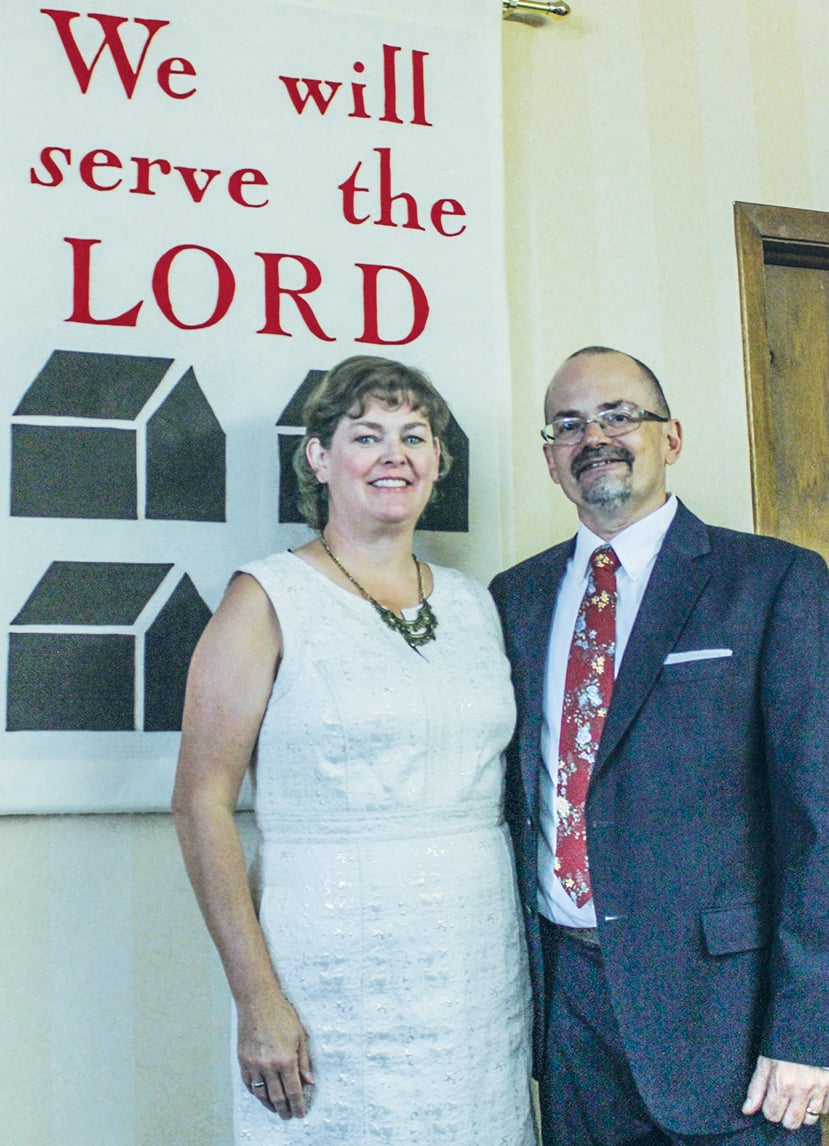 Minister Walter Clark and his wife, Cindy, at the Bismarck Church of Christ. (PHOTO BY BOBBY ROSS JR.)The 75-member Bismarck church organizes a clothing giveaway that coincides with a community powwow weekend that draws thousands.
Also, Clark serves as a chaplain for the North Dakota Youth Correctional Center, where he offers a free Bible to each juvenile. He also leads a Thursday afternoon Bible study at the North Dakota State Penitentiary and preaches to inmates two Sunday mornings a month at the prison. The prison's chapel has a baptistery, and Clark has washed away the sins of as many as four inmates in one day.
In Minot, about an hour and a half south of the Canadian border, oil workers, Air Force families and Minot State University students all need to hear the good news of Jesus, Batteiger said. "The message we have is still the most powerful in history," he said. "The struggle is getting people to listen."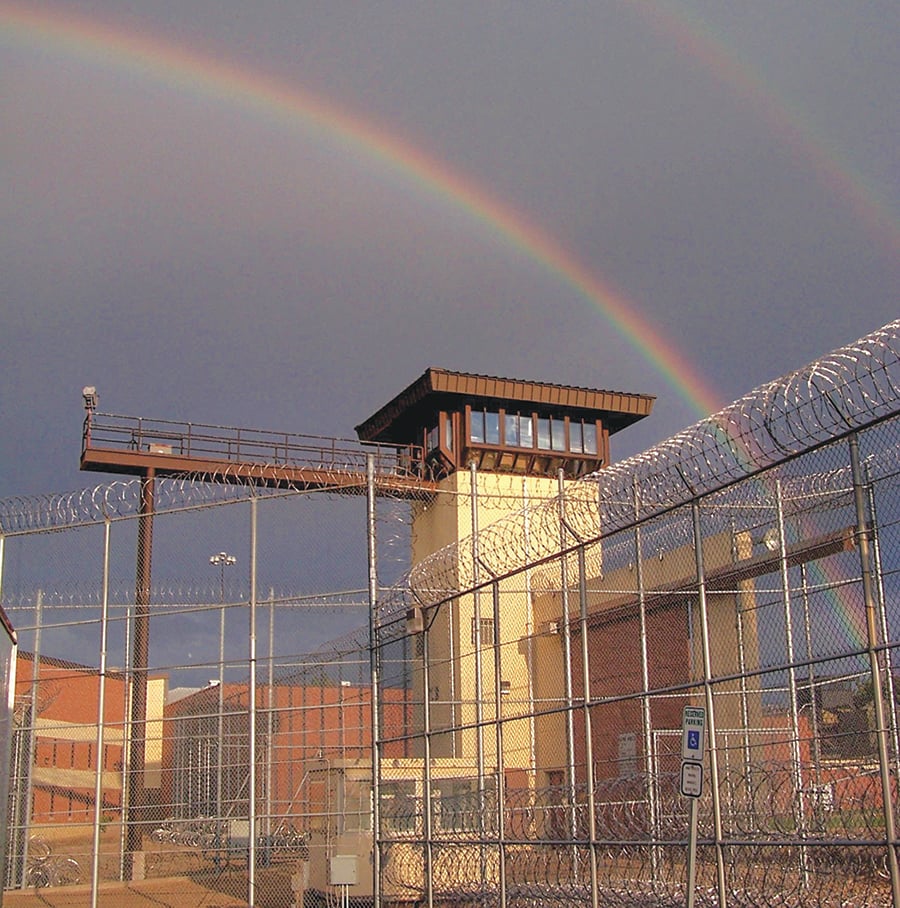 A rainbow can be seen over the watch tower at the North Dakota State Penitentiary in Bismarck, N.D., where minister Walter Clark leads Bible studies. (PHOTO PROVIDED BY NORTH DAKOTA DEPARTMENT OF CORRECTIONS)Batteiger said the Minot church, which averages Sunday attendance of about 80, is mission minded and lets him spend most of his time outside the office, sharing the Gospel.
"I may have more conversations with people at the local Caribou Coffee place than I do with people at the building," he said, noting that the church has grown despite losing a number of members — such as Air Force personnel who are transferred and oil workers who complete temporary jobs and return home.
One Sunday a month — with the Minot church leaders' blessing — Batteiger drives 200-plus miles to preach for the Grand Forks Church of Christ.
His goal: to equip that congregation's 40 souls for outreach.
"I'm trying to give them practical, hands-on tools," he said.
PLACE OF DEEP REFLECTION — AND PEACE
Back in Bismarck, Rod Genrich said North Dakota members' willingness to drive so far testifies to their spiritual strength.
"During the times when we don't experience numerical growth, we see God working in people's hearts," said Genrich, echoing fellow elder Gary Kline. "There's a maturity in the congregation that comes with that. I take hope in that."
"During the times when we don't experience numerical growth, we see God working in people's hearts."Rod Genrich, elder, Bismarck Church of Christ
To make it in a state with such sparse numbers and harsh conditions (read: bone-chilling winters), Christians must be able to handle seasons of deep reflection, said Laird, the Montana minister.
"During those times, God enters your thoughts whether you want him to or not," Laird said. "I would suggest that most Christians in places like North Dakota have found peace in God."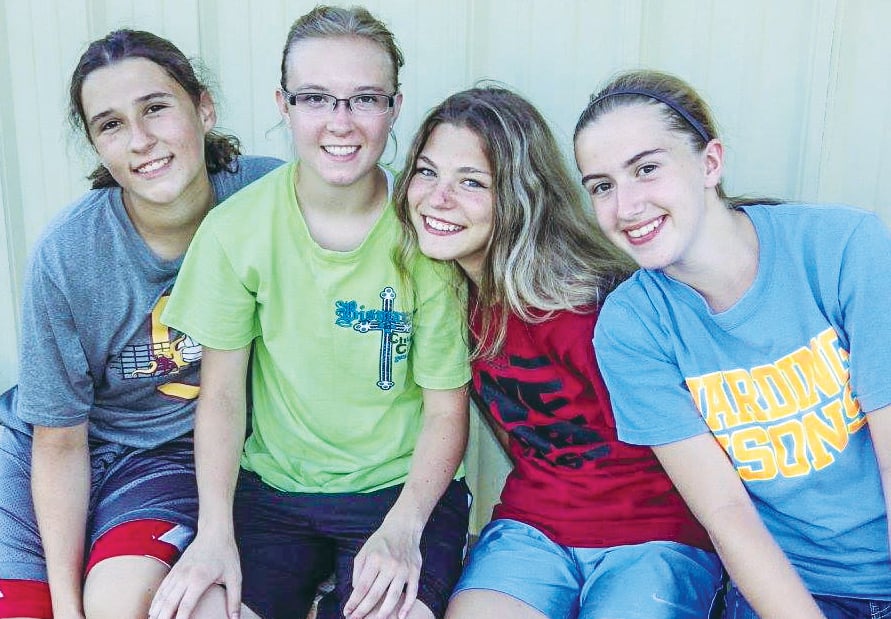 Four campers pose for a photo at Dakota Christian Camp in Washburn, N.D. (PHOTO PROVIDED BY WALTER AND CINDY CLARK)
MORE FROM THE DAKOTAS

• Amid massive biker rally, Bible camp thrives in South Dakota
• Reporting news that informs and inspires — in all 50 states