Soccer and souls
Around the world, Christians show Jesus through sport
---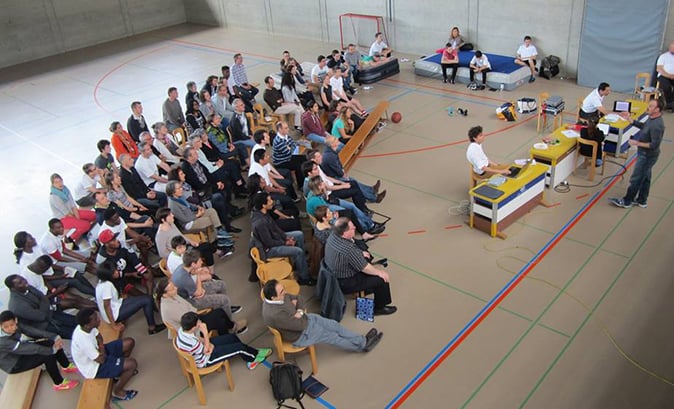 Luk Brazle, right, a church planter in Belgium, leads singing during Sunday worship at the football weekend in Thayingen, Switzerland. (PHOTO PROVIDED BY LUK BRAZLE)
Call it the Church of Christ World Cup — or at least the Europa League. 
Every year, the young and not-so-young from congregations across the continent gather in the Swiss village of Thayingen to strike, steal and sing praises to God in a weekend of fellowship and "football" (as soccer is known in nearly every country except the U.S.).
The tournament helps church members introduce their friends to a community of faith, said Scott Raab, an evangelist in Lanaken, Belgium. 
It also exemplifies one of his favorite sayings: "Christians know best how to really have fun."
The global obsession with the sport provides opportunities to share the Gospel, church members and missionaries told The Christian Chronicle. In the Central American nation of Guatemala, Saturday morning pick-up games may be just as vital to evangelism as Sunday morning worship, said Pancho Hobbes, who served as a missionary there for 13 years.
Missionaries Jonathan Hanegan and David Criswell watch Argentina's final match along with some Argentine friends in Buenos Aires. (PHOTO PROVIDED)
"Over the centuries, the traditional religion has presented Jesus as soft, weak, dying or as an infant," said Hobbes, now
adult minister
for the Capitol Hill Church of Christ in Oklahoma City. "As a result, most men flee from church. Soccer helped us to portray the Christian life as something even regular guys can plug into."
Professional soccer can become mired in controversy. As they host the 2014 World Cup, Brazilians have protested the high price tag of the games — in a nation where millions live in poverty. In Guatemala, some church members declared "el deporte" (all sports) as "of the world and unsuitable for Christians," Hobbes said, due to "the drugs, the mega-bucks, and the boastful pride."
"By contrast," he added, "playing soccer with good sportsmanship showed people — both inside and outside the church — that it is possible to live in the world but not of it."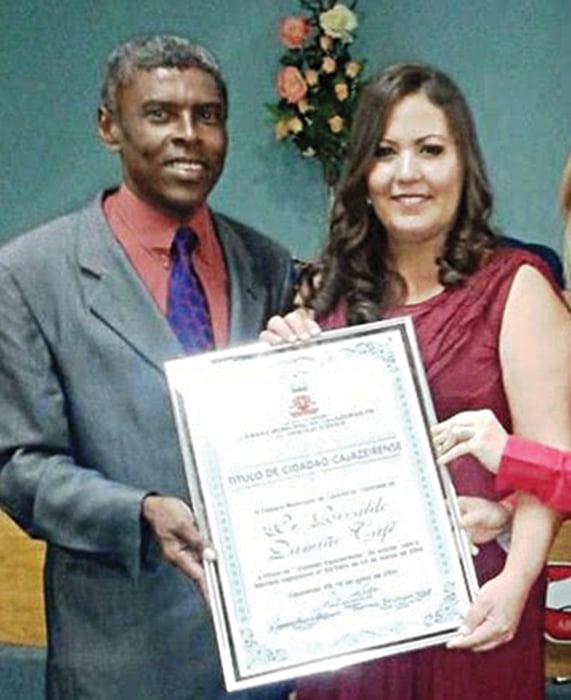 In Brazil, Rivaldo and Leila Café were honored for their "futebol" ministry. (PHOTO VIA PARAIBAMISSION.BLOGSPOT.COM)
That's the case in the Brazilian city of Cajazeiras, where church members have taught youths honesty, service, family, purity and the Gospel through the Right Step soccer ministry since 2008.
Recently, the city council honored the program's director, Rivaldo Café, as "Citizen of Cajazeiras."
"Lots of social programs that sound good and have good ideas start, but most don't last more than a year because of the lack of commitment,"
missionary Joseph McKinney said
. "We are thankful to be involved in a work that, over six dedicated years, has not only bettered society but brought families eternal life."