Sexual identity, sin and silence
Churches must become safe places for those experiencing same-sex attraction, transgender issues, say experts at youth ministry conference.
---
NASHVILLE, Tenn. —
On their smartphones, young Christians read headlines about more and more U.S. states recognizing same-sex marriage.
At school, their friends increasingly embrace gay, bisexual and transgender lifestyles. 
In the pews, many of them struggle with same-sex attraction — in silence. 
Only shrugs and murmurs followed.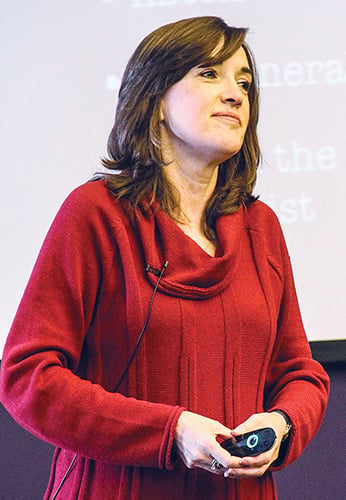 RELATED STORY: At Lipscomb University, Sally Gary shares her struggles with same-sex attraction during a session titled "Loving the Kid in the Youth Group Who Says 'I'm Gay' Because Jesus Does." (PHOTO BY ERIK TRYGGESTAD)
Across America, "your kids are talking about this," keynoter Mark Yarhouse told more than 150 ministers, parents and Bible students from 18 states during the conference, hosted by
Lipscomb University
. 
"How would a youth struggling with sexual identity view your youth group?" asked Yarhouse, a professor of psychology at
Regent University
in Virginia Beach, Va. Would they see a community of "warmth, depth and hospitality" — yet committed to God's word? 
Or would they find a group of Christians "so concerned about civility that you can't tell what they believe?"
Robin Gough, college minister for the
South Baton Rouge Church of Christ
in Louisiana, said he attended the conference because "this is a hot topic for millennials." It's also why they're leaving church, he said. 
Young believers want to know how to interact with gay friends, Gough said, and they perceive that their 
congregations aren't helping them find answers.
For some participants, the conference was deeply personal. 
One couple told The Christian Chronicle that, just weeks earlier, their son had attempted suicide. He struggles with same-sex attraction, and his friends have demonized the couple as close-minded and intolerant, they said.
That doesn't surprise Holladay, whose ministry,
Ultimate Escape
, partners with churches and schools to help young people follow God's vision for sexuality, he said.
Working together, ministers and parents can shape children's values about sex through early, consistent conversation, he said. Too many churches "stand by while culture and media destroy" their children.
TOOLS FOR TOUGH QUESTIONS
Jesus is "no stranger to difficult questions," said Walter Surdacki, an associate professor at
Lipscomb
and organizer of the conference.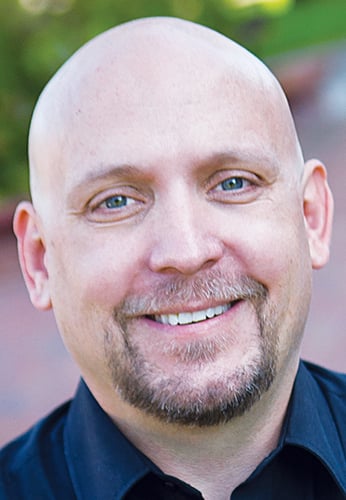 Walter Surdacki
It was the seventh year the university, associated with Churches of Christ, has hosted the conference, Surdacki said, with the goal of giving youth ministers tools to address pressing needs effectively.
Leonard Allen, dean of Lipscomb's College of Bible and Ministry, told participants that the conference came "at a time when Christians are being pushed to the margins" by American society — and must respond by showing new levels of compassion to a hurting world.
Beth Robinson, graduate director of behavioral sciences at
Lubbock Christian University
in Texas, discussed the challenges of helping students who have been traumatized by sexual abuse. 
David Rubio, director of student ministries for the
Otter Creek Church of Christ
in Brentwood, Tenn., discussed the culture of shame that develops in schools, homes and even churches around issues of sexual identity.
George Goldman and Mark Black, Bible professors at Lipscomb, presented an overview of "The Bible and Gay/Lesbian Issues." From Old to New Testament, the Bible defines homosexuality as a sin, the professors said. 
With regard to same-sex behavior, the Bible "is more restrictive than the original culture" when it was written, Goldman said. This "points to continued restriction of same-sex activity."
'Why did God let this happen to me?'
How should Christians answer abuse victims' questions?
Beth Robinson, a keynoter at the "Tough Topics of Youth Ministry" conference, told youth ministers and church members that they can help change the perspective shared by many victims of sexual abuse — that God is vengeful. Robinson, assistant provost and graduate director of behavioral sciences at Lubbock Christian University in Texas, spoke on the topic of "Sexual Abuse and Spiritual Development."

"Why did God let this happen to me?" and "Where was God when I was being hurt?" are common questions abuse victims ask, she said. To bring them back to Christ, believers must model safe, nurturing relationships, and assure victims that "you can't be ruined because God created you," she said. 

"It's OK to say, 'I don't know'" when facing tough questions, Robinson said. She urges Christians to listen to the stories of abuse victims and share with them that "it hurts me to know that happened to you." (PHOTO BY ERIK TRYGGESTAD)
'HETEROSEXUALITY DOESN'T MAKE US MORE GODLY'
Increasingly, American society views homosexuality through a different lens, said Yarhouse, author of "
Understanding Sexual Identity: A Resource for Youth Ministry
."
This "diversity lens" sees same-sex attraction as natural and healthy — something to be celebrated. 
Most evangelical Christians view the issue through an "integrity lens," believing that homosexuality goes against God's created order.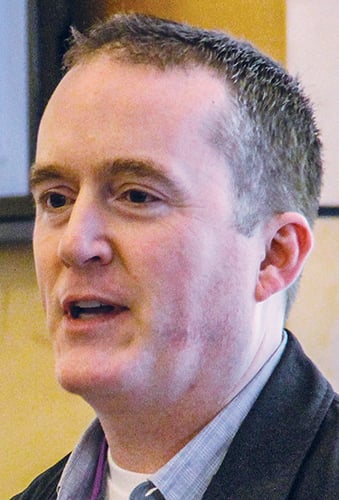 Mark Yarhouse
"You may be speaking with the integrity lens to a person with the diversity lens," Yarhouse said. "If you don't even recognize the different lenses, you're likely to be talking past each other."
Parents, counselors and ministers must give youths who experience same-sex attraction "alternative storylines," Yarhouse said, by focusing on all aspects of their character — all of their God-given talents — instead of allowing them to define themselves only by sexual orientation.
Youths also need role models who can help answer this question: "How do I become a better steward of my sexual impulses?" Yarhouse said. "It's not that God gave them to me, but he's not surprised by them."
Counselors should give youths "realistic, biblical hope," he said. Many who seek treatment for same-sex attraction don't experience as much movement as they'd like but feel pressure to say they've changed, leading to depression and other health issues. 
"Don't hold out the expectation for heterosexuality," Yarhouse said. Instead, "disciple people to know and love Christ better."
Churches must value singleness, he added, and stop treating married Christians as the "top tier" — as the goal for which those with same-sex attraction must strive. 
"Heterosexuality doesn't make us more godly," he said.  
Churches should be safe, welcoming places for all people, Yarhouse said. 
So should their buildings. He recalled a conversation with a transgender person who told him how thankful she was that a church she visited had a family restroom — allowing her to not have to choose between male and female facilities. 
Many Christians invite those with different lifestyles to "come, be like us. Then we'll introduce you to Christ and serve him together," Yarhouse said.
 
Instead, believers should see a world full of fellow sinners and invite them to "come and be with us. Let us introduce you to Christ. Then we'll become more Christlike together."
A 'STATEMENT FOR OUR FAITH COMMUNITY'
After presenting pages of research and counseling tips and answering questions, Yarhouse thanked the participants for devoting time to an uncomfortable and important topic.
"The fact that you're here today," he said, "is a step in the right direction." 
Lipscomb
students who attended the conference, including Claire Coker and Emily Shuler, said they were impressed by the presenters' vulnerability, honesty and willingness to speak out.
"If this is something the church is serious about," Shuler said, "then we need to not whisper about it."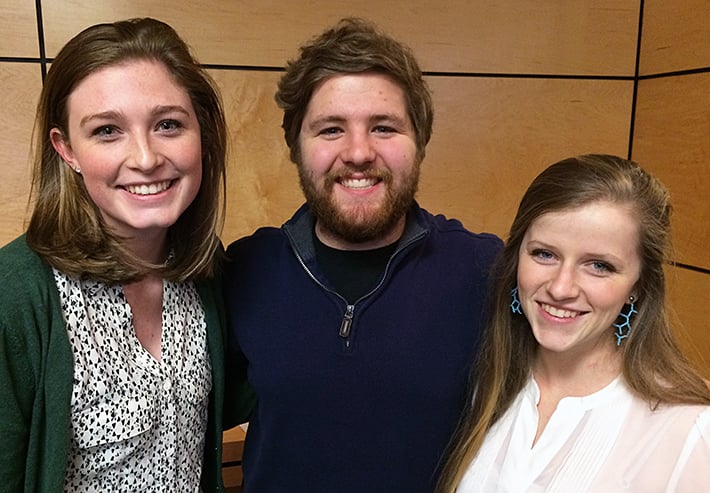 Lipscomb students at the conference. (PHOTO BY ERIK TRYGGESTAD)
For Christians serving "on the front lines, it's not theory, it's not theology," Jason Pagel added. "It's very, very personal."
In addition to gaining valuable insight at the conference, "we're participating in a statement to our faith community," Jennifer Pagel said, referencing the large turnout. "This is a conversation our churches have to be having."
The couple whose son was recovering from a suicide attempt agreed.
"We're only going to get better at this by learning how Christ addresses it," the boy's father said. 
As for his son, "Whatever he chooses, we want to be there for him. We want to be better advocates."