Ruth Orr, 'perhaps the greatest missionary of our day,' dies at 75
---
Some 20,000 baptisms — in lakes, rivers and, occasionally, indoor baptisteries — have resulted from the Gospel-spreading work of Ruth Orr. 
"She was perhaps the greatest missionary of our day," said Ron Pottberg, vice president of international church relations for WBS. "I had the privilege of working and traveling with her many, many times, and she was a mother in the faith to me."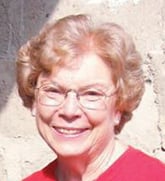 Orr
She and her husband, minister Thomas Orr, raised six children and worked as domestic missionaries in south Georgia before moving to Kentucky and, eventually, Tennessee. Ruth Orr began teaching WBS courses in the early 1970s, said John Reese, the ministry's president. 
When her husband died in 1998, "she decided to intensify her teaching with World Bible School and also felt free to add travels to meet her students," he said. On trips to Africa, dozens of students would meet her at the airport, wearing nametags she had sent them in the mail.
She recruited other Christians to go with her — and encouraged churches to support WBS and international mission work, Reese said. 
Christians in Tarkwa, Ghana, named the Ruth Orr Community Complex School in her honor.
When she became ill, fellow church members in Lewisburg, including Pam Owens, Grace Pigg and Roy and B.J. Holt, helped her continue to correspond with her students, said one of her daughters, Mary Beth Smith. "They all loved and respected my mom and want to see her work continue," Smith said.
In her final days, Orr received words of encouragement through social media from her students around the world.
"As you will be laid to rest today, thousands of Nigerian Christians will stand still for you, for you are going home victoriously," Chinedum Nwankwo wrote in a Facebook post from Aba, Nigeria, on the day of Orr's funeral. "Sleep well until the day of our Lord's second coming. 
"We will not relent. We will carry on. Go in peace, woman of God."