Rocky Mountain Reunion touts unity — in English and Spanish
A bilingual worship assembly brings together Christians in northern Colorado, regardless of language.
---
(Leer este informe en español)
WESTMINSTER, Colo. — "Amen! Amen! Amen!" said a chorus of voices that echoed through the Northwest Church of Christ auditorium as visiting minister Steven Curo preached from 1 Corinthians 1:18.

Seconds later, Curo repeated the same verse about the message of the cross being foolishness to those who are perishing but the power of God to those who are being saved.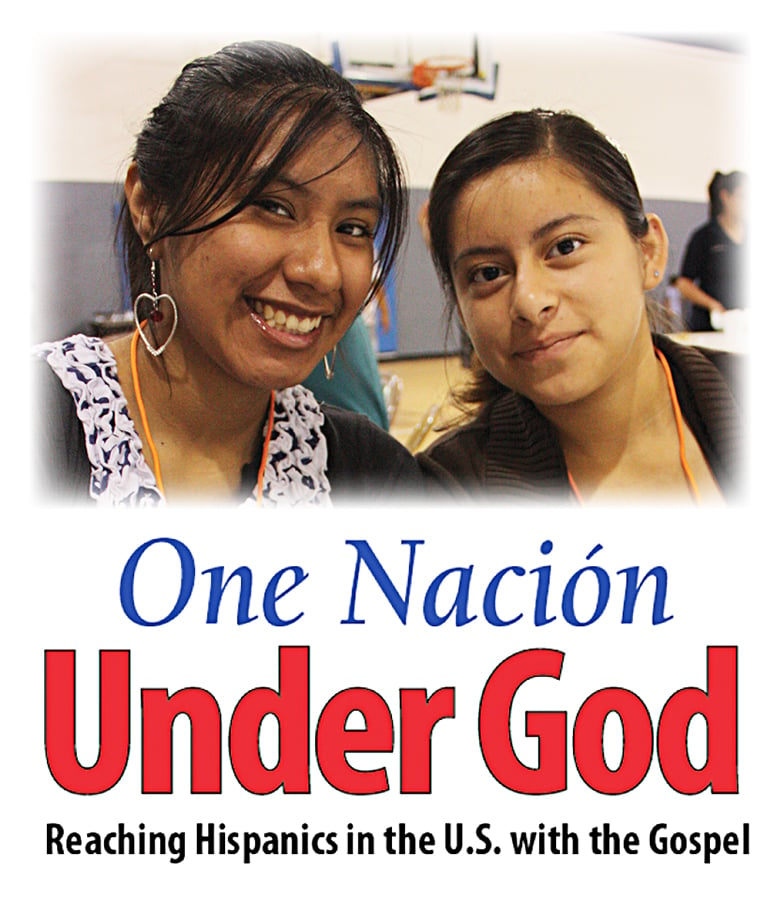 Again, a hearty round of "Amén! Amén! Amén!" followed the Scripture reading — only this time with distinct Spanish accents.
Curo alternated between English and Spanish as he delivered a bilingual sermon at the recent Rocky Mountain Reunion — an event designed to improve unity among Christians in northern Colorado.
"It was amazing," church member Jesús de Hijar said of the opening assembly, where the faithful sang hymns such as "Love Lifted Me" simultaneously in both languages. "It was really something that to me, personally, filled me up."
Colorado is one of seven states with a Hispanic population of at least 20 percent.
Spanish explorers came to the state in the 16th century in search of gold. The name "Colorado" derives from a Spanish word for "ruddy" or "red" used to describe the Colorado River.
Between 2000 and 2010, Colorado grew from 4.3 million to 5 million people, with Latinos accounting for 42 percent of the increase, census figures show. The latest population estimate is 5.3 million.
Most Hispanics in the U.S. belong to the Roman Catholic Church. But the Catholic share of the population is declining, while rising numbers of Hispanics identify as Protestant or unaffiliated with any religion, according to a
nationwide survey
by the Pew Research Center.
What's the best way to reach the fast-growing Hispanic population with the Gospel?
Curo's suggestion is as simple as it is complex: "You need to learn to speak Spanish if you want to evangelize the Hispanic community. That's probably a place to start." (Other experts point out that many second- and third-generation Latinos speak English and even prefer it.)
Steven Curo preaches in English and Spanish at the Colorado event. (PHOTO BY BOBBY ROSS JR.)
Yet in the early 2000s, Curo and other church planters found only one Spanish-speaking Church of Christ in the Denver area.
By his junior year of high school, the native English speaker was leading worship and preaching in the church's Spanish assembly.
At
Harding University
in Searcy, Ark., Curo majored in Bible and minored in Spanish. In 2001, he moved to Denver and helped start a Spanish-speaking congregation that met in an immigrant's apartment before eventually moving into the Northwest church building.
"Preaching is pure joy," said Curo, now a minister for the
Castle Rock Church of Christ,
between Denver and Colorado Springs. "To be able to do it in both languages is exciting."
'ONE CONGREGATION IN TWO LANGUAGES'
Roughly 50 Spanish-speaking Christians worship each Sunday in the Northwest church's gymnasium.
"We are one congregation in two languages," elder Jim Bailey said.
Allan Javellana, a 37-year-old father of five who first studied Spanish in high school, worships with the Hispanic group. His children attend Sunday school classes in English but join him and his wife, Mollie, for the Spanish assembly, even though they speak a different language.
Cynthia Rivera and her husband, Jesús de Hijar, attend the Northwest Church of Christ in Westminster, Colo. (PHOTO BY BOBBY ROSS JR.)
"I feel strongly about the need to do some of that integration and the need to help with the Spanish group," Javellana said.
But creating true unity remains a challenge.
Some of the Hispanic women fear talking with their Anglo brothers and sisters, said Cynthia Rivera, de Hijar's wife. They're afraid they'll say the wrong thing.
"A lot of the ladies tell me, 'They're not going to understand me,'" Rivera said. "I'm like, 'Don't worry. Just open yourself up.'"
Without purposeful efforts to overcome the barrier, it's easy for the groups to stay separate, said Javellana, who led singing at the bilingual assembly.
"We know that somebody else meets here," he said of the mindset that can develop. "We just don't know each other."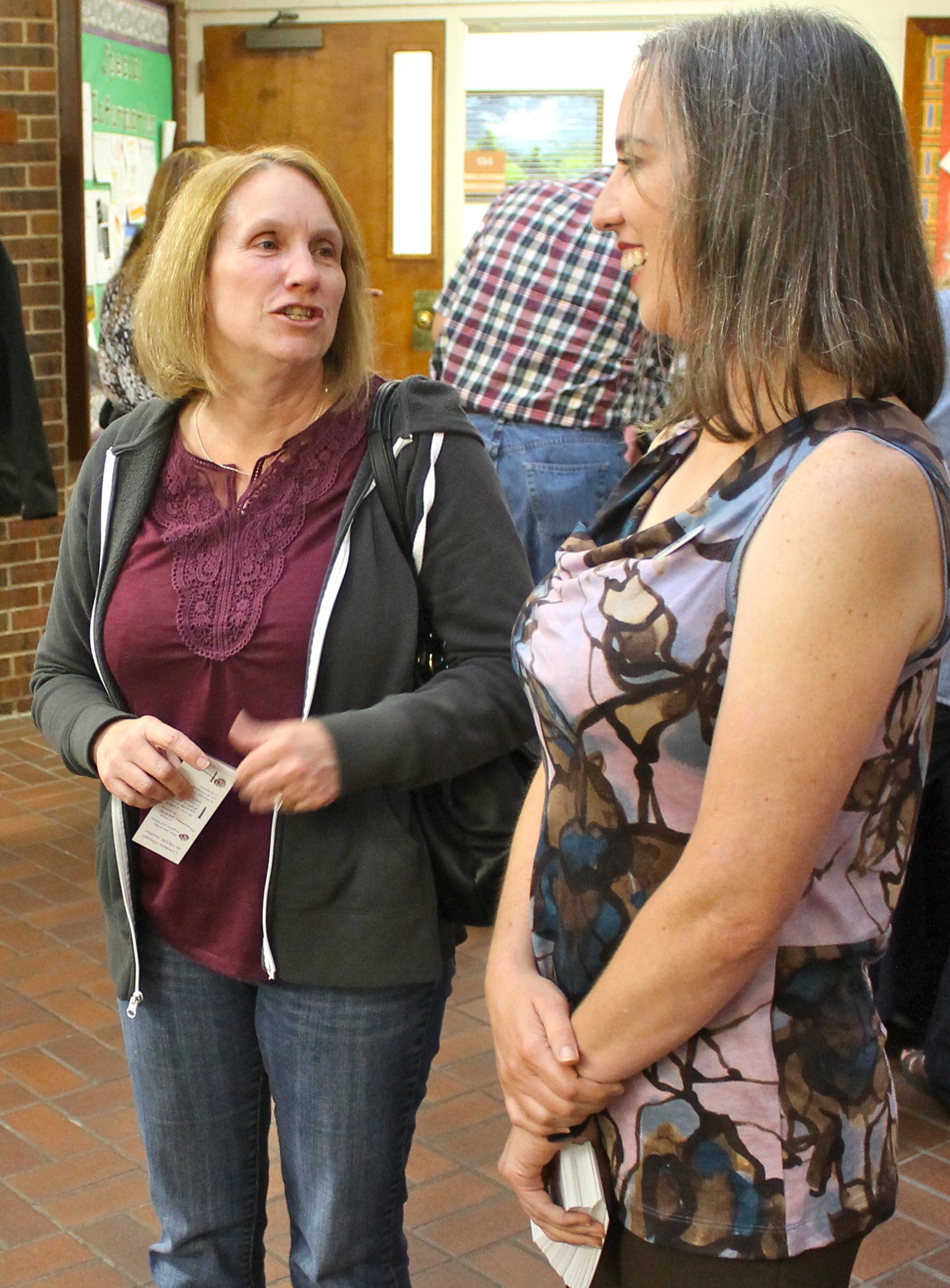 Michelle Goff, right, visits with an attendee of the Rocky Mountain Reunion. (PHOTO BY BOBBY ROSS JR.)
All of Northwest's children — from Anglo and Hispanic families — attend the same Bible classes. That helps overcome the groups not knowing each other, church leaders said.
Regular joint fellowship meals bless the 350-member congregation, too.
In fact, the Anglo members particularly relish the nights when the Hispanic women prepare the meals, members said.
"The English-speaking members want to know if the Spanish group is doing the cooking because they know it's going to be really good," said member Michelle Goff, a bilingual former missionary to Venezuela. "So even things like that have helped bridge some of the barriers."
A GESTURE OF UNITY AND LOVE
The differences that sometimes divide Churches of Christ inspired the Northwest congregation to organize the Rocky Mountain Reunion.
But in a state with a 21 percent — and growing — Hispanic population, bringing together diverse congregations naturally meant crossing the language barrier, too.
"It has been many years since the churches of northern Colorado have gotten together for prayer, singing and studying the Word," said John Rakestraw, a Northwest elder. "We thought it was time to encourage each other again."
Preaching minister Sam Pace said: "In recent years, there has been quite a bit of polarization among churches in the Denver area, and we're trying to recover more unity."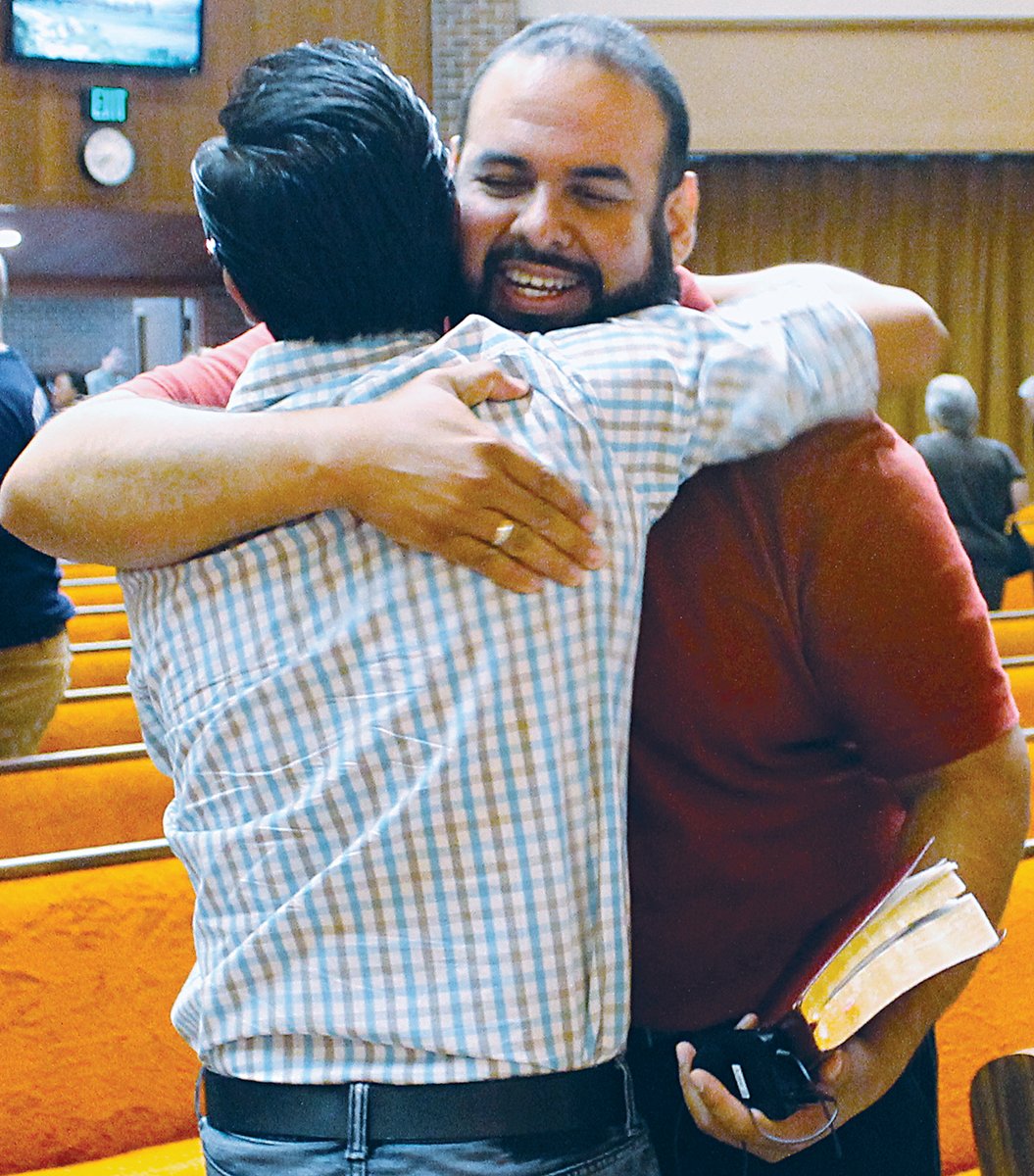 Alex Quintero, right, a minister for the West Seventh Street Church of Christ in Columbia, Tenn., hugs a fellow Christian during the Rocky Mountain Reunion. (PHOTO BY BOBBY ROSS JR.)
"Anything that gets us together is probably good," Wheeler said. "There is still a little bit too much isolation among the different churches."
Northwest church leaders invited 65 congregations from Colorado Springs to the Wyoming state line — including eight Spanish-speaking churches — to participate.
In planning the event, organizers decided to open with a bilingual worship service Friday night, with separate English and Spanish lessons all day Saturday.
All 160 participants enjoyed a fellowship meal of chalupas, rice and beans on Saturday.
"Whether we speak Chinese or Portuguese or whatever, we're all brothers in Christ, so we wanted to make sure that that was highlighted," Rakestraw said.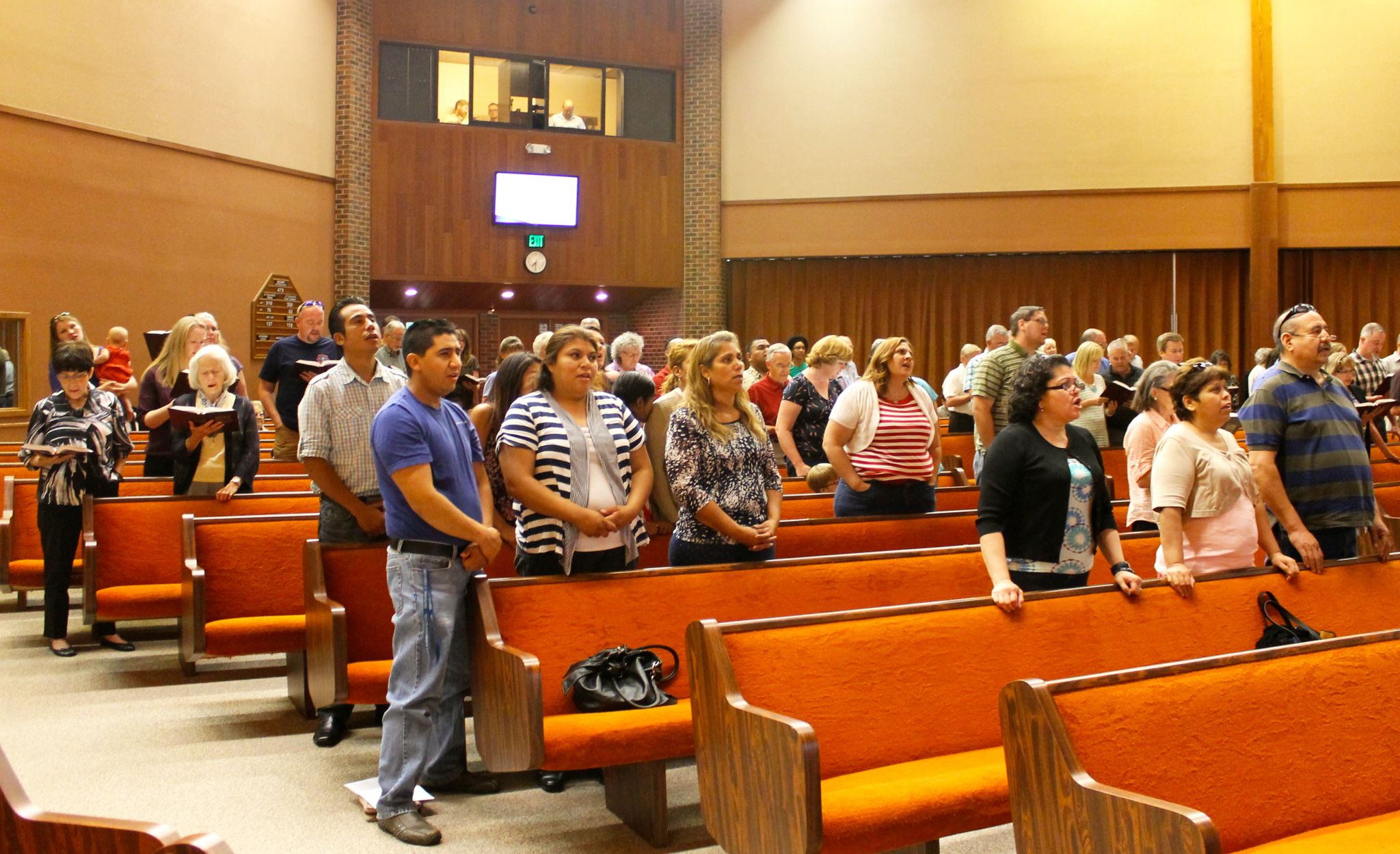 Attendees sing during the opening bilingual assembly at the Rocky Mountain Reunion. (PHOTO BY BOBBY ROSS JR.)
Curo described himself as "super inspired" by the bilingual emphasis.
"We need to be more united," he said. "There are no divisions between us necessarily, but it's just because of the language barrier that we don't interact."
Goff leads
Iron Rose Sister Ministries
, which develops women's Bible study resources in Spanish and English. She characterized the bilingual assembly as a hugely important gesture of love and unity.
"The Kingdom is made up of all languages and all cultures, and I think the more that we can see that … it helps expand our own vision," Goff said. "It helps us to be sensitive to and understanding of other cultures and languages, even in our own cities."
"It was amazing. It was really something that to me, personally, filled me up."Jesús de Hijar, on the Rocky Mountain Reunion
FROM THE ARCHIVE