Road Notes: Scenes from the 50th anniversary Alaska Statewide Lectureship
Annual event promotes unity among Churches of Christ in the state known as 'The Last Frontier.'
---
A cake celebrating the 50th anniversary Alaska Statewide Lectureship quotes 2 Corinthians 4:13. "We Believe, Therefore We Speak …" is the theme of the 2014 event. (PHOTO BY BOBBY ROSS JR.)
Blogging from Wasilla, Alaska
The 50th anniversary Alaska Statewide Lectureship wraps up this morning with songs, prayers, sermons and the Lord's Supper.
More than 300 Christians from all over Alaska have come together for the 2014 lectureship, overseen by the Valley Church of Christ in Wasilla, about 45 minutes north of Anchorage (yes, this is the hometown of  former Gov. Sarah Palin).
Loren Hollingsworth, a longtime missionary to Thailand and a seasonal member of the Valley Church of Christ in Wasilla, Alaska, spoke during a leadership seminar before the lectureship. (PHOTO BY BOBBY ROSS JR.)The  Anchorage Church of Christ  hosted the first lectureship in 1964.  "Good News for a Great Land" was the concept — then and now. 
"For 50 years, that simple but powerful idea has provided sound Bible lessons, hope, encouragement and fellowship to thousands of Christians," the Valley church elders wrote in the lectureship program. "The resulting relationships, cooperation and biblical unity has blessed Alaskan congregations and individuals beyond measure. What a joy it is to be in close, regular, trusting fellowship with Christians across this huge, beautiful state."
I've been blessed to spend the last few days meeting and getting to know Alaska church leaders. Look for the full story in The Christian Chronicle soon. In the meantime, enjoy a few scenes from "The Last Frontier."
Children watch from the bleachers during a session of the Alaska Statewide Lectureship at the Wasilla High School gymnasium. (PHOTO BY BOBBY ROSS JR.)
Church members pray during the lectureship. (PHOTO BY BOBBY ROSS JR.)
Robert Kuenning, preacher and elder of the Valley Church of Christ, makes announcements. (PHOTO BY BOBBY ROSS JR.)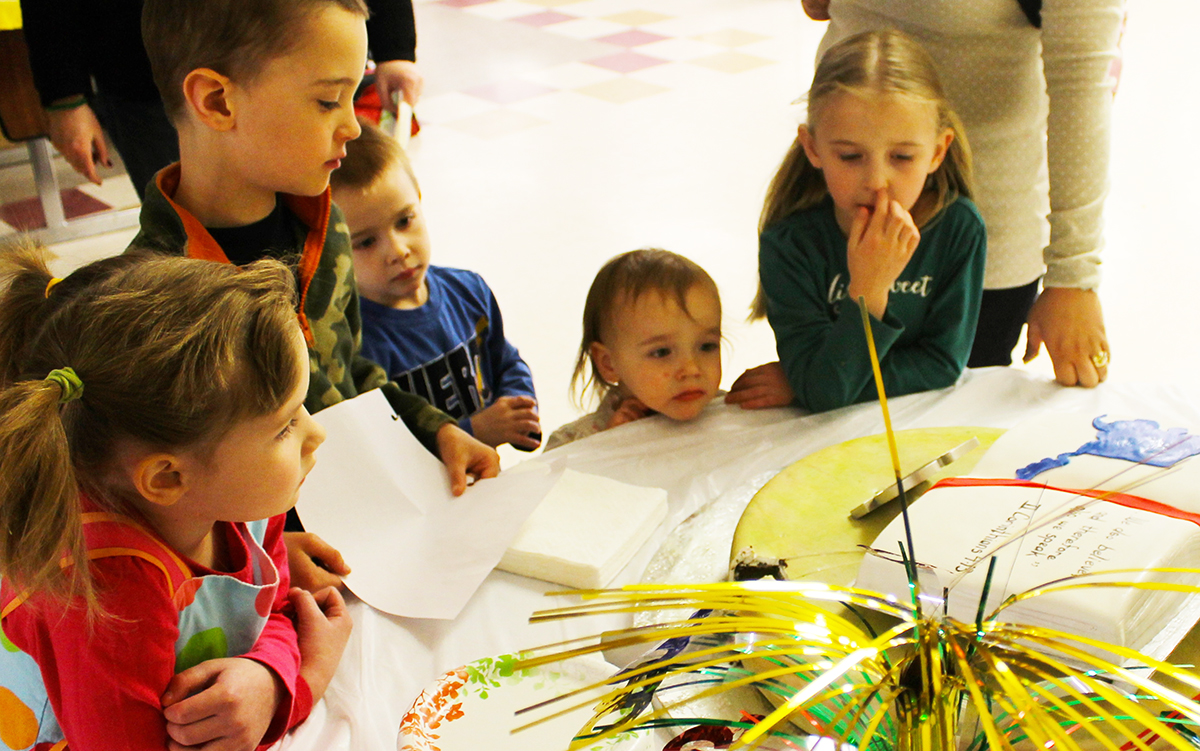 Children admire the cake celebrating the lectureship's 50th anniversary. (PHOTO BY BOBBY ROSS JR.)
Church members sing during the lectureship. (PHOTO BY BOBBY ROSS JR.)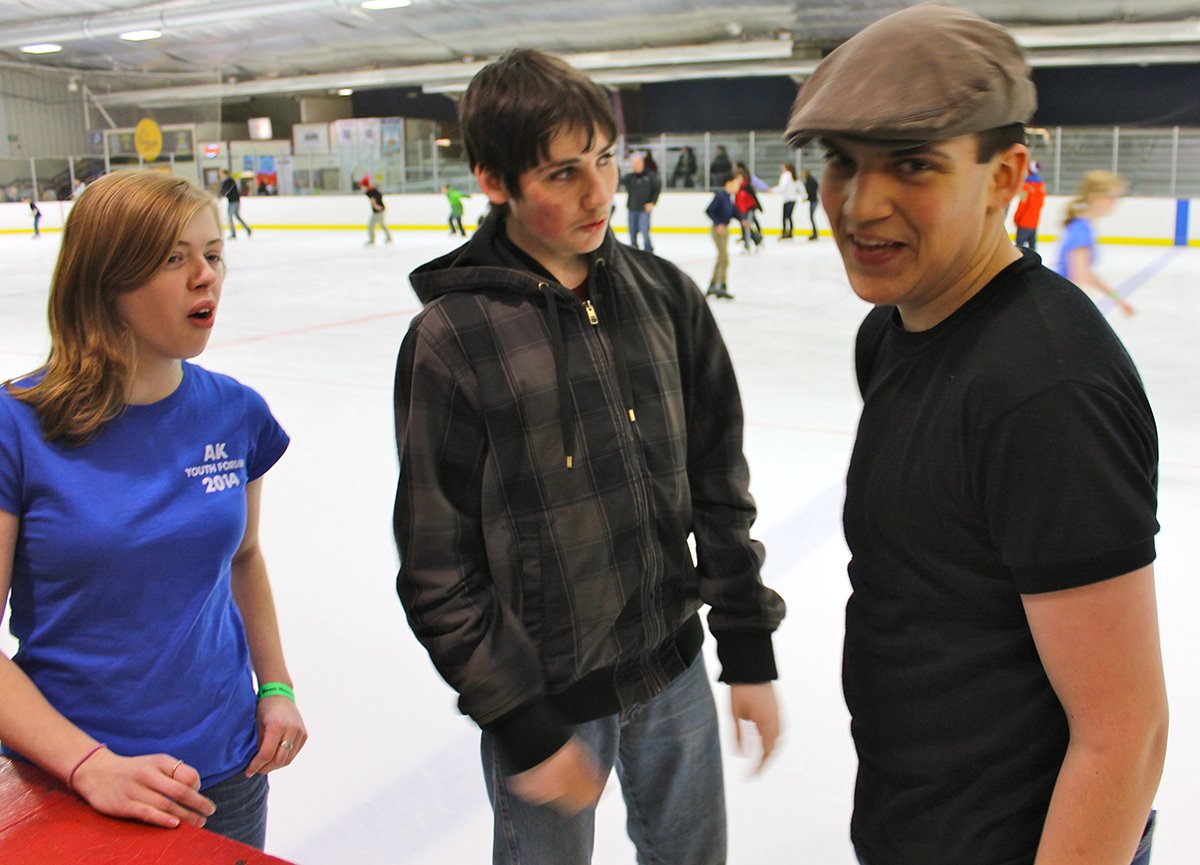 Isaac Kuenning, far right, is the 16-year-old son of Robert and Carol Kuenning. He enjoys fellowship while ice skating with fellow teens from Churches of Christ all over Alaska. (PHOTO BY BOBBY ROSS JR.)
Glenn and Sally Smith, longtime members of the Valley Church of Christ and my housing hosts for the lectureship, have a nice view outside their home. (PHOTO BY BOBBY ROSS JR.)
"Moose crossing" signs are common in Alaska. (PHOTO BY BOBBY ROSS JR.)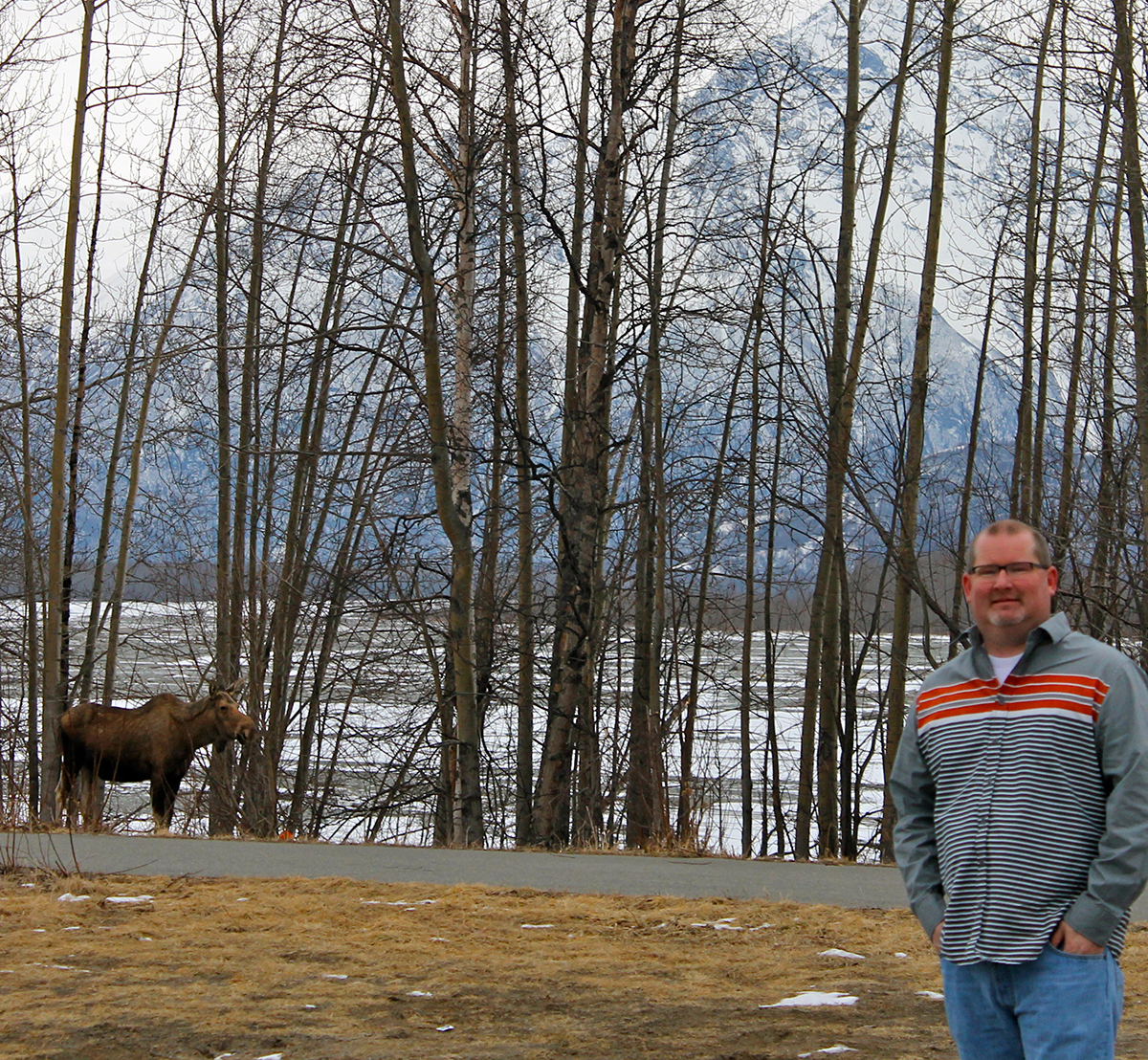 Speaking of moose, that's me (Bobby) making a new friend beside the highway. (PHOTO BY GLENN SMITH)