Road Notes: A weekend with the ICOC
Leaders of the International Churches of Christ look toward a promising future, while acknowledging sins of the past.
---
ST. LOUIS —
In the Dome at America's Center, where football fans once gathered to watch the St. Louis Rams, more than 18,000 souls sang praises to the Lord — including an uplifting, a cappella rendition of "On Zion's Glorious Summit."
The North American Discipleship Summit, REACH2016, a gathering of the International Churches of Christ, brought together "a numerous host redeemed by blood" (as the song notes) from 173 congregations and 66 nations. Other Summits are taking place this year in Asia, Africa, South America and Australia. The fellowship, known as the ICOC, has roots in Churches of Christ, though our fellowships parted ways in the late-1980s.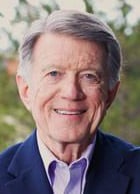 Road Notes | Lynn McmillonMy wife, Joy, and I attended this year's Summit at the gracious invitation of Roger Lamb, president and editor of Disciples Today , the online magazine of the ICOC.
We found a noticeably diverse audience — in terms of ethnicity, nationality, age and socio-economic levels. More than half of the participants were singles, college-age adults, teens and children. Attendees paid from $100 to $225 to defray expenses, depending on age group and date of registration.
You don't do a lot of handshaking at ICOC conferences, we learned. Everybody hugs here — yes, everybody.
Teens listen attentively during one of several HOPE Youth Corps sessions of the Reach2016! World Summit Conference hosted by the International Churches of Christ.
For two full days, we heard a wide variety of speakers in classes and large, combined sessions on the theme "Reach." Each had a pervasive emphasis on Scripture, stressing the need to reach out to the unsaved, to live in obedience to God's Word. Nearly every session emphasized the importance of baptism for the forgiveness of sins.
One unique part of the conference was "Upside Down," a Broadway-style musical written by ICOC members Steven Johnson and Sherwin Mackintosh and based on the book of Acts, first performed in 1987 in Boston. The performance included an onstage baptistery in which eight to 10 characters were immersed — recreating the dramatic conversion stories of the Ethiopian, Simon the magician and Cornelius, to name a few. The audience applauded enthusiastically each time. (I understand the writers' decision not to recreate the 3,000 baptisms at the Day of Pentecost, however. Had they done so, I'm pretty sure we'd still be there watching the performance.)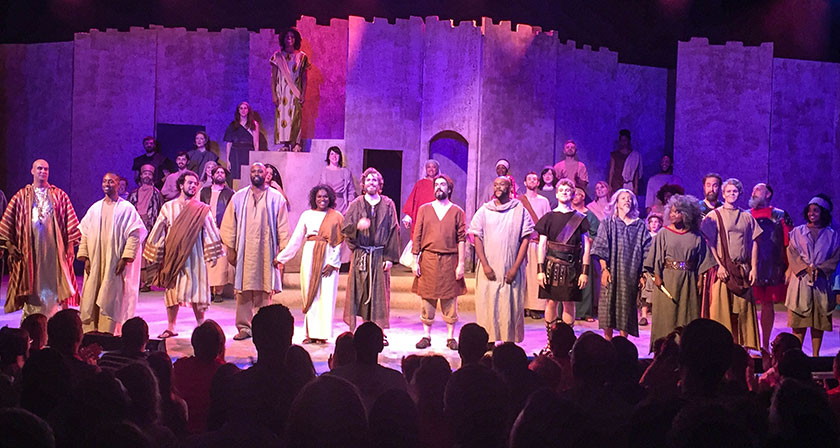 A Broadway-style musical, "Upside Down," is performed during the REACH2016! gathering of the International Churches of Christ.
We had meaningful discussions with several ICOC evangelists and leaders, including Todd and Patty Assad, Steve and Leigh Kinnard, Larry and Mary Lou Craig, Mike and Anne-Brigitte Taliaferro, Wade and Debbie Cook, Robert and Michelle Carrillo and Randy and Linda Moon.
Nearly every person we talked with — elders, ministers, members — expressed sadness, regret and remorse over the movement's sins of the past. They speak openly about "God's discipline" during the crisis of 2001-2003, which saw the fellowship's near demise. Membership plummeted from a high of 135,000 to about 90,000. But it is rising once again, members say, adding that they feel their fellowship is in a much better place. Gone is a structure of control, they told us. Gone also are the discipling abuses that hurt many members —recounted now by many ex-members.

The Dome at America's Center, where the REACH2016! Summit was held.
As we heard the ICOC members' painfully candid reflections upon their movement, it made us reflect upon our own shortcomings.
Following the pattern they see in Scripture, ICOC congregations now have elders who lead local, autonomous churches and do not assert authority over other congregations. Ninety-six percent of their churches have freely chosen to commit, cooperate and collaborate with each other in missions and benevolence.
There is a strong spirit of sacrifice and generosity among many of the members. From freewill contributions, ICOC congregations operate a ministry called HOPE Worldwide. Nearly 65 percent of the fellowship's churches support this ministry, which also receives contributions from corporations including Coca-Cola. HOPE Worldwide has an annual budget of more than $25 million and provides relief to suffering souls around the globe.
Of course, differences remain between ICOC congregations and our fellowship, what we sometimes call "mainline" Churches of Christ. But these differences aren't as pronounced as they were years ago. I believe we share the heart of the Gospel — "one body and one Spirit … one Lord, one faith, one baptism," as we read in Ephesians 4.
Several hundred women listen to JoAnne Webber's class, "Women Reaching for Hope," one of 14 classes in the Women's Track.
Joy and I were convicted anew by compelling, Bible-based preaching. We were inspired to reach out to people around us who do not know Jesus.
So, on the flight back to Oklahoma City I did something I might not have normally done on a plane. I responded to the talkative young person next to me and invited him to church. And I plan to follow-up.
We are grateful for the invitation to connect at the Summit and for the chance to learn more about the ICOC — to further The Christian Chronicle's mission to inform, inspire and connect our readers.
CONTACT [email protected].Related article
Revisiting the Boston Movement: ICOC growing again after crisis