Review: The Longing In Me
---
A box of Kleenex, a highlighter and time to process what you're reading — those are my recommendations for anyone reading Sheila Walsh's new book,
"The Longing in Me: How Everything You Crave Leads to the Heart of God."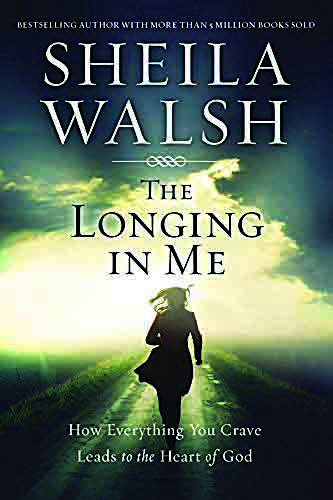 Sheila Walsh. The Longing In Me: How Everything You Crave Leads to the Heart of GodIt's also a good idea to follow along with the story of David in your Bible as you read.
Walsh, a Scottish-born author, lecturer and singer has produced multiple best-sellers, including the "Gigi: God's Little Princess" series. Her latest work helps women look at the desires in our hearts and understand how our longings can lead to positive outcomes rather than outcomes that hurt us.
Walsh identifies 10 longings — the longing to be chosen, to be protected, to have things as they used to be, to name a few — and looks at each one through the story of David in Scripture as well as through her own experiences. She is very open and vulnerable about her life, including the heartbreak of her first marriage, and makes it easier for us to be honest with ourselves as well.
The story that Sheila tells of her own life is a bit hard to follow as it skips around quite a bit. But the actual timeline and flow of events is not as important as the meat of each chapter, in which she identifies the cravings in King David's life and relates those desires to how we can draw closer to God.
Shiloh JonesI have worked in social work for 13 years, concentrating on foster care and interacting with children and teens who have suffered abuse and neglect. The longings Walsh identifies are cravings that I see in the children I serve each day. They want control and stability. If they cannot control where they live or who they live with, they attempt to exert control over other aspects of their lives — what and when they eat, for example.
Often, kids who are in foster care through no fault of their own will try to make things right or take blame on themselves in an effort to protect their parents. This is similar to the need that we, as adults, have to make things right instead of leaving things in a place of uncertainty or discord.
"What I'm learning," Walsh writes, "is that if I don't understand why I respond a certain way in a particular set of circumstances, I'll do it again and again. The human heart longs for closure and understanding. In many ways it looks to right the wrongs of our childhood so we feel more in control of situations over which we had no control as children."
So many of the kids that I work with and see each day do not know God. If they know that the longings in their hearts are from God and are designed to lead them to God, this could change their lives.
Reading Walsh's story and learning how she discovered the truth — that God could fulfill her needs like no one else — provide a great example of the transformative power of Christ.
"The Longing in Me" will give you a new glimpse into this well-known Christian author. The book also will show you parts of your own life that you may not have seen clearly before. And perhaps you'll see areas of your life that need to be reevaluated and handed over to God.
Shiloh Jones is a social worker in Denver and placement coordinator for an agency that licenses foster families and works to find matches between families and kids needing safe and stable homes. Her husband, Josh, is youth minister for the University Church of Christ in Denver. They have two daughters and a box turtle named Turnip that they "rescued" from a freeway in Oklahoma.