Refugees and angels in Europe
Christians share ministry ideas and perform acts of service during conference in Greece.
---
ATHENS, Greece —
"Do not neglect to show hospitality to strangers, for some have entertained angels."
The words of Hebrews 13:2 resounded through the Congo Palace Hotel in the Glyfada neighborhood of this European capital. More than 100 ministers, elders and ministry leaders from Churches of Christ across Europe, the Middle East and the U.S. gathered here to discuss strategies for serving and sharing Christ with the wave of refugees flooding into the continent from troubled, predominantly Muslim nations, including Syria and Iraq.
The five-day Refugee Ministry Workshop took place just a few miles from Mars Hill, where a stranger from a city in modern-day Turkey — the apostle Paul — told the people of Athens about the "unknown god" they worshiped, "the God who made the world and everything in it … the Lord of heaven and earth" as recorded in Acts 17.

A group of Christ-seeking Iranian refugees sings hymns for attendees of the Refugee Ministry Workshop during a break in their tour of the ancient city of Corinth in Greece. (PHOTO BY VIV VITALONE)
Nearly 2,000 years later, as a new host of souls arrives in Athens, Christians greet them with a mix of optimism and fear, workshop attendees said. The conference — sponsored by the Glyfada Church of Christ and Partners in Progress, a U.S.-based ministry — was designed to help churches "open the doors … and utilize their members to minister to refugees," said Dino Roussos, minister for the Glyfada church.
During the conference, church members heard reports from representatives of congregations and church-supported ministries serving refugees in Europe. They also heard testimony from former Muslims who — like some in ancient Greece — have become followers of the "Lord of heaven and earth."
The words of 2 Corinthians 4:17 appear, carved into a stone in Ancient Corinth. (PHOTO BY VIVI VITALONE)
One of them, a native of Iran who asked that his name be withheld for security reasons, told about his own conversion to Christianity when he came to Greece as a refugee 10 years ago. He now leads a Farsi-speaking church in Germany.
Religious persecution is an oft-cited reason people from the Middle East give for making the perilous journey to Europe, the church leader said. Sometimes their faith is genuine, but sometimes they claim to be followers of Christ in an effort to obtain refugee status.
"It's important to understand whether they have a genuine interest in learning about the Bible," the church leader said. "But even though they decide to not stay, I'm happy because I've done my job, I've told them about Christ and John 3:16 ('For God so loved the world that he gave his one and only Son, that whoever believes in him shall not perish but have eternal life.')"
'WE NEED IDEAS'More than 1 million refugees made the dangerous journey across the Mediterranean Sea to Europe in 2015 — and an additional 350,000 in 2016, according to the UN's High Commissioner for Refugees. Most go through coastal nations including Greece before relocating to country that offer asylum, including Germany and the Scandinavian nations.
Rudiger and Michaela Renken have seen refugees enter their community in the northwest German city of Breman. During 2015, their homeland received more asylum applications than any other nation in Europe.
The Renkens, who have worshiped with a Church of Christ for two decades, reach out to refugees living in an informal settlement near their church building.
Bill McDonough of Partners in Progress, which sponsored the workshop, shakes hands with organizer Dino Roussos, minister for the Glyfada Church of Christ. (PHOTO BY VIVI VITALONE)"We need ideas on how to get to know them," Rudiger Renken said. "We have started a language school, and some church members have already invited some refugees to their homes. Relationships are growing. But I have come to Athens to understand how to make the next step and introduce them to Christ."
Scott Lambert, director of Let's Start Talking, told conference attendees about opportunities to share the Gospel by helping refugees improve their English. The church-supported ministry sends teams of short-term workers to help non-native speakers with their conversation skills, using the Bible as a text. In coming months, the ministry plans to supply additional workers for churches in Athens and other parts of Europe, Lambert said.
"This moment is special in Europe," he added. "We are working with other groups to give the next generation of Americans the chance to minister around the world. Where possible, we will connect churches, refugees and non-Christians together with leaders and servants, young or old. The Word of God will not return empty when his people get out and go."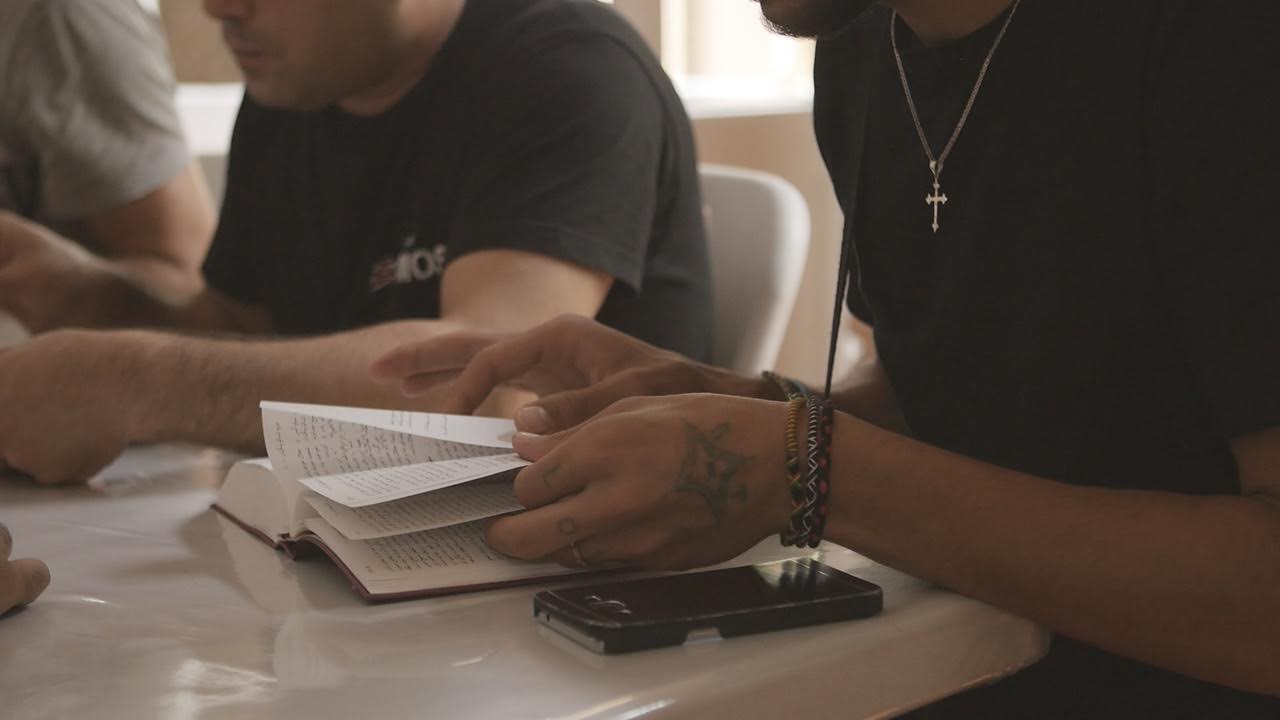 A refugee reads a Bible in Arabic. The Bible was provided by Eastern European Mission. (PHOTO PROVIDED BY EEM)Another church-supported nonprofit, Eastern European Mission, provided more than 100,000 Bibles and New Testaments in Farsi and Arabic to churches and ministries in Europe in 2016.
Bart Rybinski, EEM's vice president of European operations, attended the conference to hear the testimonials of transformed lives — and to catch up with the ministry's representatives, including Dimitrios Argyropoulos, a minister for the Glyfada Church of Christ in Athens.
"Who would have thought that we would have tens of thousands of Muslims in our own environment, where they are receptive to learning about our Lord Jesus Christ?" Rybinski said. "At the same time, the sheer numbers create significant tension in European societies — something that some exploit for their own political reasons — and many are overcome with fear of what might be.
"We need churches to pray that God will give all of us the courage to remember that our future is in his hands and not in the might of the state. We need churches to pray that we see this not as a threat, but as an opportunity to love those who arrive, minister to their needs and proclaim the Good News to them."
Bart RybinskiRybinski and his family worship with a small congregation in Vienna, Austria, where they have ministered to refugees from Iran and Afghanistan. One recently was baptized.
"To see the Word through his eyes — someone from the Middle East — gives us a new and fresh understanding of the Scriptures," Rybinski said. "We see hope and new future through him — a future that does not depend on divisions along racial or national lines, but one that truly actualizes Isaiah's prophecies of peace among nations that our Messiah came to bring.
"European churches need new blood. We need a new hope and fresh start to revitalize and give energy to the body of Christ. I think this is a great opportunity for that."
'WE HAVE NOTHING TO FEAR'During the conference, attendees visited a center that serves refugees in Athens.
"We had the chance to communicate with them, feed them, sing to them and show them the love of Christ," said Wissam Al-Aethawi, a minister in Dearborn, Mich. "We had two responses from among the Arab refugees and two baptisms."
The conference was especially meaningful for Al-Aethawi, himself a former refugee from Iraq who was baptized, in secret, in a hotel bathroom in Kurdistan. Now he ministers to the people of Dearborn, the epicenter of Arab life in the U.S.
Visiting "the country whose language is that of the New Testament" was awe-inspiring, Al-Aethawi said. "The trip was both emotional and eye-opener because of that — and because of the fact that I have seen refugees from the Muslim world who were, in many ways, less fortunate than I was."
Phanat OuchAnother former refugee, Phanat Ouch, said he could relate to the hardships faced by the Middle Easterners. A native of Cambodia, Ouch's parents fled to neighboring Thailand in the wake of the brutal Khmer Rouge regime. They later moved to Texas, where Ouch became a Christian. Now he serves as a minister and ministry trainer in Cambodia and locales around the world through Bear Valley Bible Institute International.
"The biggest takeaway for me was that we have nothing to fear," Ouch said. "Syrian souls are just like Cambodian souls. We all need Jesus."
Ouch also said he appreciated the willingness of participants — who represented a variety of Churches of Christ with a variety of doctrinal stances — to "put aside their differences to unite together to reach out to Muslims … fulfilling Jesus' prayer (for unity, as recorded in John 17).
"We all know where we stand in our doctrine, and to be able to put love for the lost first, before our differences, is to be commended."
Additional reporting: Erik Tryggestad